Mevan Peiris
MESSAGE IN A BOTTLE
Insights into where the local beverage business is heading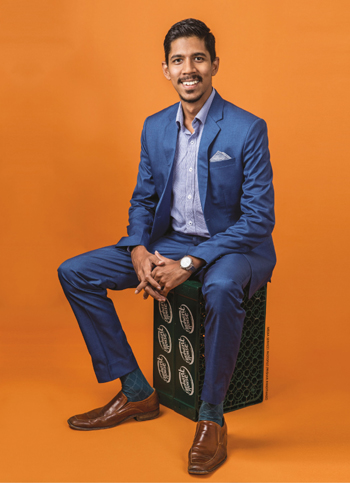 What are your perceptions of the beverage consumption habits of  Sri Lankans today?
Being a tropical country and given the influence of certain cultural habits, Sri Lanka's consumption of liquids is high. But due to the popularity of tea and easy access to potable water, our packaged beverage consumption is relatively low.
Annual per capita consumption of soft drinks is only 12 litres while that of non-alcoholic beverages including bottled water is around 18 litres. This is in comparison to the region where per capita beverage consumption is around 45 litres in Malaysia on average, 80 litres in Thailand and nearly 100 litres in Indonesia!
Within the non-alcoholic beverage category, carbonated soft drinks (CSDs) make the largest contribution and are expected to grow further albeit at a slower pace. And the contribution of CSDs to the beverage sector is expected to drop in the future, amid growth in categories such as fruit juices, dairy products and even packaged water, which has witnessed the highest growth in Sri Lanka over the last few years.
How is digital and social media affecting the sector?
Digital and social media have disrupted the modus operandi of marketing across all categories. But being in a consumer centric sector, I believe that this is a positive disruption.
Elephant House beverages cover a wide range of products, and each brand has its unique proposition and target audience. Being able to focus our communications and get the message across to the right audience are among the key benefits of digital media.
Social media also plays a major role in helping brands understand consumer needs through the granular insights that can be derived.
What innovations are necessary to cater to the needs of millennials?
Millennials are a very important consumer segment today. There are a few factors that are fundamental to better engage with them – viz. being authentic, genuine, real and relevant.
The strategy to launch some of our new products was based on millennial insights. For instance, the recently introduced drink Lemoki is gaining popularity among millennials due to its unique flavour proposition of lemon and kiwi, as well as its brand personality.
Meanwhile, products such as Fit-o fruit drinks and F5 isotonic drinks were also launched as part of our strategy to introduce healthier beverages.
How are we faring in our journey towards becoming a healthier nation?
The government is maintaining an increased focus on combatting diabetes and other non-communicable diseases. However, the root causes have yet to be addressed.
Sri Lankans in general consume large quantities of starch and sugar, through rice and tea respectively. Coupled with this, due to busy lifestyles, people have compromised the time they spend on staying fit and active. So the root causes lie in our general consumption habits and unhealthy lifestyles.
When it comes to soft drinks, the beverage sector only accounts for four percent of national annual sugar consumption. It might be worthwhile to identify how the remaining 96 percent of the sugar intake can be reduced while focussing on promoting more active and healthier lifestyles.
Being a 150-year-old Sri Lankan company, Elephant House has and will proactively ensure that we do our part to aid this journey. As such, we have already embarked on initiatives to continuously reduce sugar levels in our products – most Elephant House beverages use a mix of stevia, which is a natural alternative to sugar.
What are the challenges of operating in niche beverage categories?
We have entered many new categories such as fruit, energy and isotonic drinks, and will continue to introduce new products to the market periodically.
Over time, our mainstream products have become strong sub-brands in their own right. Now we're working on how we can consolidate this brand equity and launch more new products under the Elephant House umbrella brand.
The challenge in categories such as isotonic drinks is that there's very low category awareness and demand. However, being a homegrown Sri Lankan brand, we feel that it is our responsibility to take the steps that are necessary for the betterment and expansion of the sector.
What is your mantra for success?
Don't be content with mediocrity; question the status quo; and try to better who you are and what you do every day.
Describe yourself in one word…
Ambitious
Mevan is the Head of Marketing – Beverages of Ceylon Cold Stores
– Compiled by Ruwandi Perera