MERCANTILE FOOTBALL LEAGUE
Fairfirst wraps up 2022 by adding another Championship title at the Mercantile Football League – Division II 
Team Fairfirst ended 2022 on a high note by securing the championship title at the
Mercantile Football League Championship – Division II. The tournament held at the Beddagana Football Complex – Kotte & City League Football Complex was attended by five renowned football teams in Sri Lanka's corporate sector; NOLIMIT, Dialog Axiata, DFCC Bank, Union Bank and Fairfirst Insurance. As finalists, team Fairfirst met team NOLIMIT where the final scoreboard read 5 – 0.
Having won throughout the football tournament, Team Fairfirst has always kept a perfect balance of teamwork and commitment in a collaborative culture of working hard and having fun outside of work as well. This latest championship title in football is another one to a long list of other championships, including Basketball, Rugby, Cricket and Netball. Sports is a great motivator that crosses all boundaries and fosters teamwork as well as discipline.
Aadil Hassim, captain of Team Fairfirst stated, "This victory is truly special, and it is   amazing to see the efforts of the Fairfirst football team come to fruition. I am very proud of our team. I am grateful to Fairfirst for the importance given in instilling a good work-life balance as this win wouldn't have been possible if not for the support from our colleagues."
Manager of Fairfirst's Football team, Fiyaz Izzeth, expressed his views highlighting that Fairfirst's consistent winning streak was evidence that it is a company that places high regard on promoting talents beneficial not just for the company, but the employees personally as well. "We are extremely proud of our team for representing Fairfirst and continuing in the FairfirstWay of having fun and winning", he said.
Fairfirst Insurance is among the top general insurance companies in Sri Lanka. Today, Fairfirst serves individuals, businesses and institutions across this beautiful island through a versatile workforce of 1400 spread across their comprehensive branch network, affinity partners and leading brokers in the market. Fairfirst is part of the global Fairfax Group, a leading property and casualty insurer and reinsurance and investment management group headquartered in Toronto.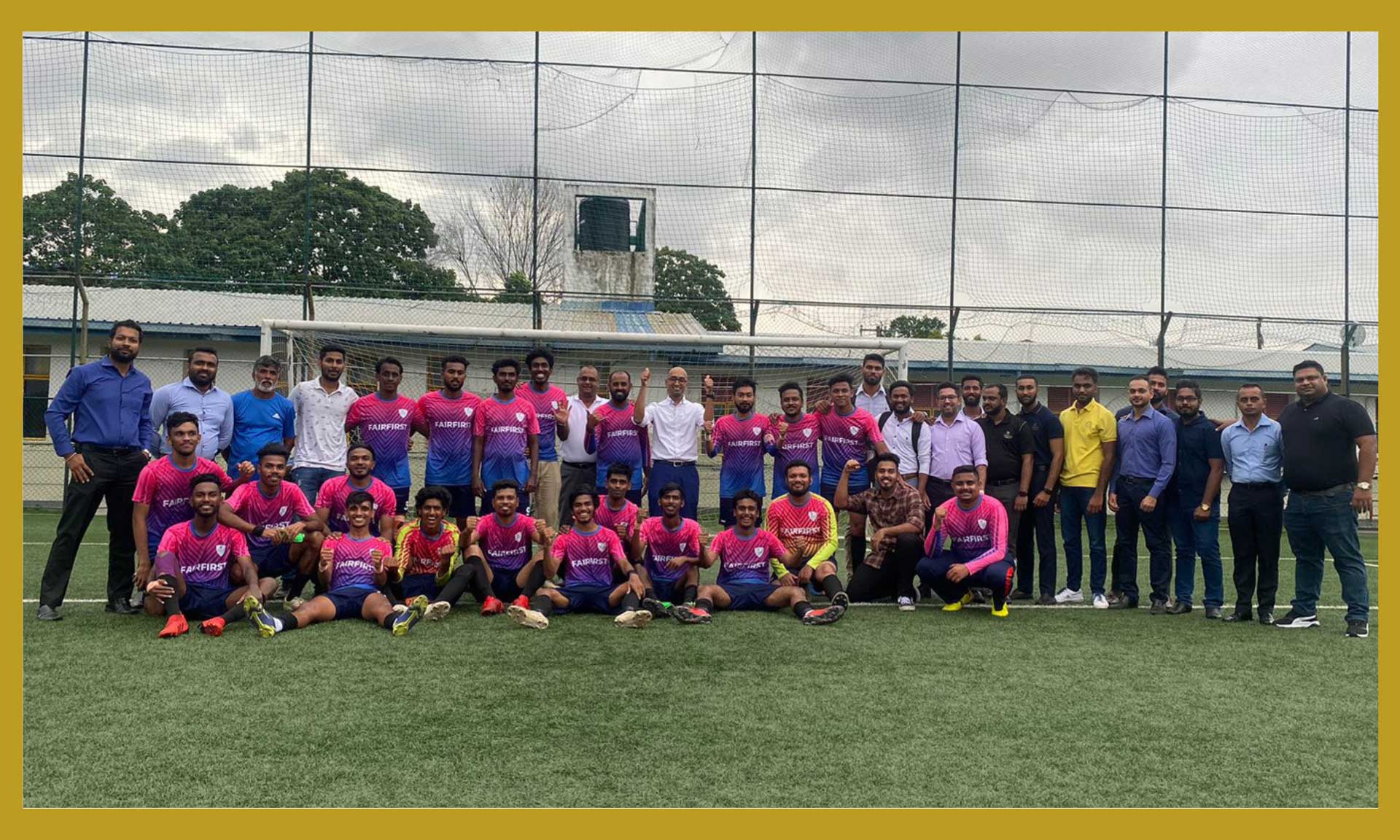 Fairfirst Football Team – Champions of the 2022 Mercantile Football League – Division II