MEDIA REVOLUTION
THE DEMISE OF PRIME TIME?
Ruwandi Perera tries to hold on to the TV before it dies a digital death
'Video killed the radio star' and now digital is slaying TV. As the Buggles warned, "we can't rewind, we've gone too far." World Television Day is celebrated on 21 November but for all intents and pur­pos­es, it's more of a mourning ceremony given that this medium that's moulded pop culture is dying a natural death.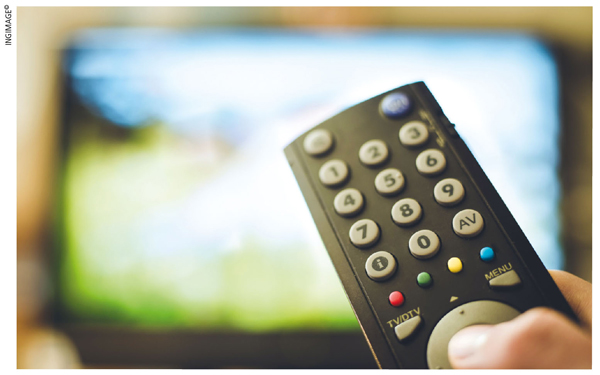 TV has been the glue that binds people of all nationa­lities, cultures, races and religions together. For ins­tance, the 2016 Summer Olympics in Rio de Janeiro captured an estimated televi­sion audience of 3.6 billion people; Princess Diana's death drew two billion tele­vision viewers; and the 9/11 attacks were also anxiously witnessed on TV by two billion souls the world over.
However, this love affair between television and its viewers seems headed for a divorce with many of us living without TVs.
So who are the culprits?
Social media in all its forms (including YouTube, Facebook and IGTV) as well as global online entertainment sites such as Netflix – social media is a raging success when it comes to entertainment, education and news (the basic categories serviced by television) that spreads faster than a forest fire.
Gangnam Style hit one billion views in five months – a number reached in only 97 days by Despacito from Luis Fonsi featuring Daddy Yankee. It's not always per­fectly choreo­graphed content that reaches the masses.
Re­mem­ber Ellen's selfie at the 2014 Oscars? This simple, fun and personal photo of a smiling group of actors was retweeted by more than 3.4 million people with millions more laying their eyes on it.It's not all fun and games that gains mileage. Social media has a key channel for disaster relief and community gatherings – whether it is in Haiti, following Hurricane Sandy or even recent floods in Sri Lanka when thousands of lives were saved through donations, other initiatives or aid, prayers and support.
Netflix is becoming every­one's favourite way to stay entertained. TV without com­mer­cials is a concept loved by many and people are binge watching TV series, movies and documentaries like never before. What's ironic is that people are watching classics such as Friends and ER without advertisements when in fact, it was commercials that made these shows possible in the first place.
Cord-cutting – i.e. cancelling cable connections and other pay TV subscriptions – is becoming increasingly popular. Those who engage in this do not want to be disrupted by commercials; instead, they seek flexibility in terms of devices and are impatient when it comes to demanding entertainment. They wouldn't wait days or even minutes for the next episode – everything must be available now!
So who are the losers?
Cable and satellite TV companies, as well as adver­tisers – while the former is at risk of running out of business, the latter has to find innovative ways to tailor-make its content for audiences. The battle with the remote control is over and the fight for digital seems devastatingly unfair.
Although online TV alter­natives such as YouTube, Facebook Watch and IGTV do include advertising options, the traction gained can be questionable given the enor­mous power viewers have to say 'no' to anything they don't want to see. While companies can raise aware­ness about their products and services, brand building requires a lot more effort than signing up a celebrity to pose with a product.
Online media is about custo­mised, targeted and curated content. So advertisers must jump on the bandwagon of branded content. It may be part and parcel of the main programme or a separate seg­ment of content altogether but it has to convey more than branding attributes.
Infomercials are online channels' moneymakers and brands' promotional vehicles – from having been forced to watch 30 seconds of product information, people now have to feel as though they want to watch a product of service promoted by a company.
Of course, this doesn't mean that online content (essentially videos) will not have intrusive and sponsored disturbances. Regardless of whether or not you have a 'skip advertisement' option, these little breaks garner far less tolerance than their broadcast counterparts did on TV.
Digital changes everything – and social media and online entertainment are two of the most intrusive changes to impact our lives.
Having said that, some of us did wait anxiously week after week to watch the final season of Game of Thrones this year and may gather around the telly to watch the likes of a world cup – most recently, the 2019 Rugby World Cup!