MARKETING STRATEGY
Compiled by Ayesha Reza Rafiq
WINNING THE STRATEGY WAR
Raneez Sheriff underscores the importance of market intelligence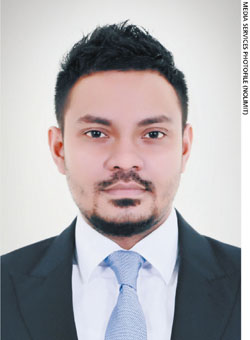 Marketing is among the many professions that have undergone radical change, as it races to stay abreast of on­go­ing shifts in strategies and trends that are generated by the rapid development of technology, and ensuing digitisation of virtually every aspect of our lives.
In Sri Lanka, perhaps the most significant change has been the realisation – at the highest levels in the corporate arena – of the vital role that marketing plays in the fortunes of a company. Having functioned as the stepchild of advertising and sales for countless years, marketing has come into its own as an integral part of a company's long-term strategic vision, explains Raneez Sheriff.
"The need for marketing has been understood at the senior level. Many entities that pursued traditional retail methods have realised that sustaining the revenue curve is not possible through traditional selling techniques. And they are now utilising more marketing expertise, to uplift business," he adds.
However, the challenge is to source expert and accurate market intelligence – to support market research, shape strategies, create potential markets and assist in product development.
Charting a course through an industrial landscape that is becoming increasingly complex and cluttered, and establishing a clear corporate vision, are the other challenges faced by the marketing fraternity.
Sheriff observes: "Most industries are cluttered with strategic wars, especially in terms of marketing. This makes marketing communications and advertising challenging, as you need to innovate constantly – it's not only about advertising your product, but ensuring that customers are truly engaged with the strategies you employ."
Serving and pleasing the customer is the ultimate goal. Yet, Sheriff explains that retaining customers is a challenge, as they have become more demanding and are quick to focus on negative feedback rather than positive experiences. This, in turn, fuels inter-industry rivalry.
Amid increased competitiveness, finding and retaining the right talent is a crucial aspect of 'getting it right.' As finding the talented people is often a tough call, companies may resort to grooming talent in-house.
Sheriff points out that "the new generation looks for quick perks and upgrades, to fast-track their career paths. So creating a favourable environment, clear career path and healthy work-life balance within the organisational culture is necessary, to ensure that the company has the necessary resources in place."
As innovation is vital, product differentiation has become a major weapon in a marketer's arsenal. As Sheriff notes, "there is always a counter strategy to ensure that products stay relevant and on top of their game, which adds to the growing list of responsibilities marketers have to shoulder."
"Companies are looking at only short-term strategies, due to stiff competition for immediate results vis-à-vis the top line. This poses a challenge, in the context of corporate strategy, for long-term stability," he asserts.
No discourse on marketing is complete without evaluating the impact that social media has on the profession.  According to Sheriff, "social media has had a huge impact as a communications, feedback and comparison platform, and a review portal."
He elaborates: "Importantly, it's a knowledge hub. Companies must have strong social media platforms. If social media is efficiently leveraged, it will help companies carry the brand's vision, message and marketability – by differentiating, reminding, educating and persuading customers…"
In this era of heightened consumer awareness and competition, Sheriff is a vocal proponent of market research and intelligence.
"It is market intelligence that keeps knowledge flowing into the organisation. Market research and intelligence are also key factors in keeping the team up to date. A dynamic team will always be ready for change. This mindset must be driven via open policies and idea generation – an approach that will bring out the best in efficiency; not only to adopt, but to do more," he remarks.
As market intelligence is at the forefront of marketing trends, Sheriff advocates keeping an eye on other emerging trends, and approaching them with a forward-thinking – rather than reactionary – mindset.
Emphasising the importance of this strategy, he points out that "due to the lack of strategic teams, companies are looking for consultants to work on strategies. This is also a result of companies seeking short-term strategies when there's a crisis, or as a reactive approach to a downtrend. It is important to have ongoing strategies for a successful long-term plan."
As markets become more competitive, rather than being caught up in price wars, focussing on product differentiation within narrow margins and exaggerated marketing campaigns, Sheriff believes that rivals can work together, to develop markets that offer mutual benefits.
The interviewee is the Manager – Marketing of NOLIMIT