MARITIME TRADE
Compiled by Savithri Rodrigo
SHIPSHAPE PORTS A DIRE NEED
Ruwan Waidyaratne warns of emerging competition in port operations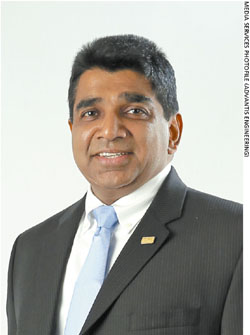 Q: Is Sri Lanka's shipping industry geared to face regional competition?
A: Our strategic location strengthens Sri Lanka's competitiveness in the region. Moreover, ongoing free trade negotiations offer preferential access to prominent regional players and create incentives for global trading giants to relocate their operational hubs.
A number of regional players are investing in facilities to increase port operations – for example, the Indian government's port modernisation project (Sagar Mala); terminal and port development projects in Singapore, India and Dubai; and rapid technological advancements in customs clearance systems in Singapore.
Given Sri Lanka's heavy reliance on transhipment cargo, it's necessary to improve our infrastructure, technology and other capabilities as operational hindrances will lead to a diversion of regional cargo to competitors.
Q: How is the industry faring at present?
A: With the development of new deep draft terminals, port throughput has surpassed targets and the Port of Colombo's ranking has improved – Alphaliner ranked it among the world's best 25 ports this year. And Hambantota has immense potential to be an industrial port due to its centrality on China's Maritime Silk Route.
But the global shipping industry has experienced a downturn with the demand-overcapacity mismatch adversely impacting the country especially in agency functions, infrastructure compatibility in dealing with large vessels, and the need for technology to ensure smooth transactions.
In logistics, limited domestic scale and volume, a heavy reliance on Indian transhipment cargo, and low export and import volumes exacerbate this situation. It is vital to develop a national framework to augment transhipment cargo volumes from other destinations, and attract foreign direct investment (FDI) and trading giants to the island to boost our exports and imports.
Q: Is our infrastructure ready to cater to emerging opportunities and competition?
A: The Colombo Port Expansion Project, and Hambantota and Trincomalee port developments, are being undertaken to meet this need.
Whilst the Colombo International Container Terminals has a throughput of over two million TEUs with volume growth of over 28 percent year-on-year in 2016, it's currently the only deep draft vessel-handling terminal at the Port of Colombo.
With the emergence of mega vessels and India's push to become a manufacturing hub, fast-tracking the development of the East Container Terminal is crucial. Investments to develop Hambantota must be prioritised and aligned with the overall port development framework.
Developing soft infrastructure to augment service offerings, establishing stable policies to attract FDI and encourage public-private partnerships (PPPs), liberalising foreign land ownership and other strategically significant sectors can boost infrastructure development.
Q: What competitive advantages must we exploit?
A: Sri Lanka's strategic location, preferential access to growing markets and potential as a gateway to nearly a quarter of the world's population are key advantages. The change in global trade dynamics resulting in greater intra-Asia trade is a major opportunity in the long term that's amplified by the rapid growth in China and India. With India's push to become a global manufacturing hub through its 'Make in India' initiative, there will be increased transhipment throughput at the Port of Colombo.
China's 'One Belt, One Road' initiative could be the world's largest platform for regional collaboration and the country being positioned at the centre of this maritime route will create opportunities for global players from various industries to establish trading hubs here.
Moreover, the free-trade agreements (FTAs) currently being negotiated with India, China, Pakistan and Singapore could establish Sri Lanka as a trading hub that offers preferential access to regional players. And the government's free-zone and port initiatives can attract global e-commerce giants like Amazon and Alibaba to establish facilities in Sri Lanka.
Q: Are our regulations and related policies in line with emerging global paradigms?
A: While we have adequate laws and related policies governing the industry, they must be streamlined and amended to stay abreast of the evolving environment.
Emerging global paradigms – i.e. digitalisation, 'uberisation,' and e-commerce and economic integration – are impacting global trade. So regulations and policies governing cross-border trade, and maritime and logistic affairs, must adapt to international best practices while protecting national interests.
Q: What are the new international mandates?
A: Sri Lanka is a signatory to International Maritime Organization (IMO) conventions that pertain to a comprehensive regulatory framework. It recently adopted international mandates to reduce operational issues, promote safety, protect the environment and conduct sustainable business.
Data collection requirements of fuel consumption are mandatory and facilitate a reduction of carbon emissions. And mandates for the verification of container weight prior to shipping reduce operational issues and promote overall on-board safety.
The interviewee is the Managing  Director of Hayleys Advantis