MARITIME SECTOR
TIDES OF CHANGE ROLL IN
Mevan Peiris wades into many changes shaping the coastline of seafaring
Compiled by Ruwandi Perera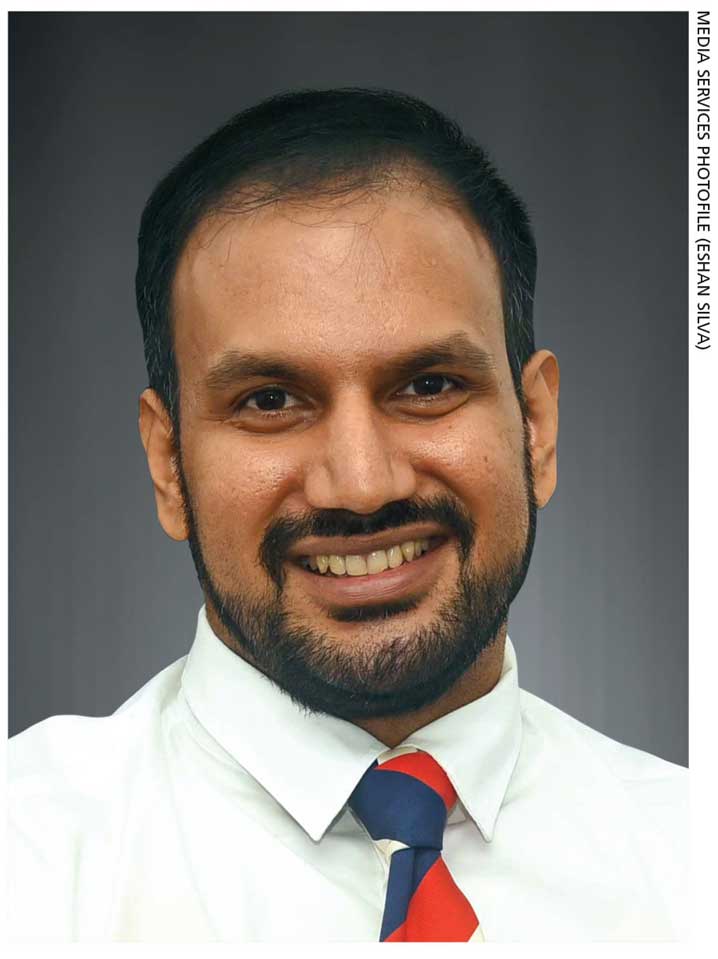 Q: What are the latest developments in the context of Sri Lanka's seafarers?
A: There is a shift in demand for seafarers among shipowners and managers. They are now looking to move away from larger seafaring populations in Asia such as the Philippines and China, to South and Southeast Asian nationalities.
This is to address the existing dependency, which has resulted in reduced bargaining power and increased risks for those concerned.
It also opens up an opportunity for Sri Lanka to capture a larger share of the market.
In addition, there are approximately 100,000 vessels operating around the world – and 381 new ships were ordered in 2021 alone. Research reveals that there will be a shortage of seafarers by 2025. Sri Lanka should be prepared to cater to this increase in demand because it has the infrastructure and capability to make it happen.
With an active base of some 16,000 seafarers, Sri Lanka accounts for one percent of the global seafarer pool and this generates around US$ 400 million in foreign remittances annually. Our business' target is to increase this base to around 50,000 by the end of 2026 and garner foreign remittances in excess of one billion dollars a year.
So we are pushing for a paradigm shift in the foreign employment landscape of Sri Lanka. Our mission is to transform the country from one that exports unskilled labour into a provider of skilled workers for the global maritime industry.
We will be targeting sea and shore-based employment opportunities – with passenger ships on top of the target list – to create lucrative career opportunities for personnel in the hospitality sector.
Q: Could you outline the most pressing challenges facing the industry in the wake of the pandemic?
A: As in every other sector, the health and safety of seafarers is our chief priority. The numerous and ever-changing regulations, and restrictions imposed globally on air travel, have turned crew change logistics into a nightmare.
Our teams work tirelessly around the clock to ensure that seafarers get home safely after their contract periods are over. And an equal effort is put into ensuring that they connect to ships on time and relieve whoever is waiting to go home.
Q: What's the competitive edge that Sri Lankan seafarers have over the competition?
A: Our culture and heritage have bestowed the key ingredients to develop a competitive edge over some other nationalities.
We're friendly, hospitable and adaptable. And since a ship at sea constitutes a vessel manned by many nationalities and ethnicities who are confined to small spaces, adaptability is very important.
Sri Lankans have a high literacy rate and better language capabilities compared to some Asian seafaring nations. We have always been a neutral country, maintaining relationships with both the East and West, which this gives us unrestricted access to the global market.
Another differentiator is the impeccable loyalty of Sri Lankan seafarers to their companies with retention rates in excess of 90 percent – a key factor for shipowners and managers when selecting crews to run their ships.
Q: What are the gaps in skills that you see among Sri Lankan seafarers – and how can these be filled?
A: We see a gap in soft skills when compared to other nationalities such as Filipinos. Sri Lankan seafarers need to focus more on communication skills, be more health conscious and manage their personal finances better.
The CINEC Campus, which was established by us, has partnered with Aitken Spence and is the largest maritime education institute in South Asia.
Through CINEC, we have designed special programmes to enhance soft skills development for seafarers in line with our mission to provide a holistic education and nurture graduates who go beyond academic achievements.
We intend to replicate this model at public sector maritime education institutes as well.
Q: What are the priorities when it comes to stakeholder management in the industry? 
A: We need to reevaluate and update our regulatory framework to fit the overall national plan.
Regulatory bodies have to facilitate the employment of seafarers rather than discourage it.
We have to introduce efficiency and dynamism to keep up with the rest of the world, and this can be done through technology. However, a change in mindset is critical to progress.
Q: So what does the future hold for seafaring, given the evolution of the maritime industry?
A: Advancement in technology has pushed every industry towards automation and seafaring is not exempt from this. Over the years, the number of crew required to operate a ship has reduced from 40-50 in the 1980s to 20-25 today.
With advancements in AI and technology, the human element required for the day-to-day operations of a ship will reduce.
Eventually, technology will evolve and lead to unmanned vessels.
Our aim is to establish a strong presence in the one area that cannot be unmanned – i.e. passenger ships. And we can do this by shifting from our existing role of providing seafarers for cargo ships to equipping them with the requisite skills for the hospitality sector.
The interviewee is the Group Director of the Ceyline Group