MAHATHIR'S MALAYSIA
THE COMEBACK KID
Saro Thiruppathy reports on the historic comeback of an iconic Asian leader at the ripe old age of 92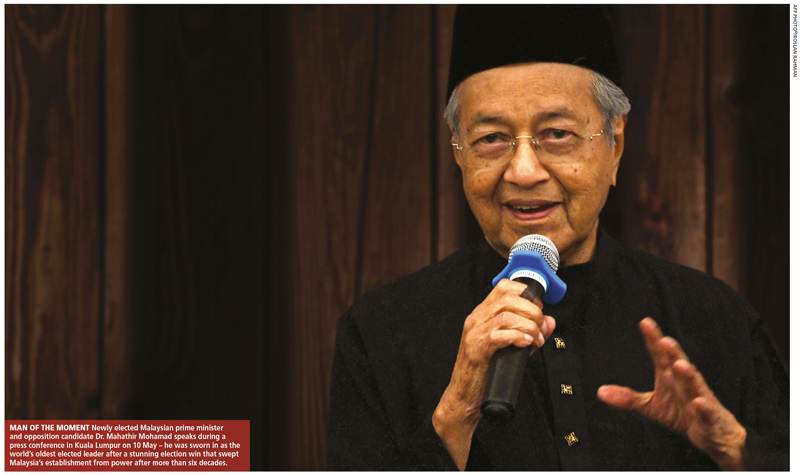 On 10 May 2018, history was made when the world's oldest head of state – 92-year-old Dr. Mahathir Bin Mohamad – was sworn in as the seventh Prime Minister of Malaysia. Mahathir (as he is known) is synonymous with Malaysia just as Fidel Castro was with Cuba, Nelson Mandela was with post-apartheid South Africa and Lee Kuan Yew was with neighbouring Singapore.
As he watched his protégé Najib Razak take Malaysia down an unpleasant road of perfidy, corruption and despair, Mahathir decided it was time for Razak to go. He was responding to the cries of 'reformasi' by Malaysians as graft, untenable taxation, abuse of power and a crumbling economy were taking a toll on their lives.
Accusations levelled against Najib include fraud involving billions of dollars from a government investment fund which he headed. According to the US Justice Department, US$ 3.5 billion had been laundered through stateside financial institutions.
Mahathir had left the Malaysian economy in an enviable state when his term ended in 2003 following 22 eventful years as the country's prime minister. And even though the rule of law at that time may not have been picture perfect, Malaysia's economy was in the ascendancy.
In 2016, Mahathir split from the United Malays National Organisation (UMNO), a core component of the then ruling Barisan Nasional (BN), and formed the Malaysian United Indigenous Party (PPBM). Then in a move that didn't surprise many, since politics makes strange bedfellows, he joined hands with yet another former protégé and political foe Anwar Ibrahim.
He confirmed in November that year that the PPBM would be joining the opposition bloc named Pakatan Harapan (PH) a.k.a. the Alliance of Hope, of which Ibrahim is the leader and his wife Wan Azizah Wan Ismail is party president. Mahathir was later appointed its chairman. And in March 2017, the PPBM officially became a member party of PH.
TIPPING POINT Though the BN was supposed to represent all ethnic groups in the country, it had promoted policies that favoured the Malays or indigenous Bumiputera, which analysts termed 'ethnic politics.'
As a result, over the past two elections, many ethnic Chinese and Indians had thrown their lot in with the opposition. The Malays stayed loyal to the BN but with Mahathir's reappearance on the political landscape, many voted for the PH.
Eventually, the PH took former BN strongholds including Sarawak, Borneo and Johor, which was the birthplace of UMNO. With his charisma and track record, Mahathir was able to chop away BN's voter base in record time.
THE CHOSEN ONE Like a wastrel son, Najib frittered away his inheritance – received on a platter since it was Maha­thir who ensured that he would eventually lead the nation. He had chosen Abdullah Ahmad Badawi as his successor in 2003 and Najib his deputy. But he grew disenchanted with Badawi's style of governance and ensured that Najib would replace him as PM.
Speaking to The Times in 2016, Mahathir expressed regret at his choice of leadership. He said: "Yes, I picked him. I encouraged Badawi to pick Najib as his deputy, which meant he would become the next prime minister. I was instrumental in the fall of Badawi also."
In 1998, then deputy prime minister Anwar Ibrahim fell out of favour with Mahathir – with disastrous consequences. Anwar was found guilty of sodomy and corruption – charges which many believe were trumped up. And as promised, Mahathir secured a royal pardon for Anwar's release from prison and paved the way for his reentry into politics – Anwar is expected to eventually succeed Mahathir as Malaysia's prime minister.
According to some news reports, Mahathir intends to remain prime minister for 12-24 months – and he has promised to relieve the burdens of Malaysians by abolishing GST, reintroducing fuel subsidies and introducing a new healthcare scheme for lower income households.
HAPPY DAYS For the time being at least, Malaysians are euphoric because they have succeeded in punishing the BN at the polls. But the hard part is yet to come since Mahathir's coalition members have little in common beyond wanting to oust Najib Razak and the BN from power.
Besides him, only a few core members of the PH coalition are experienced in government. Analysts fear that diverse interests and agendas within the PH could pose challenges including the eventual transfer of power to Anwar Ibrahim. The rumbles in the ranks have already begun.
Reneging on platform promises could provoke public fury and result in a political crisis. Winning the election is only a fraction of the battle won because the remaining governance issues and making way for Anwar to be prime minister may prove to be easier said than done.
At a recent news conference, Mahathir expressed concern over the extent of China's influence and investments in Malaysia, and his nation's indebtedness to the Chinese. He added: "As for the Belt and Road programme, we have no problem with that except of course, we would not like to see too many warships in the area (because) warships attract other warships." A common concern among Indian Ocean states, it seems.
Though the road ahead may be rocky, people power will prevail. And as fellow Asians, we wish Dr. Mahathir Mohamad and the people of Malaysia a future of peace and prosperity. After all, he did foresee the 'Asian Century' coming in an exclusive interview with LMD some nine years ago.