LUXURY PRODUCTS
SHORT TAKES
Compiled by Savithri Rodrigo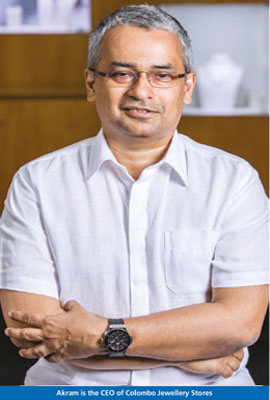 Q: How is the luxury goods market faring amid current economic trends?
Akram Cassim (AC): The market continues to be strong for popular brands although consistent economic policy devoid of ad hoc changes in duties and taxation is imperative to boost this segment. And market confidence is key to plan investment and develop the luxury segment. Global economic trends also play a role in demand, impacting the market.
Indrajith Ranawana (IR): It's definitely a growing market. Sri Lankans are travelling overseas to purchase luxury goods while they're being introduced locally too. And the healthy growth in tourism is impacting sales positively.
Q: What are the key drivers of demand for luxury goods in Sri Lanka?
AC  We don't have a shopping environment that is conducive to the higher end luxury segment. Consumers are aware of brands, trends and pricing. Competitive pricing and the availability of the most recent products together with effective visual merchandising are key to increase demand.
IR  Exposure to luxury lifestyles, higher disposable incomes and the availability of luxury brands have impacted spending patterns – so instead of purchasing traditional gold jewellery, people prefer luxury handbags, shoes and watches.
Q: Do we have what it takes to compete in the luxury hospitality space?
AC  We currently lag behind major countries in this region. While the quality of accommodation has improved and beautiful properties are being developed, the services sector requires improvement. Luxury hospitality refers to outstanding services and unique experiences. In this segment, the brand is only one aspect of a whole that includes design, ambience and service quality.
IR  Sri Lanka has a geographical and cultural advantage over most countries in the region, which must be exploited. There is greater investment in luxury hotels and malls, and that is the way forward.
Q: What is the distinction between ultra-luxury and contemporary affordable luxury?
AC  Luxury is based on perceived value and so it is subjective. It can be defined as selective, exclusive, artistic and well-crafted, and have creative and emotional value, an international profile and presence, and a discernible national persona.
Author Danielle Alleres identifies three types of luxury: inaccessible luxury corresponding with exclusive models; intermediate luxury, which is expensive but available in limited numbers; and accessible luxury.
IR  Ultra-luxury is based on rarity, heritage and workmanship. In the wristwatch sector, a limited edition watch reflects ultra-luxury with only a few clients having access to it.
Q: How are luxury brands catering to the consumer need for personalisation?
AC  In the inaccessible and intermediary luxury categories, personalisation is key; it has seen tremendous growth in products and the travel sector. Unique holidays by private jets to exclusive resorts and locations, and concierge services, are examples.
IR  Personalisation is driven by an array of mix and match options. The luxury watch sector takes about six years to develop new models so personalisation is limited. But some brands offer personalised dials and enamelled 'casebacks.'
Q: And how can we leverage on our location to promote the island as a hub for luxury products?
AC  A long-term strategy is required for duty and tax structures to make the luxury products segment viable. Its objectives would include becoming the shopping hub for South Asia with amazing malls that are tied to tourism in Sri Lanka, developing a duty-free hub with more dining and entertainment activities, and ensuring better infrastructure for accessibility and shorter travel times.
IR  More luxury brands and shopping malls to attract high net worth local and foreign consumers are a must-have.
Q: What are the potential barriers of entry to this market?
AC  Luxury products require an ambience to emerge with high-quality malls. There still isn't a luxury shopping mall to suit luxury brands. Investment and the cost of inventory, the volume of clientele and market size are barriers.
IR  The duty structure – because luxury brands cannot depend on local consumers. The high net worth tourism market must be brought into the equation for which prices have to be regionally competitive.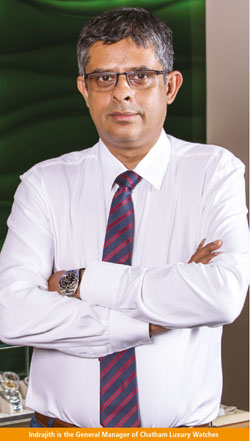 Q: Where do you see the local luxury goods market going in the medium term?
AC  There will be growth with the opening of two new luxury shopping malls in the next two years. Tourism growth will also be a factor. Sri Lankans are brand savvy and will buy brands locally due to convenience.
IR  The luxury products market will be positively impacted by an increase in tourists and visiting expatriates.
Q: How should luxury products be promoted?
AC  Besides developing infrastructure, consistent and progressive duty and tax policies, developing local brands to go global, and using local talent to add value to packaging and branding design.
IR  Sri Lanka must be marketed as a luxury shopping destination. So we must promote luxury tourism. And tax policies on luxury goods must be consistent.
Q: What are the main challenges facing luxury products here in Sri Lanka?
AC  Pricing – because luxury products can be bought at considerable discounts overseas. Visual merchandising and below the line advertising must also reflect the luxury features we seek to project.
IR  The main challenges are that the country is not regionally price-competitive and lacks variety. Fake and duplicate goods also pose a serious challenge.
Q: Could you cite a few initiatives that suppliers of luxury products in this country can take to boost the market?
AC  Eco concept luxury holidays represent a segment that's growing rapidly globally and could be developed to showcase our biodiversity. With appropriate legislation and directives, the experience will be undeniably unique.
IR  Luxury goods suppliers must ensure that clients have the same purchasing experience in Sri Lanka as they would anywhere else in the world. This must be achieved through service, and the ambience and availability of brand portfolio options.
Q: Which trends in global luxury products must Sri Lanka keep an eye on?
AC  Global affluence combined with connectivity has changed lifestyles; and luxury lifestyle experiences are a growing trend.
Luxury has always been about products and status, but this is shifting to include intangible features such as ethical products as well as more creative and eco-friendly concepts. Brands are creating digital experiences and personalising products.
IR  There is exponential growth in ultra-luxury spending whereby consumers seek experiential purchasing for which Sri Lanka should be ready.