TURKISH AIRLINES
Lusaka, the capital of Zambia has become 55th destination of Turkish Airlines in Africa.
As of today, Turkish Airlines has added Lusaka to its expanding network as its 55th destination in Africa. Lusaka flights of the flag carrier will be operated twice per week, and will be in connection with Dar es Salaam.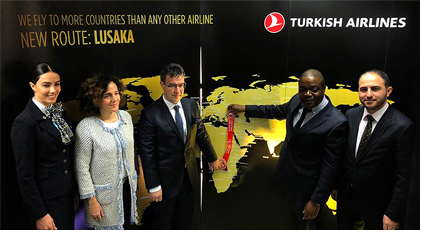 Following the addition of Lusaka, Turkish Airlines now reaches 124 countries and 306 destinations worldwide. The flag carrier keeps to be airline that flying to the the more countries and international destinations in the world.
Lusaka, the capital and the biggest city of Zambia, is located the south of Zambia. One of the seven natural wonders of the world, the Victoria Falls, which is located in the southwest of Lusaka on Zimbabwe – Zambia border, is the most important tourism destination of the country in terms of its nature, and natural life tourism.
At the opening ceremony, Turkish Airlines' Senior Vice President of Sales (2. Region) Mr. Kerem Sarp stated that; ''Today, we have increased our flight network to 55 destinations in Africa. As Turkish Airlines, we keep to expand our network in the continent. Our one of the most important aim is to present our unique service quality to the World, and build bridges between cultures. We are pleased to make Zambia, which has an outstanding natural beauty that includes Victoria Falls, more reachable with the distinguished service approach of Turkish Airlines.
Lusaka flight times as scheduled from December 13th;
Flight No
Days
Departure
Arrival
TK 609
Thursday
IST
19:40
3:00
LUN
+1
TK 609
Friday
LUN
04:30
8:05
DAR
TK 609
Friday
DAR
09:35
16:40
IST
TK 601
Monday
IST
19:40
2:45
DAR
+1
TK 601
Tuesday
DAR
04:15
5:50
LUN
TK 601
Tuesday
LUN
07:20
16:45
IST