LMDTV
Sanjaya Mohottala – the Chairman of the Board of Investment (BOI) of Sri Lanka – believes that Sri Lanka's foreign direct investment (FDI) prospects are "quite good despite the challenges we see globally."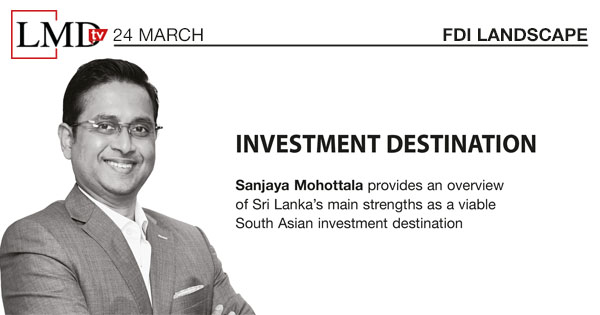 Elaborating on this, he stated: "The global FDI pool is expected to shrink by about 40 percent over the next two or three years. As a country, we have immense potential to attract a substantial share of this FDI; but we must act quickly and decisively."
"Sri Lanka is in a location where about two billion people reside within a few hours [travel wise] – be they in Bangladesh, India, Pakistan, East Africa or Southeast Asia," he explained, stressing that "geographical location matters and we can trade across all these nations without any hindrance."
In addition, Mohottala pointed out that Sri Lanka is home to an educated and versatile talent pool, which is why nearly 1,200 companies have chosen it as an investment destination to export to various markets.
Citing the example of the apparel industry, he noted that Sri Lanka has shifted from merely engaging in piecemeal manufacturing to designing and developing products.
Furthermore, he highlighted the supply chain diversification taking place due to geopolitical and health reasons such as the COVID-19 pandemic as an opportunity that would enable the country to capture manufacturing related FDIs.
And as the nation looks to double its per capita GDP from US$ 4,000, infrastructure will be needed in the form of housing, hotels and luxury apartments, as well as road networks, power, railways and ports, which could create a conducive environment for investments to flow in.
As for Sri Lanka's FDI performance last year, Mohottala noted it garnered about US$ 800 million worth of FDI for projects on the ground, adding that this means "it has been implemented – cash entered the ecosystem."
"Even during the pandemic, we were able to sign contracts amounting to between 1.5 billion dollars and US$ 2 billion," he noted, explaining that these investments would be expected to materialise by the end of 2022.
However, Mohottala identified two challenges the country must tackle: "From a global perspective, the main expectation is a shrinking FDI pool. Having said that, if we play our cards right, we should be able to attract a good amount of investment."
When it comes to local challenges, he cited investors' expectations for things to move quickly, highlighting the case of mixed developments in Colombo.
"Our neighbours are also catching up so we can't stay in the same place," he asserted, stressing: "Investors expect us to move more rapidly, be decisive and provide what is required – be it legal or other approval processes – in a timely manner so they can move on."
Commenting on the impact of bribery and corruption on Sri Lanka's FDI prospects, Mohottala believes it must be addressed for the citizenry as well as investors: "This is not a problem that is only inherent in Sri Lanka; it's an issue that we all face in South Asia."
"We need to get it under control and move forward with multiple efforts – not only in terms of legal enforcement and education but also paying equitable salaries, thereby creating an environment of zero tolerance as we have seen Singapore achieve in a lifetime," he asserted.
In response to how he assesses the ability of the workforce emerging from the education system to cater to the island's changing economic and business needs, Mohottala said there is a need to adapt and change. In his view, many changes are taking place in terms of the system's curriculum and access to higher education.
With regard to the brain drain, he stated: "It cannot be stopped overnight; people will return to the country when their prospects are good. It is our duty to ensure that a vibrant ecosystem is in development so that people see it as one that will provide opportunities as equal as those created abroad."