LMD TV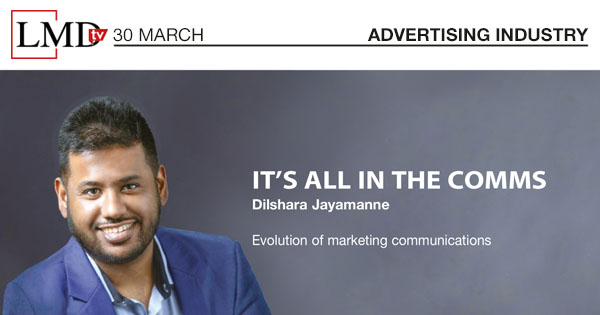 "There is always hope… even in the deepest despair – a cliché we do believe in; and make no mistake, this isn't just blind faith," quipped the Chief Creative Officer of MullenLowe Group Sri Lanka Dilshara Jayamanne.
He reflected: "Let us think about it… this country is always going through some crisis or another. A few decades ago, we had the insurrection, ethnic issues and a war; then a tsunami, a global financial crisis that affected us, the Easter Sunday Day bombings, COVID-19, and now the political and economic crises. But somehow we bounce back, get back on our feet and fight on."
Continuing on the positive note, Jayamanne remarked on a recent edition of LMDtv that "these are great indicators of a resilient nation. As an industry, we do have hope and believe there's opportunity even in a crisis if you perceive the problem differently."
"It is during tough times that brands should engage with people, be there for them and make the right investments so that consumers remain loyal to them in times to come," he added.
And for all of this to take place, Jayamanne said "it is especially important that the [ad] industry comes together and faces tough questions – perhaps even establishes minimum floor prices. Media owners represent a large part of the ad industry's spend and they raise their fees year on year. They have no qualms about it and have every right to do so; but we in the advertising industry haven't raised our fees in several years."
Speaking about the digital divide, he observed: "Our country is such that there are still people without access to technology, the internet and devices to benefit from the information available. However, this divide is shrinking year after year. We currently have 33 million smartphone connections with 53 percent of the population using the internet and approximately 350,000 new social media accounts created every year."
"Interestingly, almost 99 percent of social media is accessed via mobile technology – the democratisation of data and lowering of prices has enabled easy accessibility to information to the masses. This has been an evolving trend providing lots of opportunities for my line of work, brands and businesses."
He cautioned however, that "with these liberties, misinformation could easily become an issue and the ability to filter the truth becomes imperative."
Following on to discuss ethics in the context of online advertising, Jayamanne said: "They are important – be it online, offline, in advertising or in our day-to-day lives. The application of ethics particularly in the context of online platforms has been quite challenging primarily due to the rapid evolution of such advertising spaces and mediums."
"Besides, Sri Lanka does not have an ethics committee that has stipulated a set of guidelines, nor an advertising watchdog that monitors and takes action on violations of those regulations. [This is] not to say we need a police state; that's certainly not the intention. However, when you have powerful online platforms, it's really important that they are used responsibly; overall, attitudes towards ethics need to change," he reiterated.
As for the creator economy, Jayamanne posited: "This is something we wholeheartedly believe in. We feel we're very much connected with the creators at a deep level because what they do in front of or behind a camera, on a blog, a vlog or on Instagram is at the very core of our business, which is creativity."
"Further, the influencer market itself is growing in value – it was estimated to be worth US$ 16 billion in 2022. Their fan base constantly demands better content… and it's a tough job. Their work helps our brands and line of work," he acknowledged.
Therefore, if we partner with them effectively, the advertising content will be more exciting and rewarding to businesses as well as followers, and we can create something beautiful together," he maintained, in summing up.