LMD TV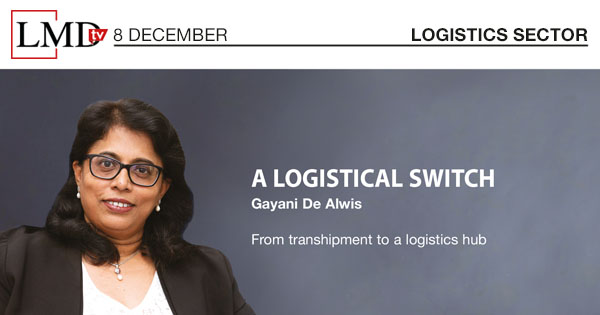 On a recent edition of LMDtv, the Global Chairperson of Women in Logistics and Transport (WiLAT) Gayani De Alwis elaborated on Sri Lanka's aspirations to upgrade itself to a key logistics hub in South Asia from being a mere transhipment portal.
"This is something successive governments have been talking about for quite a long time; unfortunately, we still haven't made it a reality," she stated.
She added: "If you look at our geographical positioning, we are centrally located in the busiest East-West route. Two-thirds of the global oil and a third of bulk cargo shipments take this route; and between 10 and 12 nautical miles off the Colombo port, about 650 ships pass us daily."
"However, less than five percent of these shipments call at our port. Further, we are well connected through air and sea to our neighbour India, which is one of the largest economies in the world. So there is a tremendous opportunity for us to become a logistics hub rather than merely handling transhipments," she continued.
Talking about the barriers to achieving this dream, De Alwis asserted that "inconsistent policies between successive governments and the lack of real political will are our main obstacles to becoming a proper logistics hub. Further, there is no consensus among the opposition and ruling parties; when there is no cohesive approach, ambitions don't get realised."
"Even if you look at some of the key indices – the doing business index (DBI) and logistics performance index (LPI) – our rankings are not really up to the mark. Sri Lanka was No. 99 out of 190 [countries] on the DBI released last year. The Board of Investment (BOI), supposedly a one stop shop to facilitate investors to set up operations here, is riddled with inefficiencies," she opined.
Commenting on the LPI, De Alwis explained: "This is the most important indicator in determining the logistics friendliness of a country. Infrastructure facilities, competitiveness of shipping rates, quality of the workforce, efficiency of operations at border control, and customs and cargo clearance are key parameters determining our position."
"There is a lot of competition from the key transhipment hubs in our region – in Singapore, Salalah, Dubai, Port Klang and Saudi Arabia. If you're not in a strong position, you will be left behind."
"Sri Lanka is currently placed 94 out of 160 in the LPI. So we are considered a partial performer… All stakeholders are interviewed to determine a score based on their perception of how we hand their shipments. Our strategic geographical positioning cannot be used as an advantage if efficiencies are not delivered in all aspects of logistic services provided," she elaborated.
According to a McKinsey report, Asia's e-commerce logistics market will take up to 57 percent of total market share by 2025.
"Sri Lankan's e-commerce market is abysmally low. I believe it is 0.3-0.4 percent of the total trade – definitely less than one percent. Kapruka is a big player in this market and some small players moved into this space during the pandemic. The concepts are not understood well enough by most companies. If you have a brick and mortar model, suddenly just having a website will not enable you to realise your e-commerce ambitions," she noted.
De Alwis added: "You need a digitalised platform backed by a strong logistics arm to manage the fulfilment of your orders. A lot of the companies fail in not being able to handle the last mile deliveries efficiently when consumers place orders online. We even saw how established supermarket chains struggled during lockdowns."
"Consumer demand patterns are changing – some want touchless, smaller parcels delivered frequently to their doorstep with different payment options. The varying consumer needs should be understood clearly. You cannot use the traditional logistics operation to manage the e-commerce business – it is a totally different ballgame."