LMD TV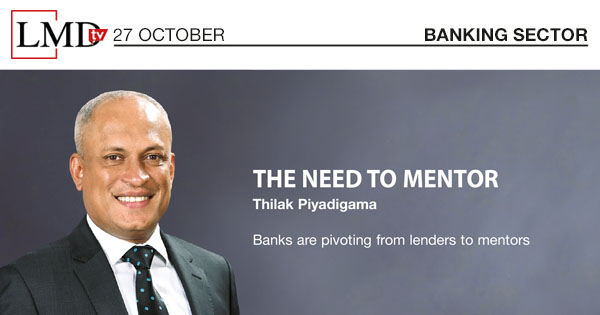 "Banks can play multiple roles – apart from their traditional role of providing loans and financing," said the Chief Executive Officer of SDB bank Thilak Piyadigama. He also noted that "SMEs need better support, apart from the financing. This could be [in the form of] mentoring or coaching them to help their businesses grow."
Drawing from the experience of managing a bank, he believes that banks are poised to be "a coach, advisor, mentor, friend and colleague" to customers as this will facilitate creating "wealth at grassroots level."
"Sri Lanka has a lot of digital opportunities at present," he pointed out, adding that SMEs can "leapfrog by adopting digital technologies right away." Piyadigama cited new technologies such as LANKAQR whereby merchants can conduct all their transactions digitally.
Meanwhile, he mentioned that "we can help them with auditing, maintaining their accounts and doing their taxes" to embrace a fully fledged financial advisory role.
However, he believes that "risk appetite is not about a bank loan but about the viability of a project… it's necessary to consider the whole business proposition, and feasibility and capability of the promoter [borrower] to do such a venture."
"Our fundamental business is granting loans; that's how we make money and grow – so we're always all out to do that provided there are opportunities," he remarked.
And he stressed that the risk element should be addressed through a collaborative effort, in addition to discussing new growth market segments in Sri Lanka: "Logistics became very important – even tuk tuks turned into delivery mechanisms during the lockdown – and the logistics sector became more organised."
Furthermore, Piyadigama asserted that "logistics companies such as PickMe have advanced technologies to ensure better quality services… There is also predictability now. For example, if I order something, I know it will arrive in 10 minutes or an hour, which was not the case before."
Similarly, he pointed out that the agriculture sector has immense potential. He stated: "Twenty-seven percent of our labour force is involved in agriculture production, contributing to eight percent of GDP."
Piyadigama also observed that "we can make them more efficient through automation – and offer support through loans to help the sector grow." Moreover, he believes that import restrictions will be beneficial for local production as they will seek alternative inputs; and this will enrich the local production sector.
He also anticipates a boom in tourism post-COVID and a spike in demand for IT professionals with the rise of the connected world.
Piyadigama said: "The present framework is good enough and it takes care of building financial services." He continued: "We are well regulated and managed to navigate the two years of the outbreak so far without too many difficulties."
He also reflected on how banking models have been established from lessons learned from the 2007/08 financial crisis, and maintained that "we are robust and our stability is guaranteed under the supervision of the Central Bank of Sri Lanka."
"We can refine certain areas of our banking system to cater to a larger audience," he added.
Sharing his views on digital banking, Piyadigama noted: "Digital has taken off in Sri Lanka… I'm a heavy promoter of LANKAQR, as the Chairman of LANKAQR implementation committee of the Central Bank of Sri Lanka."
Furthermore, he stated that "within about six months of work, we were able to capture 260,000 merchants across Sri Lanka." In addition, he noted that "the level of regulation, supervision and good governance we practice, as well as the rules and regulations of the country, have helped us maintain this level of stability."
And Piyadigama concluded his LMDtv interview with an assurance that "we are ready to face even larger challenges than what we've experienced – and I'm sure we will come out of it."