LMD TV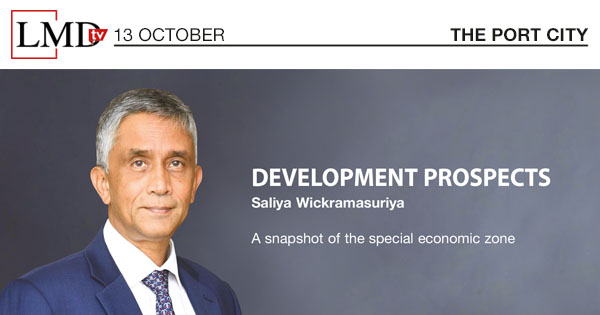 "The most significant con of the Port City Colombo Commission Act is its propensity to be misinterpreted as having some other political agenda," said the Acting Director General of the Colombo Port City Economic Commission Saliya Wickramasuriya.
He explained the act as an independent commission to govern, administer, and set policies and rules for the reclaimed land. Furthermore, he stated that "it gives us a new start on many fronts we are facing some trouble – including indices such as ease of doing business and infrastructure," and added that it "creates an exportable administrative model."
Wickramasuriya explained that there are three forms of foreign direct investment (FDI) Sri Lanka can expect – viz. FDI related to physical infrastructure, FDI focussed on virtual businesses and finally, e-residence connected FDI, which is for individuals to participate in the Colombo International Financial City (CIFC a.k.a. Port City).
Considering the CIFC's land allocation for public use, he remarked: "Galle Face Green is a lovely place but it doesn't have a beach," and added that "the Port City's public area will not be one place as large as Galle Face; it will have a beach that's accessible to the public – at least in parts."
He elaborated that the two kilometre stretch of beach is earmarked for projects and public use, with parks already being planned and developed. And he asserted that "the CIFC should not impact our relations with any country… and there isn't any bias towards or against any particular nationality."
With the aspiration of turning the CIFC into a shopping destination that is capable of attracting the large Indian market, he noted that Indians are known for their appetite for shopping much like the Chinese, adding: "We hope to make it a meeting point for all the nations, and their citizens and cultures, by offering a lifestyle and means of doing business that actually adds value to them."
On the other hand, emphasising the key elements of the regulatory frameworks, Wickramasuriya said that the Colombo Port City Economic Commission wishes all customer experiences in the Port City – be it setting up a business, doing business, winding up a business, hiring and firing people, transacting with other partners or any kind of interaction with the government – to be represented through the commission and regulatory agencies."
He pointed out that the aim of this is to "support quick decisions, speed of action, transparency and overall efficiency." In addition, he stated: "We would analyse the pain points for each sector, and eliminate them through new processes, regulations and laws."
Referring to the environmental aspect of this development, he stressed that "the creation of the breakwater against which the Port City sits has been there for around 10 years.
"I'm not sure that the Port City reclamation has a significant impact because 10 years before that, the Port of Colombo expansion – the southern breakwater – was already there," he added.
Furthermore, Wickramasuriya noted that "all these things are happening in a period of great climatic confusion… and weather patterns have changed." However, he asserted that "going forward, we plan to focus everything we do in the Port City on sustainability and environmental protection."
"The Port City will be a catalyst for attracting investment in businesses and personal residences, and thereby raise Sri Lanka's profile as a destination in terms of [being] a second home, shopping, business, trade and commerce…," he asserted. "We're looking at people with more money to spend and this will lead to an increase in Sri Lanka's property prices," he revealed.
Concluding his views, Wickramasuriya surmised: "Our ability to tap into what potential investors are looking for has been somewhat limited [due to COVID-19]… We think that one or two large anchor investors would make a huge difference and put the COVID-19 challenges behind us."