LMD TV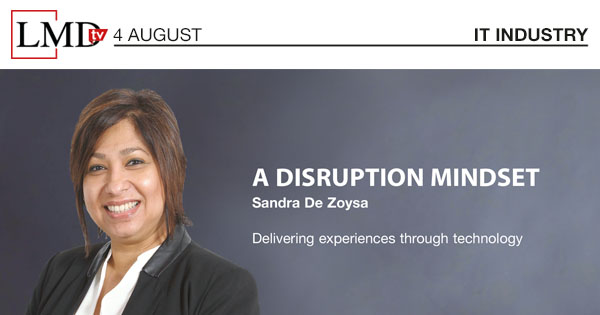 On a recent edition of LMDtv, Sandra De Zoysa – Chairperson of the Sri Lanka Association for Software and Services Companies (SLASSCOM), and Group Chief Customer Officer of Dialog Axiata – said that Sri Lanka must embrace AI if the country is to grow exponentially: "We all know that AI is a disruptor in the telecommunications industry and over the next year or so, we will see Sri Lanka embracing this technology."
Elaborating on what this would entail for communication service providers, she noted that typical AI investments focus on network optimisation, preventive maintenance, virtual assistance and robotic process automation (RPA).
"AI applications use advanced algorithms to look for patterns within data, enabling telcos to both detect and predict network anomalies, and enabling us to proactively fix problems before they impact the customer experience," De Zoysa revealed.
Additionally, this technology would enable telcos to build self-learning knowledge bases to deliver appropriate solutions and recommendations to customers, which she noted would "make the jobs of front line employees in service providers much easier," facilitating a better employee experience as a result.
"The ability to engage in micro-segmentation is enhanced with the use of AI," she observed, explaining that "typical uses would be recommending offers, managing brand perceptions, pushing relevant content to customers, and providing the right kind of products and services, which will help net promoter scores (NPS)."
According to De Zoysa, many telcos and companies in Sri Lanka are harnessing the power of AI to build better propositions and offer better customer experiences.
As for the IT and business process management (BPM) industry, she believes that it possesses the greatest potential for growth among all export businesses: "Over the past decade or so, it has grown by more than 300 percent. In 2019, our industry contributed about US$ 1.5 billion to the country and provided employment to over 150,000 professionals."
She noted that about 90 percent of companies in the IT industry have experienced minimal disruptions during the pandemic with many recording growth during this period, adding that  "we're hopeful that our industry's contribution will support the government's agenda as well."
In her capacity as the head of SLASSCOM, De Zoysa is looking to support female entrepreneurs and techno entrepreneurs as the association aims to establish 1,000 startups.
"A recent study on global female tech participation revealed that in Sri Lanka, this figure is 28 percent and the share of female founders is fairly low. They are lower than the global average by around 14 percent so this is one of our focus areas," she explained.
She continued: "We want to look at benefitting from the women comprising 55 percent of the country's population. In our university system, there is more female participation at the undergraduate level and we want to actively ensure that they can join our workforce to support the industry."
De Zoysa considers sustainability to be an urgent issue for telecom network operators to consider.
"In Sri Lanka, we haven't focussed on this area as much as we should have," she observed, adding that "there is an unprecedented demand for digital communications and the pandemic has forced telecommunications infrastructure to consume more energy than ever, expanding its carbon footprint."
Addressing the question of whether the telecom industry is capable of meeting the demand of increased data use during the pandemic, De Zoysa acknowledged that it has faced immense hardship following the emergence of the pandemic.
However, she expects that the industry will continue to deliver quality over the long term: "Quality will improve while network coverage and data latency will be enhanced. With the plans at hand, I'm certain we can offer the best in terms of connectivity and quality to citizens."