LMD TV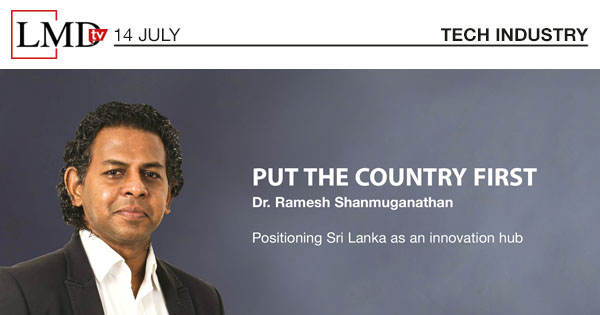 According to Dr. Ramesh Shanmuganathan – the Executive Vice President and Group Chief Information Officer of John Keells Holdings – Sri Lanka has everything to gain vis-à-vis its aspirations to bolster per capita income to US$ 5,000, export earnings to 20 billion dollars and foreign direct investments (FDIs) to US$ 5 billion by 2025.
"We need to look at how Singapore and Dubai positioned themselves in terms of being technology hubs," he said, adding: "I'm certain that we have many cues to take from them to fast track our adoption along those lines."
For Sri Lanka to be competitive in this space, Shanmuganathan stressed that the country needs to differentiate itself as it has been a late entrant to the race. In view of this, he suggested a few options for the way forward.
He stated: "We could position ourselves as a tier 2 innovation and R&D hub, and pursue products in terms of third party platforms – namely mobile, analytics, cloud services and security, as well as everything as a service."
"This is the type of concept that enables us to broad base our market reach beyond Sri Lanka's shores," he explained, noting that "the Sri Lankan market is quite small. If we're to realise our aspirations, we probably need a new vision to go global."
While Shanmuganathan acknowledged that some companies have achieved this, he is of the opinion that the country hasn't achieved critical mass: "This is where we could look at a core innovation option to attract MNCs and large corporates to set up their R&D, innovation or backup PR centres to achieve this [goal], as well as create a brand for Sri Lanka."
Commenting on the Sri Lanka Association for Software and Services Companies' (SLASSCOM) vision of the IT industry generating five billion dollars revenue annually, creating 20,000 new jobs and establishing 1,000 startups, he explained that the chamber has "done its part in establishing a brand in terms of ingenuity."
"For us to earn over US$ 5 billion in exports, we have much more to do than branding. This is where we need to take cues from countries such as Israel, Ireland, Singapore and Malaysia, as well as hubs like Dubai in terms of identifying our USP," he asserted.
Shanmuganathan continued: "We can't be like India because we're lacking in the supply side of the equation in the context of IT skills and competencies; we must be a niche player."
Elaborating on this, he pointed out that the government and many stakeholders need to work together to realise the vision of positioning Sri Lanka as a technology hub.
When it comes to developing talent and upskilling in the country, Shanmuganathan stressed the need to acknowledge the supply chain strain in terms of the number of students produced by the education system: "If we're aspiring to position ourselves as a cutting-edge innovation or R&D hub, we need to cross-pollinate with skills from overseas."
To tackle this constraint, he emphasised the need to liberalise Sri Lanka's education system and permit others to set up institutions in the country – much like Singapore and Dubai, which attract students from overseas.
Questioning the mindset of talent having to originate from within the island, he suggested that "we integrate ourselves into the global ecosystem and think like a global village."
Expanding on how this would benefit Sri Lanka, Shanmuganathan added: "If we can attract talent from anywhere in the world, why not? But in the process, we also need to enable the knowledge transfer to Sri Lankans so that they can upskill themselves."
Citing the example of how Dubai has pursued this goal, he explained that had the emirate adopted a protectionist approach, the locals would not be as educated or knowledgeable as they are now – not for another 50 years or so.
To this end, Shanmuganathan maintained that "our policy makers must wake up to this reality, put the country first and make policy decisions that may be difficult but are needed."