LMD ARCHIVES
BRANSON IN LMD
LMD EXCLUSIVE
THE IDEAS MAN
Sir Richard Branson's take of the world and Sri Lanka today And why he dearly loves life but is never satisfied with business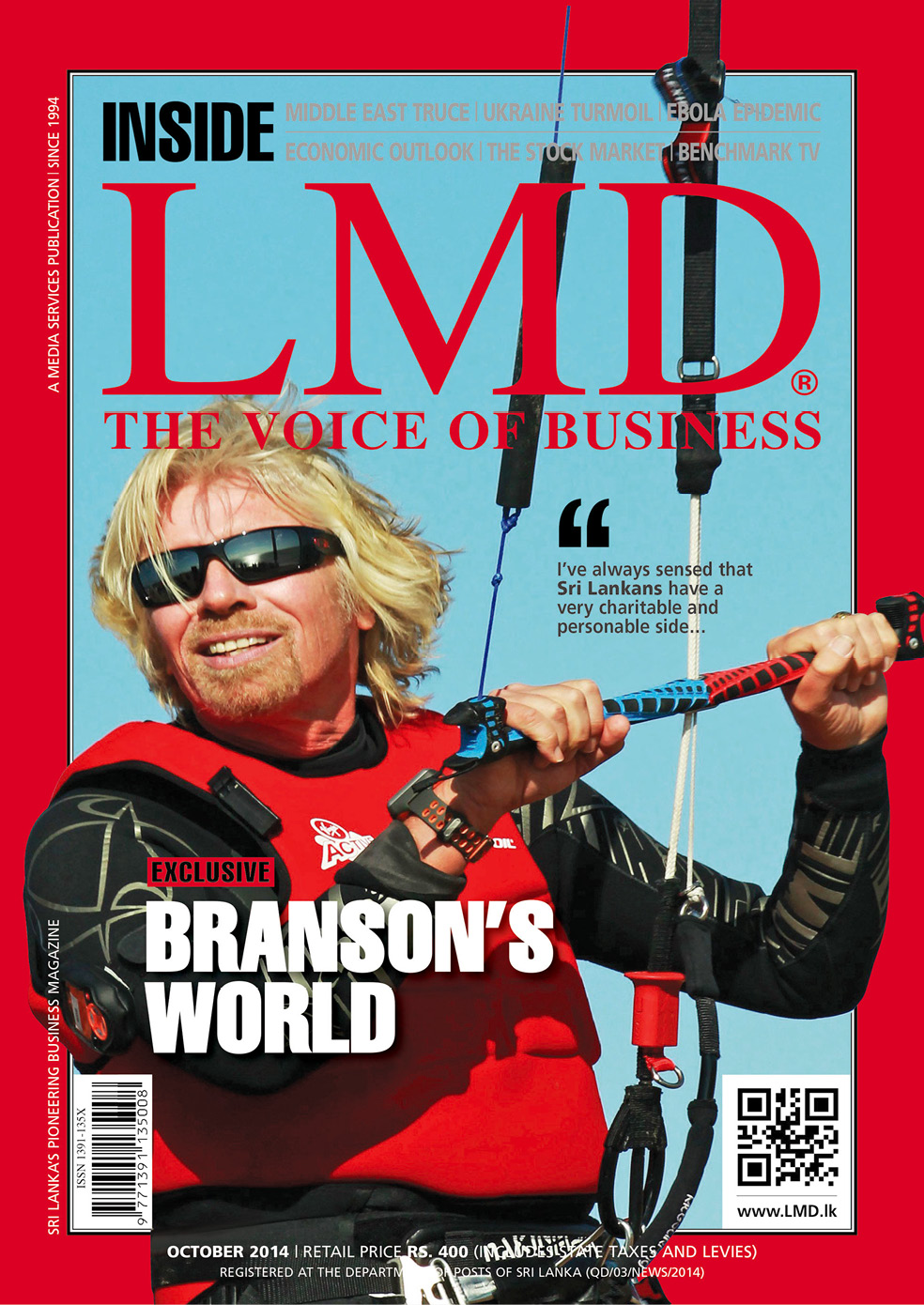 This is one of Sir Richard's most famous quotes – and in simple terms, it gives the truest reflection of what motivates the business mind of one of the most unique entrepreneurial figures. The enigmatic Brit's business mantra is simple: Never let barriers prevent you from moving forward, and always let good practice drive good business.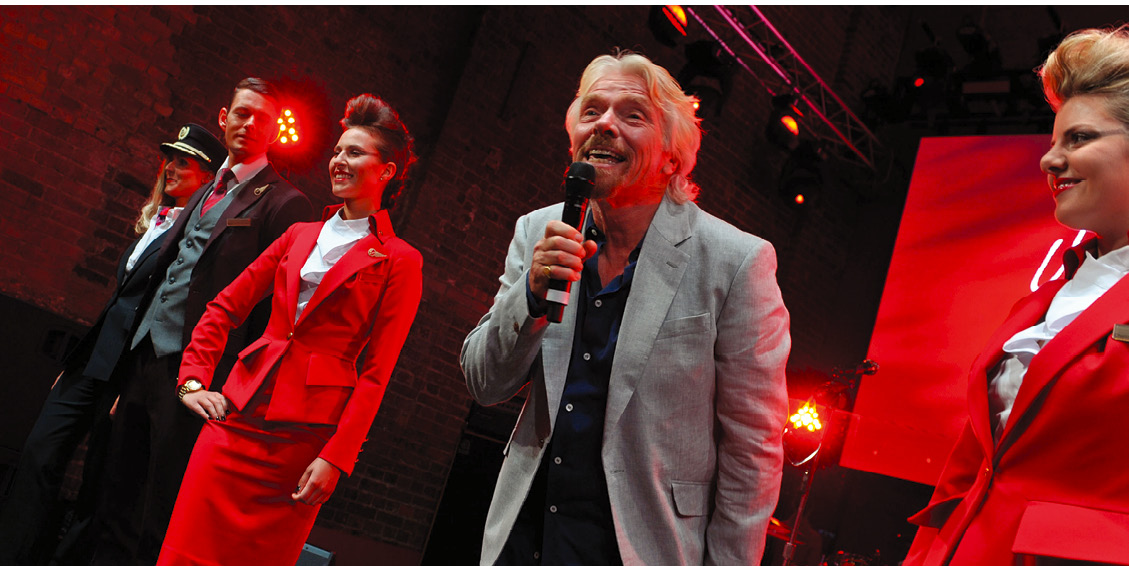 And that philosophy has been duly rewarded. Over 40 years since he began publishing student newspapers, Branson stands at the pinnacle of the business world. He is, perhaps, the ultimate example of what can be achieved with shrewd commercial practice, innovative ideas and the personality to make ideas a reality.
THE VIRGIN EMPIRE His business interests which comprise aviation, transport (trains) and media, amongst others – have helped the 64-year-old accrue wealth in excess of US$ 4.5 billion, placing him among the richest men in Britain. But his fortune alone is no indication of the influence that Sir Richard wields not just in business but in humanitarian themed incentives too.
Few business leaders seem to enjoy life more than Branson. Even today, he retains his wide-eyed optimism of the early 1970s – that was when Virgin Records began a business trail that ended with him taking to the skies with the launch of Virgin Atlantic in 1984.
"I'm passionate about life, and I'm passionate about all the things that the team at Virgin have created," Branson states, adding that "people ask me how I manage to retain my enthusiasm; but you know, it would be very sad if everybody at Virgin was working enormously hard to make sure that the company they work for is the best in the world, and if I wasn't then as equally excited and passionate. So I'm as interested as I was 30 years ago."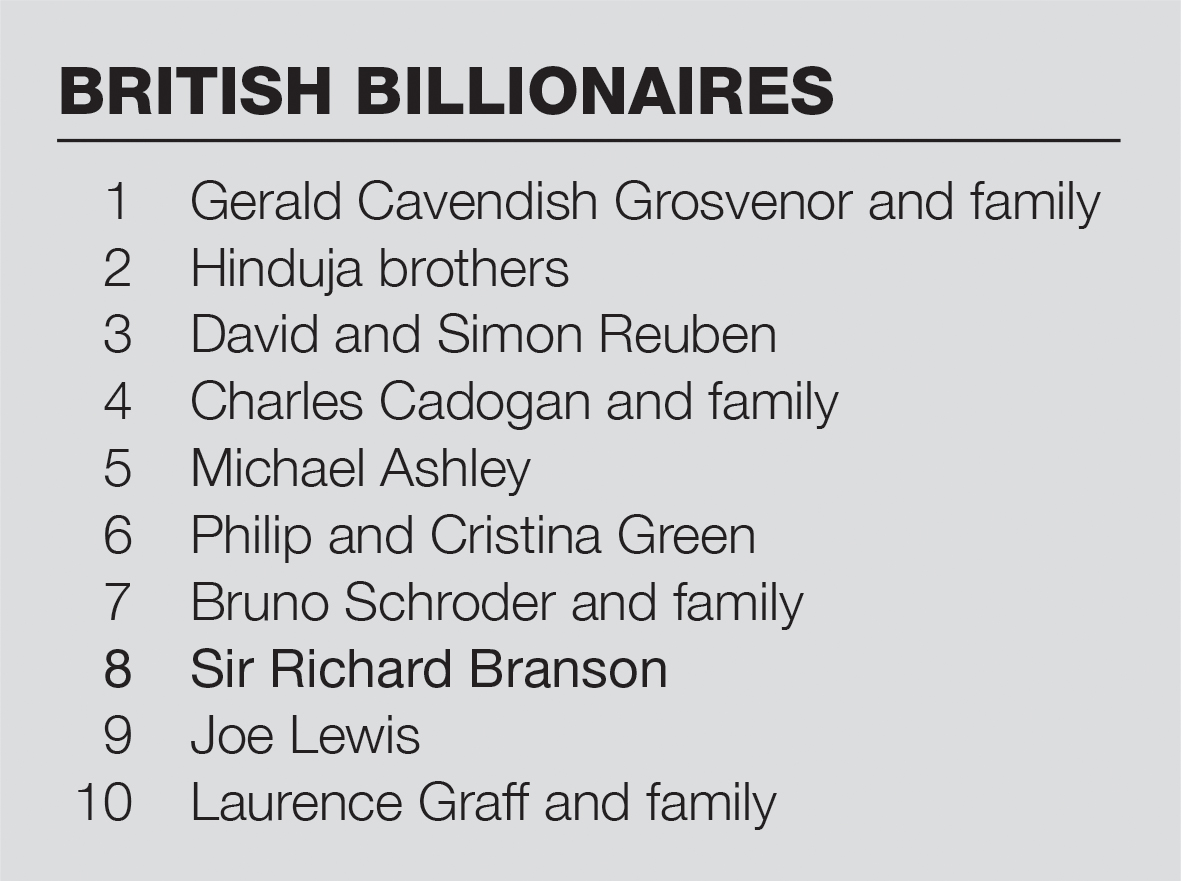 Branson elaborates: "I travel six months of the year, and I'm learning all the time. I love to learn, and I suspect that's why Virgin's gone in so many different directions; it's my inquisitiveness and my desire; my frustration that I feel I can do it better than someone else. That sort of 'let's do it' mentality has been absolutely pivotal to our success over the years."
THE PEOPLE PERSON But although he is undoubtedly a one-off in the business world, the man behind the Virgin empire is contrite when it comes to taking all the credit for his successes (even if he is more than happy to hog the limelight, being the vivacious, fun loving character that he is).
Throughout his career, Branson has made no secret of the fact that the people he surrounds himself with are as vital to the process as he is. He calls his Virgin staff "the most important people to me – you cannot succeed without having a great team around you." Indeed, Branson always acknowledges the help he's received along the way.
He reveals that Sir Freddie Laker (the late, UK-born, airline entrepreneur who is best known for founding Laker Airways in 1966) was an early role model and mentor. "Freddie gave me invaluable advice and guidance when I was setting up Virgin Atlantic, and I wouldn't have been as successful were it not for that. In fact, his first piece of advice was, 'don't do it!'" Branson recalls.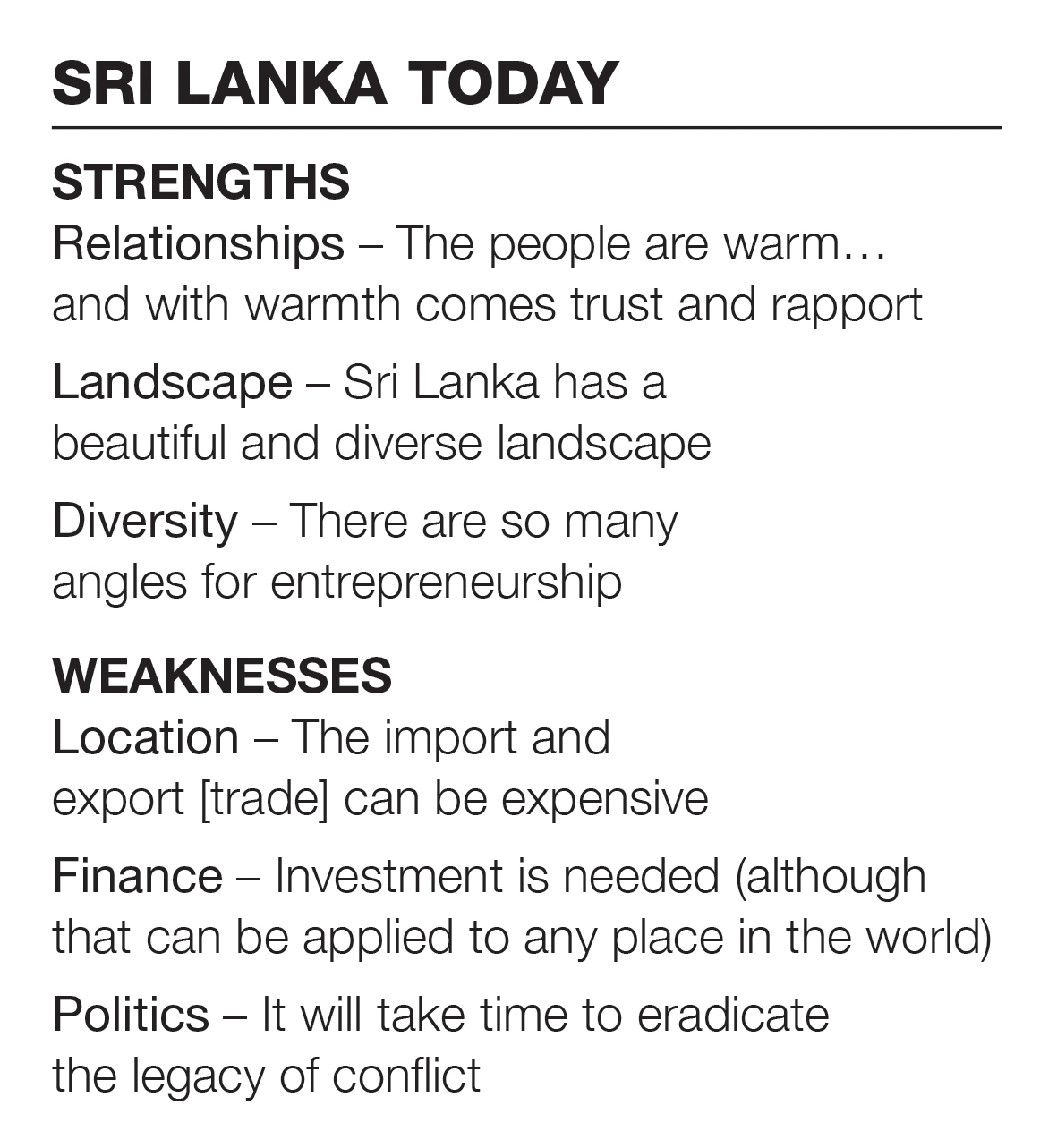 Receiving mentoring, Sir Richard says, is not a sign of weakness. It's a strength. And it is something that all budding businesspeople should look for. "I think a mentor is often the missing link between a promising businessman and a successful one," he states, adding that "any great businessman will have had good mentoring along the way. You need help and advice. You can't do it on your own, no matter how good and clever you think you are."
"The spirit of mentoring should be embedded in all businesses. It doesn't even have to be an expert – my mum has mentored me my entire life. I wouldn't be where I am now if it wasn't for her, trust me!" the business magnate says.
Branson is such a fan of the technique that he's moved into mentoring in an official capacity. He regularly talks at conferences and set up the Branson Centre of Entrepreneurship, to that end. But in reality, any interview with the Virgin chief is full of wisdom and advice. He loves to talk. Ask him about new startups and incentives from government, and he's soon in full flow.
"I think, right now in Great Britain, it's about the most exciting time for entrepreneurs there's ever been. And if there is potential in the UK, then there's potential all over because everything feeds outwards. We lobbied the British government for years to try to introduce startup loans rather than just loans, and the government has gone along with that," he notes.
Virgin's chief discloses that "companies like Virgin are finding mentees to work with – the people who get those startup loans. And there are thousands of people taking those first tentative steps on the ladder. Five years from now, I believe we're going to be looking at a very different landscape, and that's very exciting."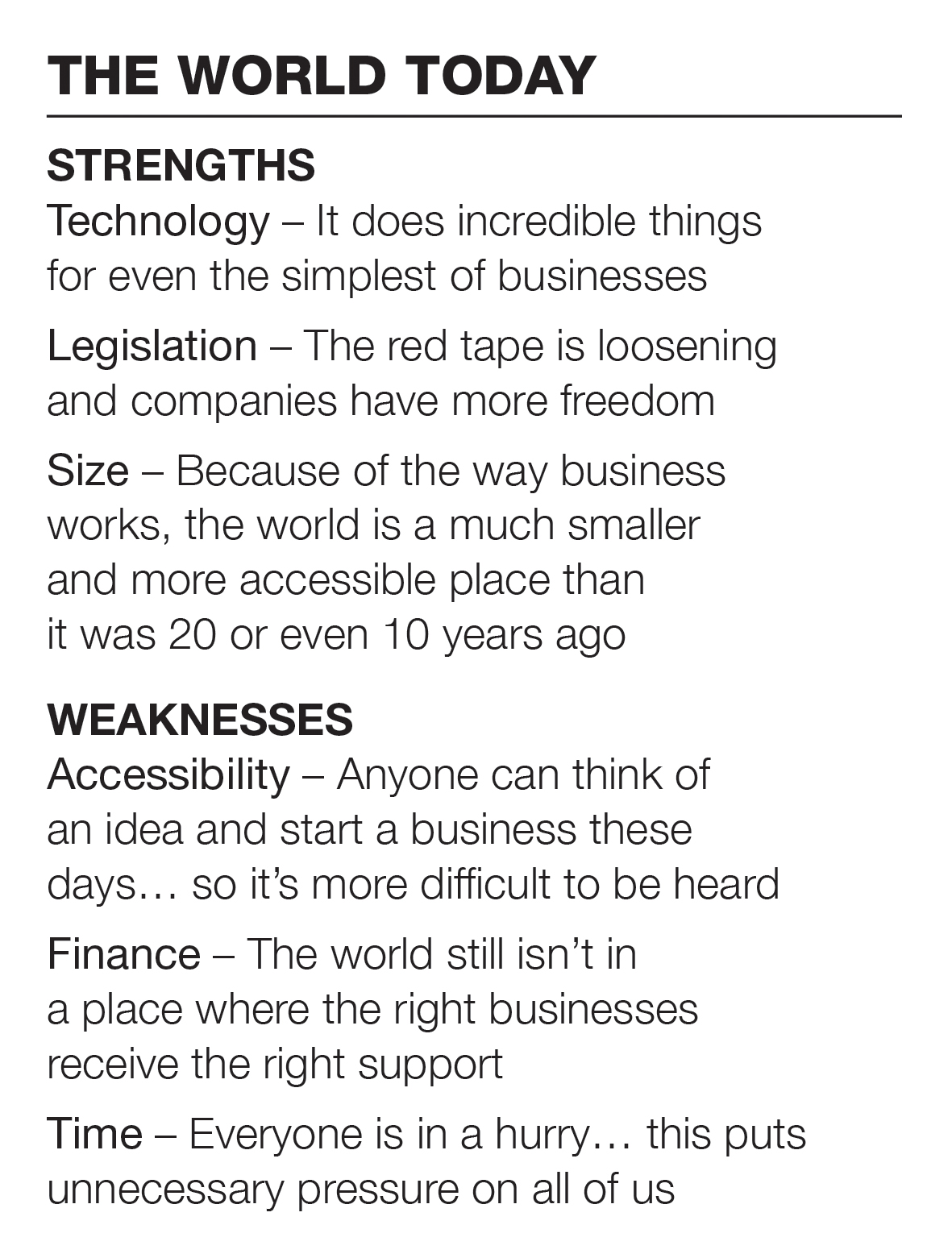 And for those businesses, wherever they are, looking to grab a few nuggets of salient advice from the king of the jet set: "Well, the first year or two are the toughest for any new business. There's a very thin dividing line between success and failure, and if you're lucky enough to stay on the right side of that dividing line, you're an exception to the rule. Only maybe two out of 10 companies that start manage to survive."
THE DIVIDING LINE "But if you go on to the wrong side of that dividing line and fail, you will have had the best education of your life. You will have learnt all about the struggles of building a business; and that's the time not to give up. That's the time to play something anew, and think: 'Why did the last project go wrong, and how can I do it better next time?' Ultimately, as long as you have that attitude, you will succeed," Branson maintains.
The regard with which most entrepreneurs and businesspeople hold Sir Richard Branson means that these opinions are largely taken as gospel. The fact that the father of two holds such a lofty position in the business world is, perhaps, why his tax arrangements have been questioned.
This is someone under intense and unrelenting scrutiny. And he refutes he has done anything illegal but admits the ambiguity could be ended if the political will is there.
"I think the traditional way of running a company is that businesses find every way to pay the least amount of tax, and they'll get tax advisers to do that. They'll play within the rules and government will set the rules. It's quite within the power of government to change the rules," he explains, adding: "That's the traditional way but then there are moral arguments. It's up to the chief executive to decide if that might be morally damaging for the company, or just damaging from a public relations point of view."
However, the suggestion of Branson looking to cut corners when it comes to taxation appears slightly disingenuous, given that this is someone who does so much philanthropic work. As he announced last year, Sir Richard will leave over half his wealth to charitable causes. For a man who owns so much, he is steadfast in his belief that money isn't everything.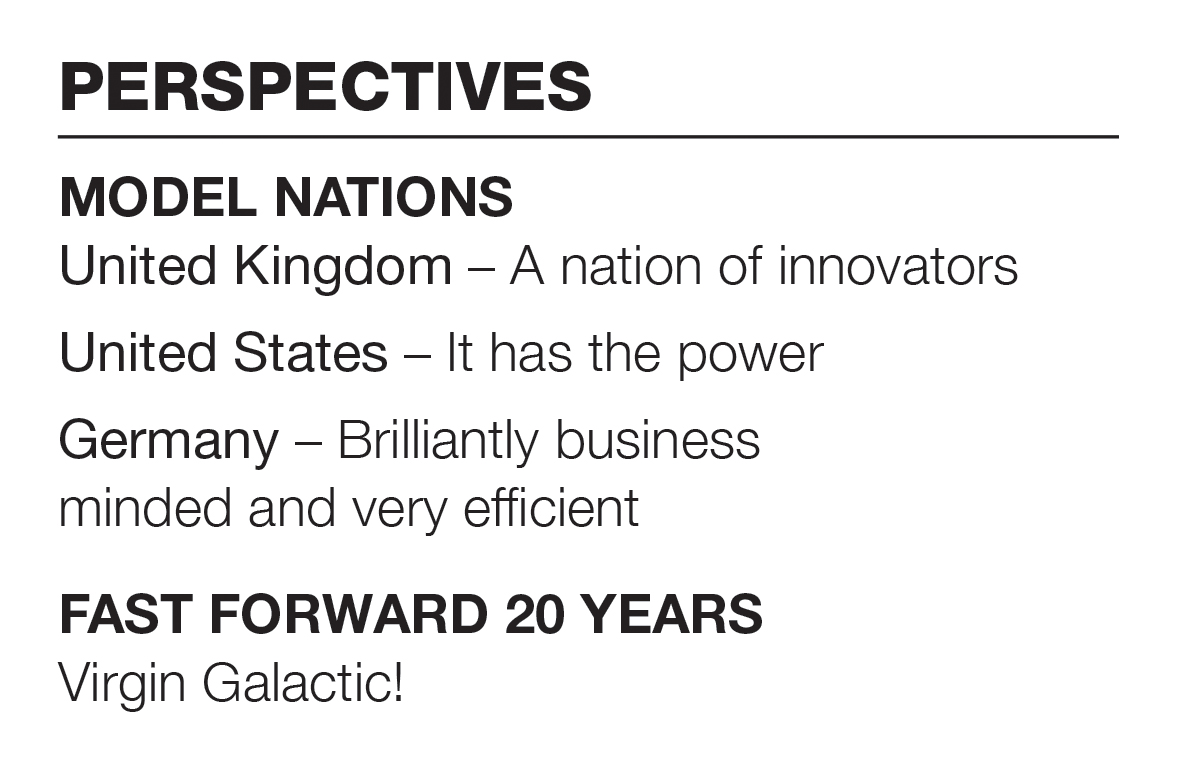 He declares: "It's true; money doesn't make you happy. Having lots of stuff doesn't make you happy. It's your family, your friends, your good health, your life experiences – these are the things that make you happy. I want to leave money to good causes that can help develop the world… I want that to continue."
BRANSON ON SRI LANKA And this extends to Sri Lanka too. Branson has been to the country several times, developing a taste for Ginger Beer along the way. "I love Ginger Beer, which I discovered in Sri Lanka; so I owe it (Sri Lanka) that at least," he says.
But Branson's interest goes far beyond the trivial…
In 2009, he founded The Elders, a humanitarian group whose stated aim was to resolve conflicts around the globe – to be the world's moral authority and conscience. Together with its members – they include Kofi Anan, Archbishop Desmond Tutu and most inspirationally, the late great former South African President Nelson Mandela – Branson worked tirelessly to encourage peace and resolution in Sri Lanka, alongside other war-torn territories such as Israel and Palestine, and Zimbabwe; and the Arab Spring uprising.
With regard to Sri Lanka, the group has continued to apply pressure on the Government in the post-conflict years, to fully implement the UNHRC recommendations so as to maintain civility as the transformation to peace continues.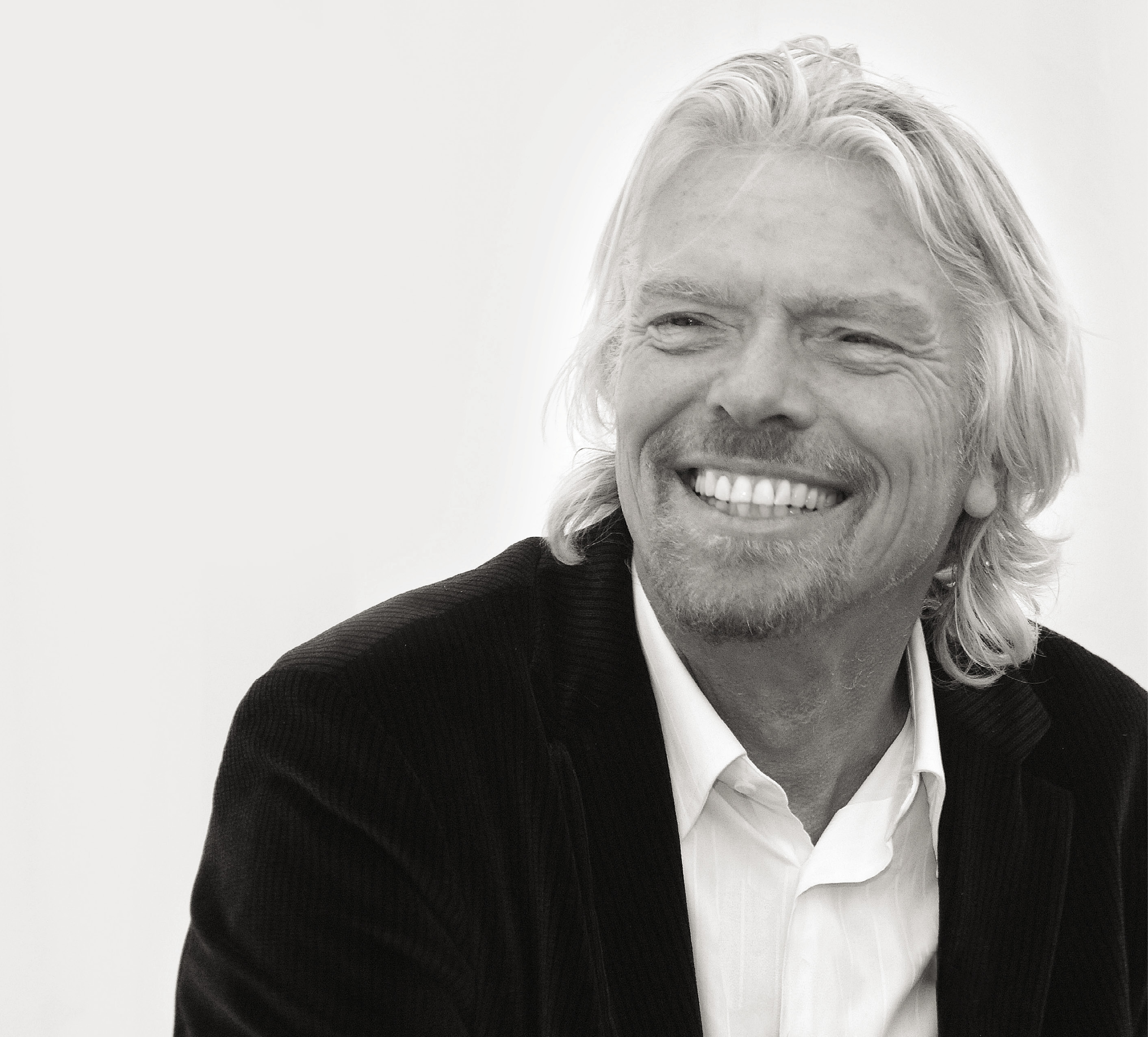 "It's all about using influence. I think [that] when you become a parent, you look at people and life in a completely different manner. I never wanted to see innocent people suffer; but when you consider one of them is someone's child, mother or father, it provokes in you an ever stronger urge to do something important and meaningful with your influence," Sir Richard remarks.
And he declares: "I don't want to be famous for being rich. I want to be respected for using [my] wealth. That's a very different thing."
Branson is delighted to have played his part in the island. And he has made inroads into developing a business relationship with Sri Lanka, as well as a personal one. As well as holiday trips, he points out that Virgin Airlines now flies (charters) to Sri Lanka, and that his autobiography was made available for sale in the country not long ago.
"For me, it's the people – the warmth, the welcome. You don't get that everywhere but I've always sensed that Sri Lankans have a very charitable and personable side. It's a great place," he pronounces.
There was also the amusing sight, back in 2011, of one of the world's richest men taking up the role as a cabin crew member in full drag (lipstick and makeup) on an AirAsia flight from London to Colombo, via Kuala Lumpur… all in the name of charity, after he lost a grand prix wager to Malaysian tycoon Tony Fernandes.
Yet, the question of whether Branson is ready to invest in Sri Lanka is a trickier one. He says, with genuine compassion, that "the end of the conflict has been great for everyone and the country is reaping that benefit," but warns that there is still some way to go.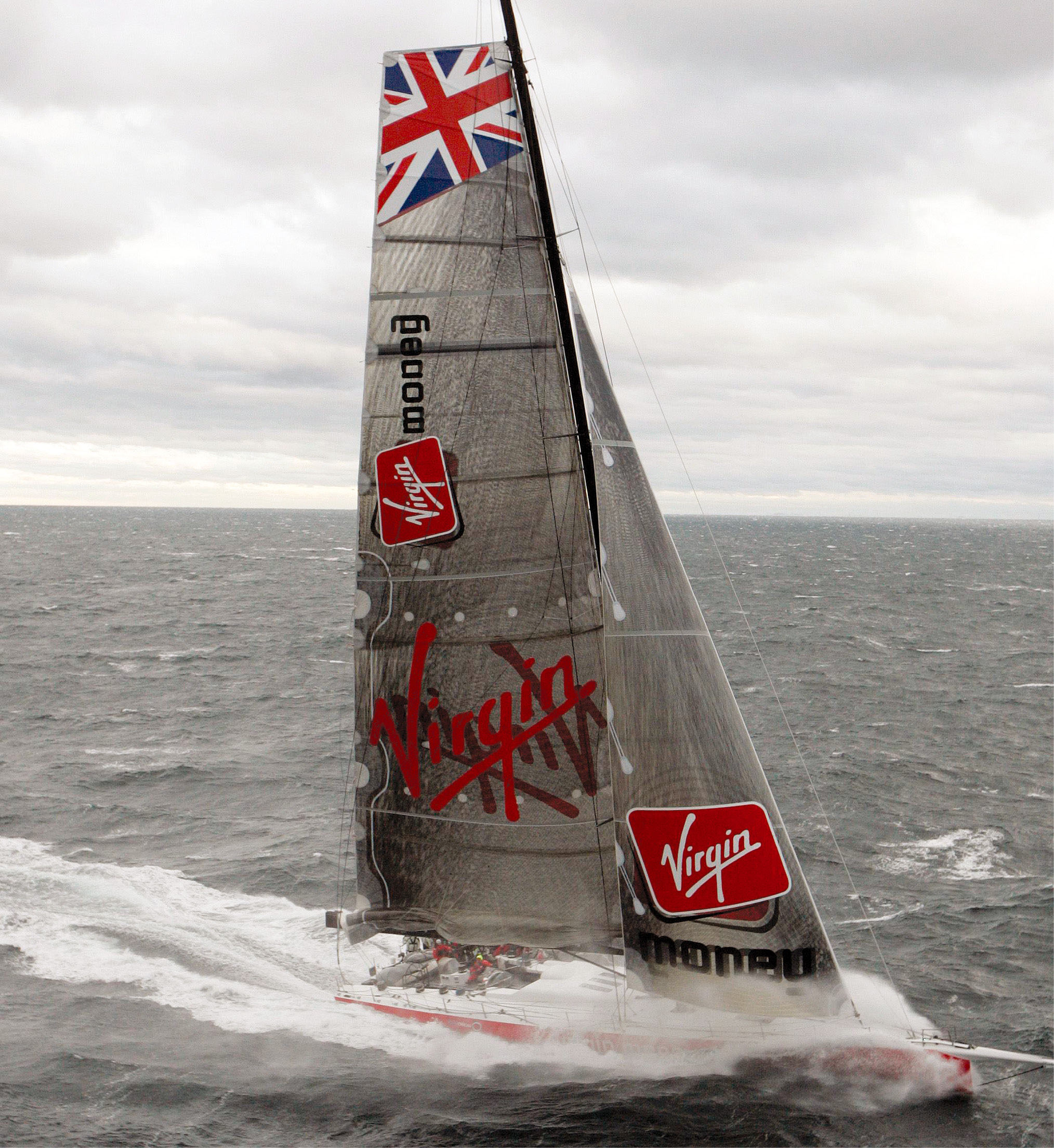 What is certain with Branson is that his eyes are firmly fixed on any opportunities that may present themselves, and he is refusing to rule out investing in Sri Lanka at some point, saying: "In business, never say never!"
"If the conditions are right and if I feel like there is a good opportunity – one I feel passionate about and one that I feel will enhance not just the Virgin brand but the lives of Sri Lankans – then yes, it is perfectly plausible. But it's got to be a good idea," he explains.
THE IDEAS MAN This ethos is central to how Branson operates. For all of his undoubted business acumen and financial expertise, he is first and foremost an ideas man. All his success (and for that matter his failures too) have been formed on the back of the same desire – to give the world an original product that it doesn't yet know it needs.
Virgin's chief believes that "if you have a great idea that will improve people's lives, then you can't go wrong. You need to have products that people can see will make their lives better. That is the key to any business or product. You have to give people something that they haven't already got but that they are going to love and rely on."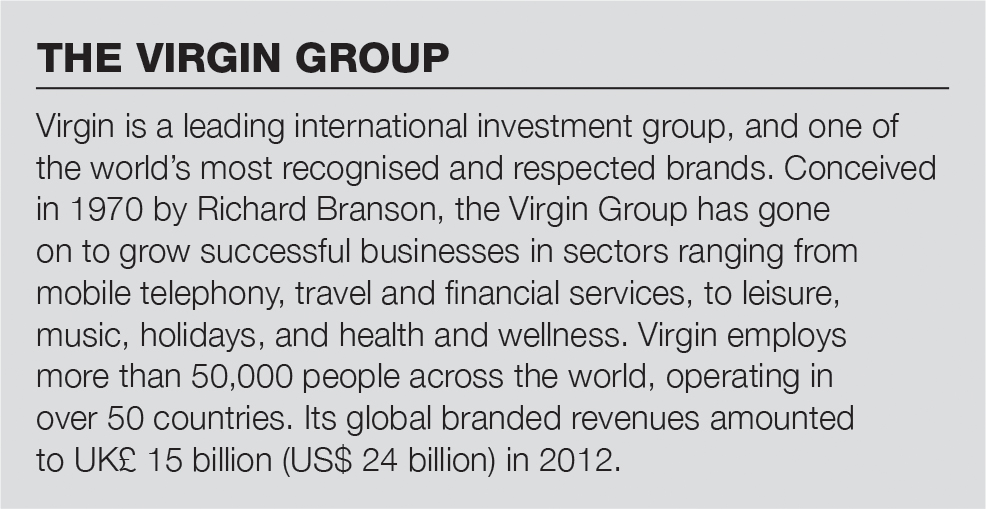 "I think that number one, in terms of advice, is if you see a gap in the market, if you believe you can fill that gap better than anybody else has done, then screw it, just go for it. Number two is to find some good people to help you do it. And then just get out and learn from launching the product, whatever it is you've come up with, and learn on the job," he recommends.
SPACE EXPLORATION The next idea that Branson hopes will do that is his most ambitious yet. For decades, space exploration has been the reserve of professionals or the super-rich. Branson, with typical grandstanding optimism, wants to make it affordable to the common man through Virgin Atlantic.
"Nine out of 10 people would love to fly on Virgin Galactic and go to space. It's really up to us to try to bring the price down in the years to come, to enable hundreds of thousands of people to be able to become astronauts and go to space, rather than expect people to earn US$ 250,000 to buy tickets. So that's the challenge we've set ourselves," Branson discloses.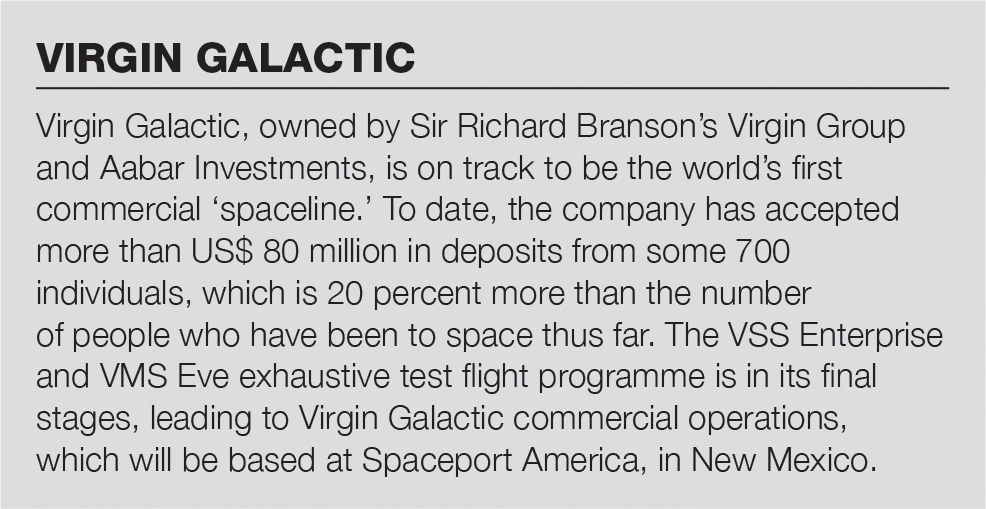 Ecstatically happy with life but never satisfied with business, it is no surprise that Branson is already envisaging just what that would be like – and, as ever, the customer is central to this thinking.
"I would love Virgin Atlantic, in the next decade or so, to be using Virgin Galactic spaceships to transport people across the world at a fraction of the time it takes a British Airways plane. And I think that will happen. As always, I'm thinking of the next idea… I hope there is always one," he says, in his concluding remarks, striking a typically optimistic note.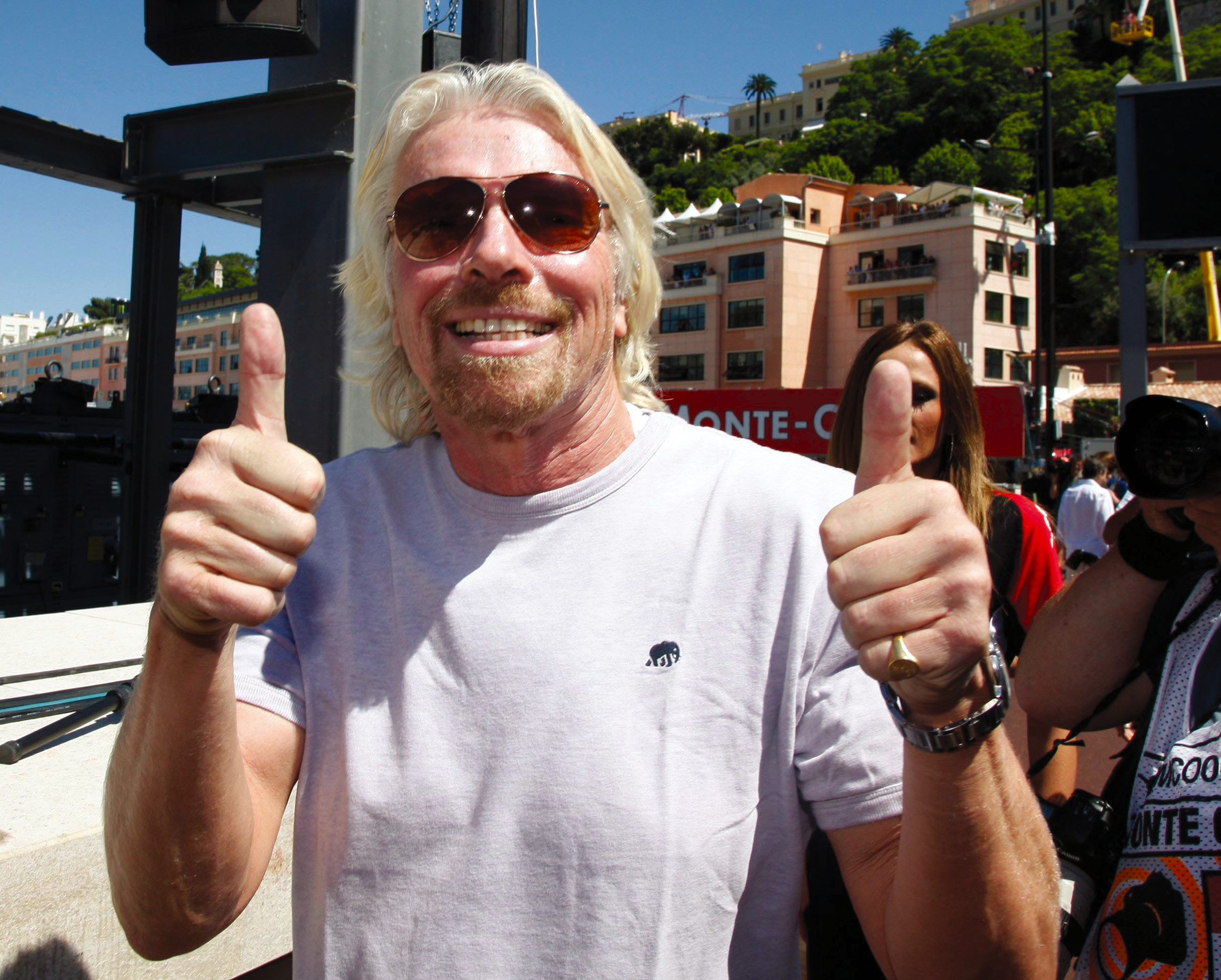 – Sir Richard Branson was interviewed by Shaun Curran of the Interview Hub