LMD ARCHIVES
REALTY SURVEY
Compiled by Yamini Sequeira
YARDSTICK OF SUCCESS
Hemaka de Alwis surveys Sri Lanka's real estate landscape and presents a wish list
Sri Lanka's real estate sector has demonstrated reasonable growth since the end of the war. Future expectations of the economy, economic policy reforms, an ever-expanding tourism industry and potentially growing investor confidence have contributed to this trend. The expansion of the real estate sector, in the six-plus years since the war ended, has surpassed that of the last 30 years, with sector g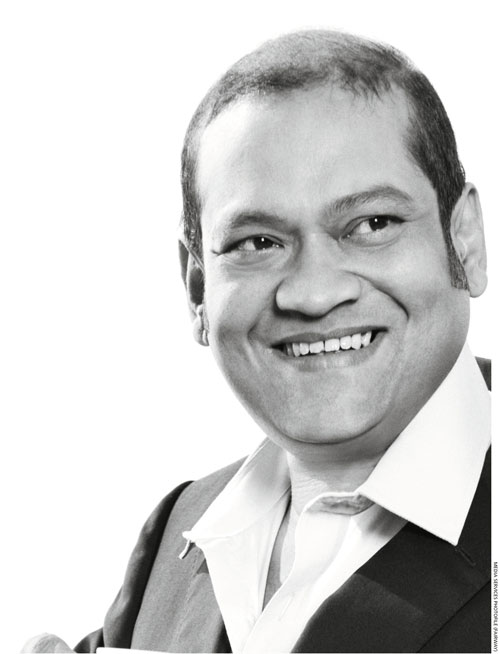 rowth outpacing GDP.
These observations are cited by Hemaka de Alwis. However, he feels that the sector has failed to offer affordable housing within the Greater Colombo area: "Developers have been focussing heavily on the luxury segment, neglecting the larger market of housing for the middle and lower-middle income groups."
Furthermore, he is worried that, with the demand for housing on the rise, "many substandard housing units are coming into the market. The end of the war should not be seen as a green light for poorly planned and conceptualised buildings, in the name of development. The Western Province and Megapolis Ministry has its work cut out!"
KEY CHALLENGES Clearly, the real estate sector faces numerous challenges, and de Alwis points out that "as the sector grows, the cost of materials keeps increasing, while labour becomes a scarce commodity and land prices continue to rise. Currency fluctuation is another risk we face, as it increases the cost of imports. The challenge for the developer is to manage all these factors, and deliver a marketable product that balances price and quality."
Parking remains a perennial problem, and de Alwis remarks that "although the Urban Development Authority (UDA) has increased its requirements with regard to the availability of parking in new public and commercial buildings, this is not sufficient. Given the huge cost of land in areas where parking is most needed, this is not a viable business for the private sector, unless the UDA provides land on concessionary terms."

ARCHAIC LAWS Sri Lanka's Apartment Ownership Laws are outdated. They need to beoverhauled, giving the Condominium Management Authority (CMA) the teeth it requires to resolve issues that exist between homeowners and developers, as well as between homeowners, de Alwis urges.
He muses: "The sustainability of a building, its services and functionality should be the foremost criteria when the relevant authority approves a project. Currently, no authorit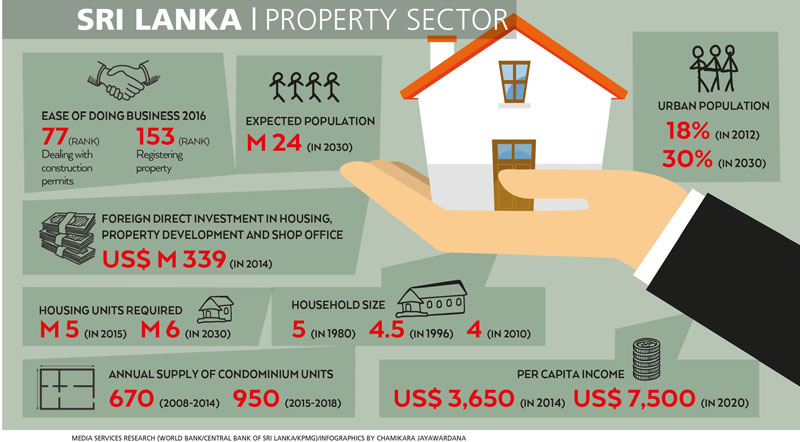 y looks at this very important as­pect. Developers are left to their own devices. I fear that this will lead to poor-quality developments that are unsustainable, leading to loss of capital for many people."
Moreover, there are only a few companies listed under the real estate sector on the Colombo Stock Exchange (CSE). "Some of the larger listed companies are predominantly foreign-owned; but it is unclear as to how they will continue, with the current laws prohibiting foreign ownership of land. Unless these laws are rationalised, the market value and performance of this sector can be seriously affected," de Alwis warns.
He continues: "More construction and real estate-related companies should be encouraged to list, for the sector to achieve stability. Instead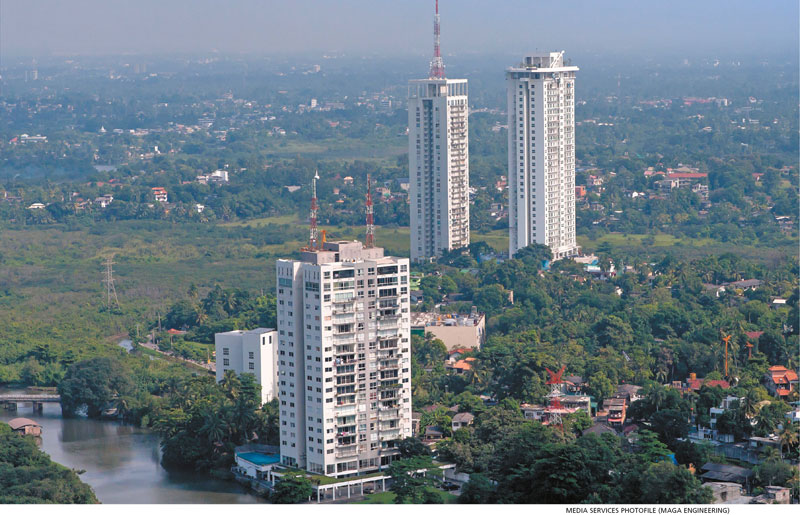 of investing in listed stocks, Real Estate Investment Trusts (REITs) have been spoken of in the past, but we are yet to see such an instrument in the local market. REITs are used in most markets as a means of allowing the general public to directly participate in the real estate market, and as a means of funding for real estate projects."
STOCK WATCH Cautioning the market, de Alwis asserts: "The property market is referred to as the weathervane of an economy. In as much as it is the real estate sector that first shows signs of recovery in a resurging economy, it is also the sector that dries up, no sooner the economy turns for the worse. Therefore, developers need to be mindful of the inventory they carry."
An important ancillary service in any real estate transaction is the provision of legal services. De Alwis observes that "here, you have a wide choice: from well-established legal firms, to independent legal professionals that can be of assistance. The legal fraternity provides an indispensable service to the real estate sector."
THE BARRIERS Regulatory pressures and the long-drawn-out process of obtaining approvals for a project also pose a challenge for developers. There's ambiguity in the planning regulations, with powers overlapping between two or more institutions. What's more, some of the planning regulations are archaic.
"Many ins

titutions such as the UDA, Sri Lanka Land Reclamation and Development Corporation (SLLRDC) and the Board of Investment (BOI) have lost focus. Furthermore, the lack of capacity of contractors, in terms of manpower and resources, poses a challenge, as does the fact that we have only a handful of large-scale contractors. But this void is being filled fast by foreign contractors; which is good, in a way, because we can then expect new technology transfers, which our construction industry direly needs," de Alwis asserts.
FOREIGN OWNERSHIP Foreigners are not permitted to acquire any land under existing laws, and the acquisition of apartments is the only viable option for a foreigner who wants to participate in the local real estate sector.
De Alwis states: "This is a highly attractive option for foreigners, who can easily earn double-digit returns, in terms of capital gains and rental income. However, we should relax this restriction, for bona fide foreign companies or individuals acquiring land for commercial or industrial purposes that will benefit Sri Lanka, by adding to our GDP."
FUTURE WISH LIST He articulates his wish list for the sector to include "guidelines for apartment developers, so that a developer has to demonstrate how the building will be maintained in the long term with monies collected as management fees from the homeowners – including an adequate sinking fund, and a strengthening of the rent and ejectment laws of the country." These laws, he argues, are from another era. And they are entirely unsuitable in today's context.
And de Alwis calls for "a preferential investment scheme for local businesspeople and industrialists; for the UDA to become a one-stop shop for project appraisals and approvals; and the 'Negative List' of the BOI to be reviewed from an industry point of view, rather than being tailored to suit a few – as is the case, today."
The interviewee is the Chairman and Managing Director of Fairway Holdings