LIFETIME ACHIEVEMENT AWARD
A PILLAR OF SOCIETY
Rajan Asirwatham provides a moral compass for a just and fair society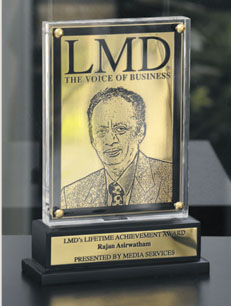 Certain individuals shape the pillars on which a just and ethical society is built – Rajan Asirwatham is one such personality. The highly respected professional has embodied the values of honesty and integrity in every walk of life. His strong values of loyalty ensured that he remained with KPMG Sri Lanka – formerly Ford Rhodes Thornton & Co – for well over four decades, from 1961 to 2008.
Asirwatham has held a number of important positions in the public sector and with professional organisations. And he continues to be a director of a number of companies listed on the Colombo Stock Exchange (CSE). Although he has officially retired, his extensive corporate engagements make it evident that the veteran is highly valued for his wealth of knowledge and experience.
Having inherited a love for academia from his father, Asirwatham also sits on the boards of S. Thomas' College, Bishop's College and Trinity College, and takes pride in the fact that he can make a difference in the lives of the next generation. He is also involved in the Anglican Diocese of Colombo, the University of Colombo's Council and the Postgraduate Institute of Medicine.
"My proximity to schools and universities offers me a unique insight into the system and I am moved by the influence that educational institutes have on students, to shape their personalities by the time they pass through their portals," Asirwatham muses.
Commenting on the quality of education in the country, he adds: "Although the mother tongue is important, schools must offer children the opportunity to learn in English, as it is the main language for them to realise their fullest potential." Asirwatham is proud of the culture in local schools and feels that if it is combined with English as the main language of instruction, Sri Lanka could produce highly competitive candidates.
Although he remained single-mindedly focussed on a career in audit and accountancy, Asirwatham marvels at the extensive professional opportunities that are now available to students. In his view, a strong liberal arts background truly prepares them to succeed in the world, believing that "today, subjects such as history and literature are shunned by students – which is tragic, because there is so much they can learn from them that will enhance their lives."
Apart from setting benchmarks in audit and advisory services, while functioning as the Senior Partner of KPMG, Asirwatham was the Chairman of the Steering Committee for the Sustainable Tourism Project (funded by the World Bank for the Ministry of Tourism), and is a Fellow of the Institute of Chartered Accountants of Sri Lanka, a member of the Presidential Commission on Taxation and the Ceylon Chamber of Commerce Advisory Council.
Under his leadership, KPMG diversified into numerous other services apart from accounting, "which certainly made the job interesting and dynamic," he adds. Despite its relatively small size, KPMG Sri Lanka always retained a place in the global firm's Middle East and South Asia boards, whereas many larger countries were unable to secure such an exalted position. He is delighted that even today, under the present leadership, the firm is maintaining this position.
Commenting on the state of play in the country, he avers: "I am an incurable optimist and feel that things can only get better. But a political stalemate does not help, and the government should demonstrate growth and movement."

Asirwatham feels that it is time he gave back to society. Therefore, much of his time is spent on engaging in social causes. Despite his age, he participated in the recent Trail walk, which was organised to raise funds to build a cancer treatment facility. Asirwatham's engagements in Jaffna have touched him, and he talks passionately about how so much more needs to be done for the widows and orphans in the region.
He is also concerned about a culture of waste that is gaining ground in all aspects of life. "No one feels responsible for conserving resources. We need that feeling of patriotism, where citizens contribute selflessly to ensure a better tomorrow for the coming generations," he urges.
In fact, Asirwatham feels that tax evasion is a manifestation of this thought process. He points out that philanthropists are willing to donate generously to causes, but unfortunately feel that once they pay their tax dues, they will be hounded.
The versatile professional can look back on a rewarding professional and personal life, where he not only made a mark by steering companies to success, but also became an embodiment of a life spent in public service. Asirwatham provides a moral compass for society and those who seek a role model to guide them through life's journey.
As for winning LMD's Lifetime Achievement Award, he takes no credit, simply saying: "My faith in God has guided me all my life."
– Compiled by Yamini Sequeira
PERSONAL PROFILE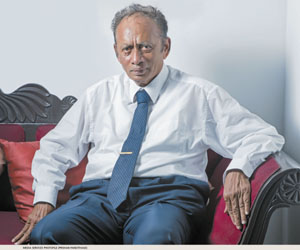 Rajan Asirwatham was born on 26 August 1942 at the height of World War II. He is the eldest in a family of four brothers and one sister. Asirwatham has three daughters, five grandsons and one granddaughter, who he says make life "very pleasurable." His one regret is that his wife, who died at a relatively young age nearly 15 years ago, couldn't enjoy their grandchildren. He spends his free time steeped in religious and academic pursuits. Formerly a squash player, he's since traded the high-energy sport for brisk walks. Asirwatham admires Mother Teresa for "all the wonderful things she taught the world…"; Bishop Lakshman Wickremasinghe, who sacrificed his wealth for the benefit of the needy and downtrodden; and Merrill J. Fernando, the founder of Dilmah, for his dedication to engaging in CSR projects across the island.