LIFESTYLE
Rukshika Fernando Seneviratne
In conversation with Ashwini Vethakan
JOURNEY OF LIFE
Born on
14 November
Alma mater
St. Bridget's Convent
Family members
My husband (Binara) and son (Reyan)
Wanted to be
An artist from the very beginning 
Is
The Co-Founder and Designer of RUMPUNCH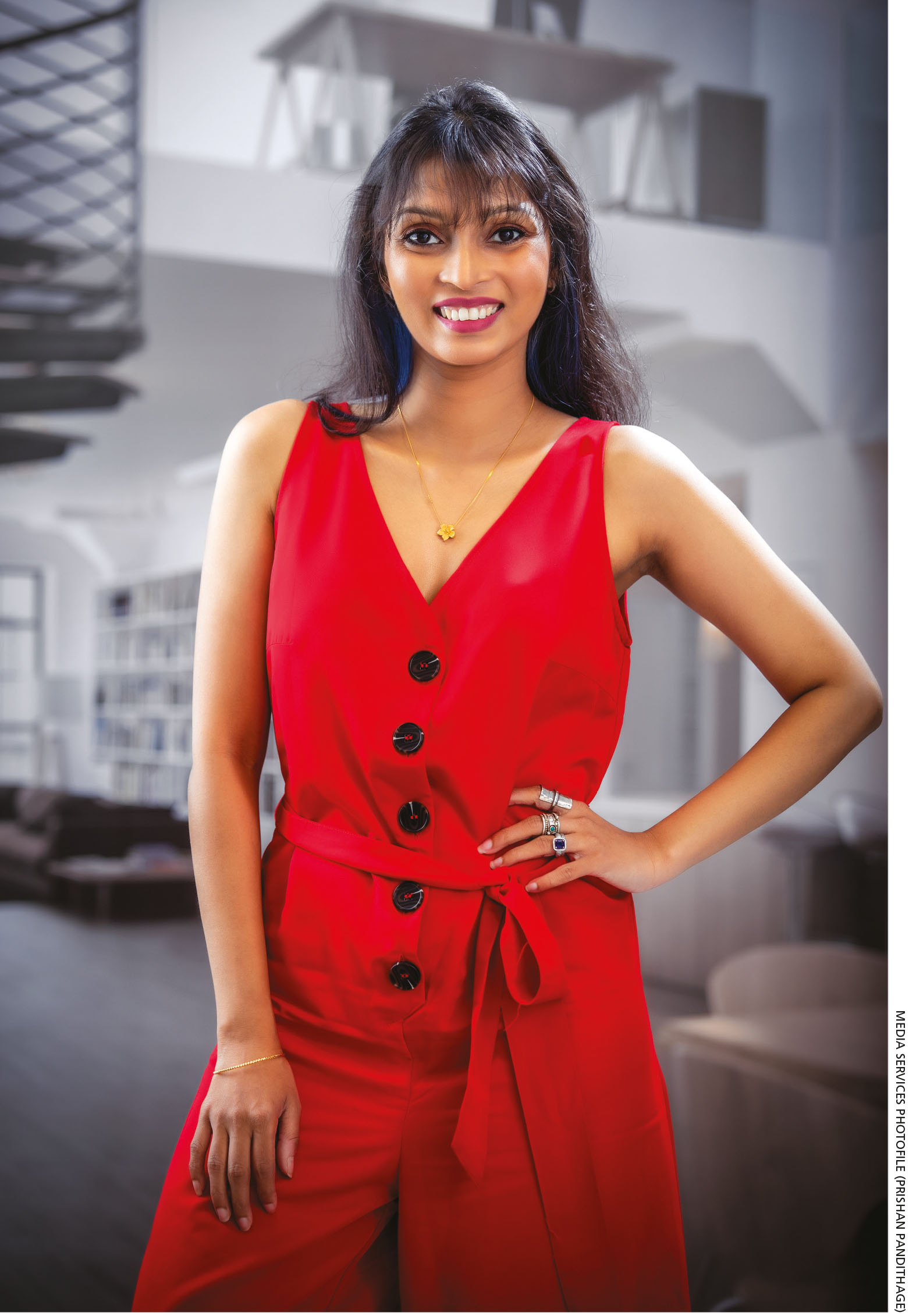 Drives
An MG
A moment you would like to go back to
The day I got married
Best advice received
Be yourself
INTIMATE AND INSPIRING
Happy place
The ocean
Likes to play
Any water-based activity
Likes to watch
Anything from the romance genre
Saddened when
An animal is hurt
Most unforgettable event
When my husband proposed
How it happened
It's a very long story but what I can say is that it was a day full of surprises – and when he did propose, it was on a private beach. The whole day was romantic!
Success to you is
Doing what you love and being recognised for it
Purpose in life
To be happy and kind
Three languages you'd like to learn
Tamil, Spanish and Chinese
Items on the bucket list for the next six months
Travel within Sri Lanka and abroad, redecorate my home and go back to dancing!
Items on the bucket list following retirement
Buy a house beside the ocean, travel the world and have or save as many animals as possible
UP CLOSE AND PERSONAL
Mantra to unwind
Listen to musi
Most hated chore
Ironing
Hobbies
Dancing, drawing and working out
Something new that you would like to try this year
It's not new but I'd like to get back to my dancing
Pet peeves
I hate having to repeat myself and when anyone cleans my personal workspace
Unlikely food combination
Anything with milk
Workout preferences
I like circuit training or high intensity interval training (HIIT) classes 
Three must-haves
Wallet, phone and lip balm
Desired qualities you look for in a friend
Honesty and trust
Do you consider yourself a romantic?
Yes, I think I'm a romantic but my husband is an even bigger one – he'd definitely win the prize if it was a competition
Describe your ideal date
Anything that involves spending quality time with my husband
One thing you would change about yourself
Nothing
FAVOURITES
Days of the week
Friday, Saturday and Sunday
Colours
Blue, yellow and black – but I do love all bright colours
Food
Sushi, rice and curry, and chocolate biscuit pudding
Drinks
King coconut, champagne and bubble tea
TV shows
Grey's Anatomy, This Is Us and The Ellen DeGeneres Show
Chill out spots
Wherever the ocean is, home and Barefoot Garden Café
Favourite global icons
Michelle Obama and Ellen DeGeneres
Places to eat
Barefoot Garden Café, The Gallery Café and ZEN
Actors
Hugh Jackman, Tom Hanks and Chris Hemsworth
Musicians
Coldplay and Jennifer Lopez
Song
I don't have one in particular but like a mix between upbeat, and slow and easy music
Books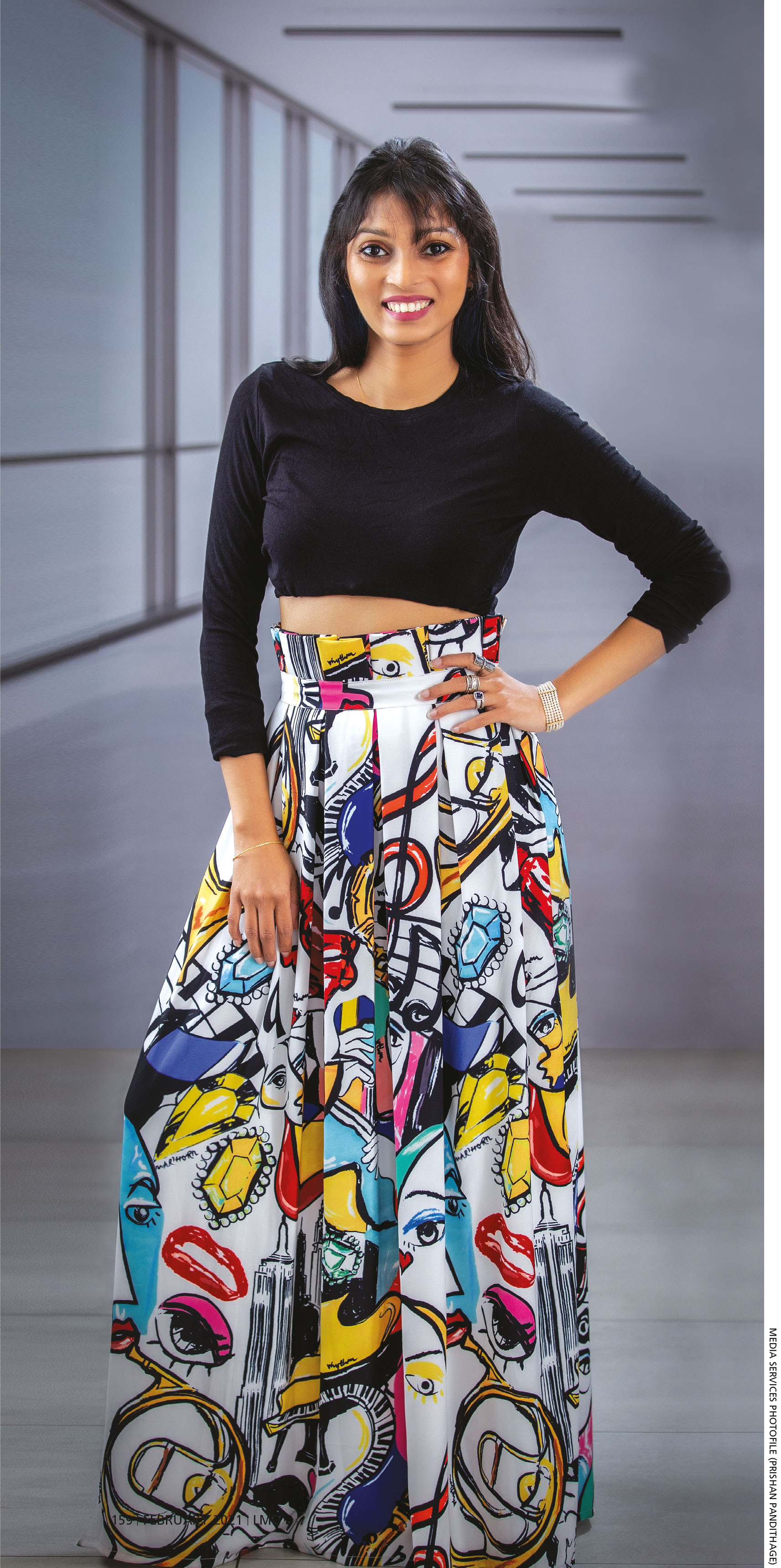 I hate reading
Brands
Zara, Calvin Klein, Buddhi Batiks and House of Lonali
Obsessed with
My baby
Likely retirement destination
Anywhere near the ocean
COMPLETE THE SENTENCE
The first thing you need
after waking up
Coffee
The first thing you notice when meeting someone
His or her eyes
Recently laughed out loud at
A personal joke made by my husband
Last gift to someone
Clothes
You know it's going to be a bad day when
The sky is gloomy
The best thing about working in the fashion industry
The creativity
You find yourself challenged when
I'm creating the next RUMPUNCH collection
A new technology that will transform the future
A machine that would clean my house in a matter of minutes!
Children are
Innocent
Sri Lanka in a few words
Beautiful
Your least favourite month in 2020
March
Your New Year resolution
I still don't know
PICK ONE
Most productive in the morning, noon or night
Morning
A leader or follower by nature
Leader
Cook or foodie
Foodie
Quality or quantity
Quality
The glass is half full or half empty
Half full
Work or play after retirement
Play
The most delightful word you can think of
Love
Your most used word or phrases
Be careful!
Role models
My parents are my role models because they're entrepreneurs as well, and I grew up learning how to make smart business choices and handle people because of them 
Yourself in a few words
I'm loyal, hyper and would help anyone especially animals
Rukshika is the Co-Founder and Designer of RUMPUNCH