LIFE
Pradeep Amirthanayagam
In conversation with Ruwandi Perera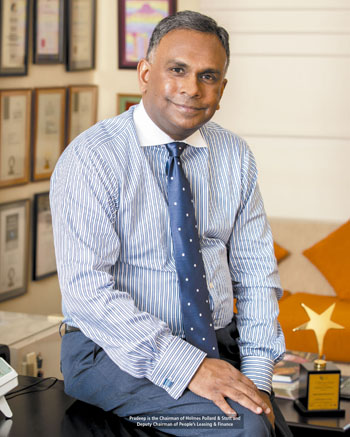 How does your day unfold?
I begin very early with prayer and reflection. Then it's time for a healthy breakfast and head to the office. Whatever my schedule, I somehow attend Mass either at noon or in the evening. I finish work late and usually return home after 7.30 in the evening.
Your alma mater is…
St. Joseph's College
If you weren't involved in the ad industry today, what would you be doing?
I'd have been a TV anchor since it was something I really enjoyed. As a senior member of the Rupavahini news team, I even read the news recently when it commemorated 30 years. I was also a cricket commentator, having trained in London.
So if I was not in this position today, I'd have fitted in easily in television.
Could you describe your family…
I have three children – two boys and a girl. My eldest works with me in client servicing and my second is a barrister who graduated in the UK. The youngest is my seven-year-old daughter.
What is the most outrageous thing you've done?
Joining a political party when it was in the opposition, knowing very well that it'll be in opposition for a very long time!
Could you share your favourite memory with us?
When my mum gave up a good career to stay at home and raise me. There's nothing like having your mum to come home to after school.
And what was your most embarrassing moment?
It was at the Josephian-Peterite big match and I ended up getting drunk despite being a prefect. I learned a lesson about liquor at a very early age – something my friends never let me forget!
If you have six months off work, what would you like to do?
I'd travel around the world watching cricket since I really enjoy the game.
How do you handle difficult situations, Pradeep?
I pray and have faith.
What are your favourite places to visit in Sri Lanka?
Nuwara Eliya and Hunnasgiriya.
And your favourite overseas destinations are…?
I love London since I studied there.
What are your favourite brands?
BMW, Montblanc, Nike and Yves Saint Laurent – Yes, I'm brand-conscious.
How do you relax?
With my wife and children at home – there is no better form of relaxation.
What gave you the greatest sense of professional achievement?
Being entrusted with the responsibility of setting up a company at a young age in 1990, and seeing it reach 25 years and beyond successfully.
Your best personal achievement has been…?
I'm a person who believes a lot and I have a lot of passion. I love excelling in situations when the chips are down.
When the prime minister invited me to serve on the Executive Committee of the United National Party (UNP) in 1994, I decided to stand by him and the party. It cost me professionally and financially but I knew I'd work with a group that will steer the country in the right direction someday.
Can you tell us what you like the most about your profession?
I love meeting people and being engaged in different disciplines. My job is very diverse as it is about building brands. Working in different offices also provides the time to switch off and on, which I enjoy doing.
What don't you enjoy doing professionally but have to because work demands it?
I adapt easily and I really don't dislike anything about my job; if I don't like something, I won't be doing it.
Your all-time favourite movie is…?
The Devil Wears Prada.
And your favourite books are…?
I love reading biographies since I can learn from other people'slife experiences.
What are your hobbies?
Watching cricket and theatre productions.
Your motto in life is…?
Seize the moment.
Is there a phrase you often use?
If it's God's will…
Who inspires you the most?
Prime Minister Ranil Wickremesinghe, for his patience and endurance, and Sir Richard Branson and the late Steve Jobs.
What did you want to become when you were young?
A diplomat. I've always wanted to serve my country, represent it, build goodwill and promote Sri Lanka.
So what is your next goal in life?
Professionally, I want to serve my country and fulfil my dream of being a diplomat. Personally, I want to see my children do well.
If you could change one thing about your life, what would it be?
Nothing
Describe yourself in one word…
Positive
Could you tell us something few people know about you?
I love shopping!
Pradeep is the Chairman of Holmes Pollard & Stott and Deputy Chairman of People's Leasing & Finance