LIFE
Gayani Perera
In conversation with Ruwandi Perera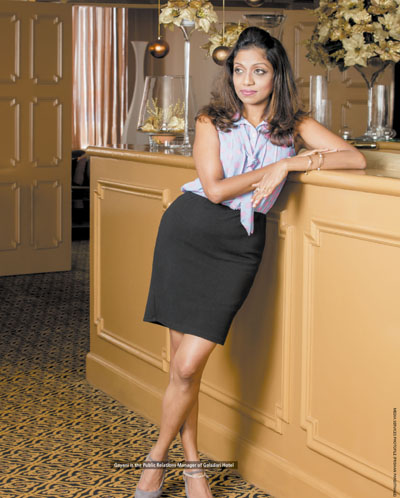 What's your typical workday like?
It includes handling the advertising and press releases of the hotel, in addition to other guest-related work in which I engage with much interest and enthusiasm.
If you weren't involved in this profession today, what would you be doing?
Before embarking on this chapter of my career, I was a journalist. So I would've most probably continued with that because I love writing.
Your alma mater was…?
I initially studied in the UK at Stoke on Trent College, and then completed my studies at St. Bridget's Convent.
Tell us about your family…
My husband runs his own business, and my one and only son is the apple of my eye. As for siblings, I have a younger sister
What is the most difficult choice or decision you've faced?
In life, sometimes one faces situations in which you must sacrifice your happiness for the betterment of someone you love.
And what is the most outrageous or extreme thing you've done?
I've done some outrageous things… but will certainly not reveal what they are!
Could you share with us your favourite memory?
The day my son was born was and is my favourite and most unforgettable memory.
And your most embarrassing moment was…?
There are no major embarrassing moments to report. Thank God… and touch wood!
What are your greatest fears?
I don't want anything bad to happen to a loved one.
What inspires you the most, Gayani?
Confident people inspire me – especially women who are confident and comfortable being themselves. They may be celebrities or ordinary people but I am inspired by such people instantly.
And what makes you laugh?
I enjoy engaging in good conversation with my close friends. At such times, I end up laughing a lot and having a good time.
How do you overcome frustration?
When I face frustration, I take a deep breath and have a cup of piping hot coffee – ad it's goodbye, frustration!
If you have six months off work, what would you like to do?
You would probably see me pampering myself like crazy, and enjoying the company of my friends and loved ones.
What are your favourite places to visit in Sri Lanka?
Any place on the island where there is sun, sand and the beach.
And your favourite overseas holiday destinations are…?
I love Thailand because it is a great destination for shopping. I would also love to visit Hawaii.
What are your hobbies or interests?
I love listening to music and enjoy maintaining a good home. I'm passionate about decorating my house and keeping
it spotless.
How would you describe your ideal night out?
A night out with my 'gal pals' to relax, enjoy and have a good time.
What brings you the greatest sense of professional achievement?
I consider it my greatest professional achievement when people appreciate my hard work and dedication.
Are there things you don't enjoy doing professionally but must do?
Sometimes in your job you have to draw the line and say 'no' to people because certain things cannot be allowed. Rules are rules and we have to ensure that they're obeyed.
What do you love the most about your job?
Meeting and getting to know some really great people.
Your all-time favourite movie is…?
Hmm… there are a lot of them but I loved Pretty Woman.
Which books do you read the most?
Autobiographies
Are you an animal lover?
Yes, I love dogs and cats!
Is there a fictional character you think you resemble?
Oh no! I am unique – I'm my own package!
Is there a song that moves or best describes you?
Rise (by Katy Perry)
What are the toughest situations you face at work – and how do you manage them?
Once in a while, you come across people who think they can convince you to invest in crazy deals. The only way is to say 'no' and decline the offer.
Which social causes are you passionate about?
I am very passionate about any social cause that is genuine. So I will always be active when it comes to such issues.
What is your favourite colour – and why?
Yellow is my favourite colour since it represents brightness and sunny energy, which is something I like to feel all the time.
Could you share with us a lesson that life or experiences have taught you?
When people unjustly attack you, never lose your temper. Rather, wait for the dust to settle and handle it properly. This valuable piece of advice was given to me by a dear friend and I find it works every time.
Describe yourself in one word…
Fabulous – which by the way I believe every woman is!
Gayani is the Public Relations Manager of Galadari Hotel