LIFE
Akram Cassim
In conversation with Ruwandi Perera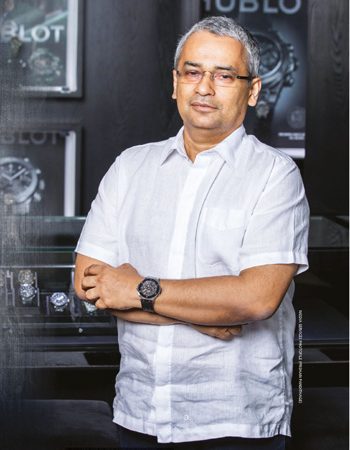 What's a typical day at work like?
I'm up by 5.30 a.m. and have a cup of tea. Occasionally, I walk in the park and then move on to designing or reading. My phone is only switched on at 9 a.m. At work, I meet clients between 10 a.m. and 2 p.m., and then have lunch at home – and occasionally with friends or clients. I meet clients in the store between 3 and 6 o'clock in the evening, and end my workday at 6.30 p.m. Then my home and social life take over. 
What did you want to become when you were a child?
A pilot
Your alma maters were?     
S. Thomas' Preparatory School and S. Thomas' College Mount Lavinia.
Briefly describe your family…
My dad passed away in 2008 and my mum lives with me – they guided me to follow my dreams. I have an older sister. I've been married to Sharmila for 29 years; she has supported my crazy ideas and dreams throughout this time. We have a daughter who only dreams of Harry Potter and the wizard world, which I now love and enjoy too. 
What are the most extreme things you've done?
We once shot a Colombo Jewellery Stores (CJS) campaign in Wasgamuwa to create awareness about the human elephant conflict, and help save the dwindling habitat of Sri Lankan elephants and mitigate the issues in Wasgamuwa.
It was an extreme idea: elephants with uncertain behaviour, a model who had never been up close with an elephant, people standing around shouting not to get too close to the elephants and shooting in the rain with a model paddling a raft on a lake in an area surrounded by elephants!
On another occasion, I asked my brand ambassador Jacqueline Fernandez whether she could launch our 'Perpetual Grace' campaign – which was inspired by my grandfather's race horses – by riding a horse through the hall with guests seated on either side! She agreed, and we had an amazingly memorable and successful entry to launch the event. 
Could you share your favourite memories?
The birth of my daughter Hanaa on Christmas Eve 2002 and Sri Lanka winning the 1996 Cricket World Cup.
If you have six months off work, what would you like to do?        
Travel the world; enjoy long safaris in Africa, hang around interesting cities in Europe, relax, and enjoy the theatre and food in London or chill out in an exotic location. 
What are your favourite places to visit in Sri Lanka?
Galle Fort (Galle is my hometown), Wasgamuwa National Park and Trincomalee. 
And your favourite overseas holiday destinations are…?
Venice, the Maasai Mara (Kenya) and Paris. 
Your three favourite brands are…?  
Salvatore Ferragamo, Hublot and Hugo Boss. 
What do you value most in life?         
Family and friends.
What are your hobbies and interests?               
Wildlife, cricket, photography, reading, watching movies, touring Sri Lanka or the world and trying out different types of food. 
What has given you the greatest sense of professional achievement?
When CJS celebrated its 90th anniversary in 2012, I had clients from different generations from my grandfather's friends to mine speak and write about what the CJS brand has meant to them. Reading those letters and stories gave me immense joy and satisfaction on how the founder's vision has been sustained over three generations – and how I've helped the CJS journey during my time.
In addition, launching the Ele-Friendly bus in Wasgamuwa was only a dream when we launched the 'Unforgettable' campaign in 2014, which revolved around saving elephants by helping humans. 
What don't you enjoy doing professionally but have to because work demands it?
Sitting through poorly conducted meetings. 
And what do you love the most about your job?
I enjoy interactions and the friendships I've developed at CJS over the past 30 years, with a wide cross section of society and people of all ages. And I love seeing my jewellery being worn and admired. 
Your all-time favourite movie is…?
The Jungle Book (the original cartoon version). 
What are your favourite books?
I read all types of books from fiction and biographies to wildlife, fashion and design, but always enjoy my collection of Asterix and Mad Magazine. 
What is your motto in life?
Never give up on your dreams. 
And what inspires you the most?
Nature
What motivates you to achieve your goals?
My passion inspires me to try to succeed and achieve my goals as I am always looking at ways to change, improve on what I'm doing and not get stuck in the past. 
Who are your role models?
My grandfather Thaha Cassim who founded CJS, Muhammad Ali and Walt Disney. 
What is your next goal in life?
I don't set long-term goals and plans. If an exciting idea or thought comes up, and if it's fun and viable, I try and plan to achieve it.
Describe yourself in one word…
Happy
Akram is the CEO of Colombo Jewellery Stores