LIFE
Maninda Wickramasinghe
In conversation with Ruwandi Perera
How would you describe a typical day at work?
I'm not an early riser, and usually leave home after the morning rush hour as it makes more sense and is less stressful! Then there are many emails to reply since I believe in delegation of authority. At Fitch Ratings Lanka, we're a small closely knit office so nothing goes unnoticed.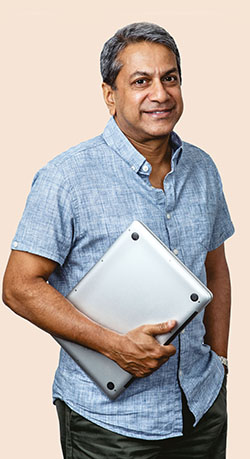 What did you want to become when you were a child?
From my younger days, I fancied design – especially structural design, which is why I studied civil engineering. I particularly liked town and country planning.
Your alma maters are…?
Thomas' Prep, S. Thomas' Mount Lavinia and then Royal.
If you weren't involved in this profession today, what would you be doing?
I would be in engineering or architecture.
Briefly describe your family…
I have two sons aged 22 and 17. I recognise my traits in both of them and I'm proud of them. They're well-grounded kids and now reside in Holland but come home for their holidays.
What is the most outrageous or extreme thing you've ever done?
A long time ago, I wrote a letter to the newspapers under a pseudonym on the matter of a pile of garbage. As a result of my initiative, the neighbourhood ended up becoming a much better habitat. I then understood the power of the pen!
And your most embarrassing moment was…?
As a guest speaker at a forum, I was introduced as being intelligent and good-looking.
If you have six months off work, what would you like to do?
I would hop on a bicycle and tour the world.
How do you handle difficult situations and people?
I don't react immediately – if possible, I give it 24 hours. I believe that if you act impulsively, you may not solve the problem.
What are your favourite places to visit in Sri Lanka?
The east coast and Horton Plains.
And what are your favourite overseas holiday destinations?
Turkey, Japan, Scotland, San Francisco, New Orleans and New York.
Your three favourite brands are…?
Talisker, Wilier Triestina and ARB.
Where do you spend most of your free time?
Outdoors – as much as possible.
And how do you relax?
Listening to really loud music especially jazz.
What do you value most in life?
Having everything in moderation.
How do you unwind when you're stressed?
I jog, walk,  or cycle  on my way home [from work], or swim regularly.
What are your interests and hobbies?
Model trains – which is something I've loved from my younger days – gardening and landscaping, and cooking although I do not cook as much as I used to.
Could you tell us what's given you the greatest sense of professional achievement?
I've never been someone who is driven by ambition. I am focussed but not necessarily ambitious. I once worked at the Samanalawewa Hydropower Project. About 25 years later, I took my sons to see the dam, spillway and power station, and said it was 'my site' of supervision.
What inspires you the most in life?
Young Sri Lankans who defy the odds – people who 'break the wheel.'
What don't you enjoy doing professionally but have to because work demands it?
Conveying bad news to people.
And what do you like most about your job?
Fitch Ratings is a world-class organisation with a 100 year legacy. It's a steep learning curve in how it sets about doing its business.
Your all-time favourite movie is…?
The Italian Job
What is your favourite book?
Roots: The Saga of an American Family (by Alex Haley)
And what is your motto in life?
Maintain a balance between work and life.
Can you think of a phrase you use often?
"I told you so." It's part of my job to be forward-looking so I often end up saying this.
What motivates you to achieve your goals?
I don't set goals that are too high; I believe that when our goals are simple, getting there is also simple.
Who are your role models?
Gautama Buddha and my grandfather Martin Wickramasinghe.
So what is your next goal in life?
I want to tick things off my bucket list while I remain mobile – one must make the most of what one has.
If you could change one thing about your life, what would it be?
I will go back to design.
Describe yourself in one word…
Easygoing
Could you tell us something that few people know about you?
I have been in two near death situations and survived both – one in a swimming pool in Sri Lanka and another on a train in India.
Maninda is the MD/CEO and Country Head of Fitch Ratings Lanka