LIFE
Chalaka Gajabahu
In conversation with Ruwandi Perera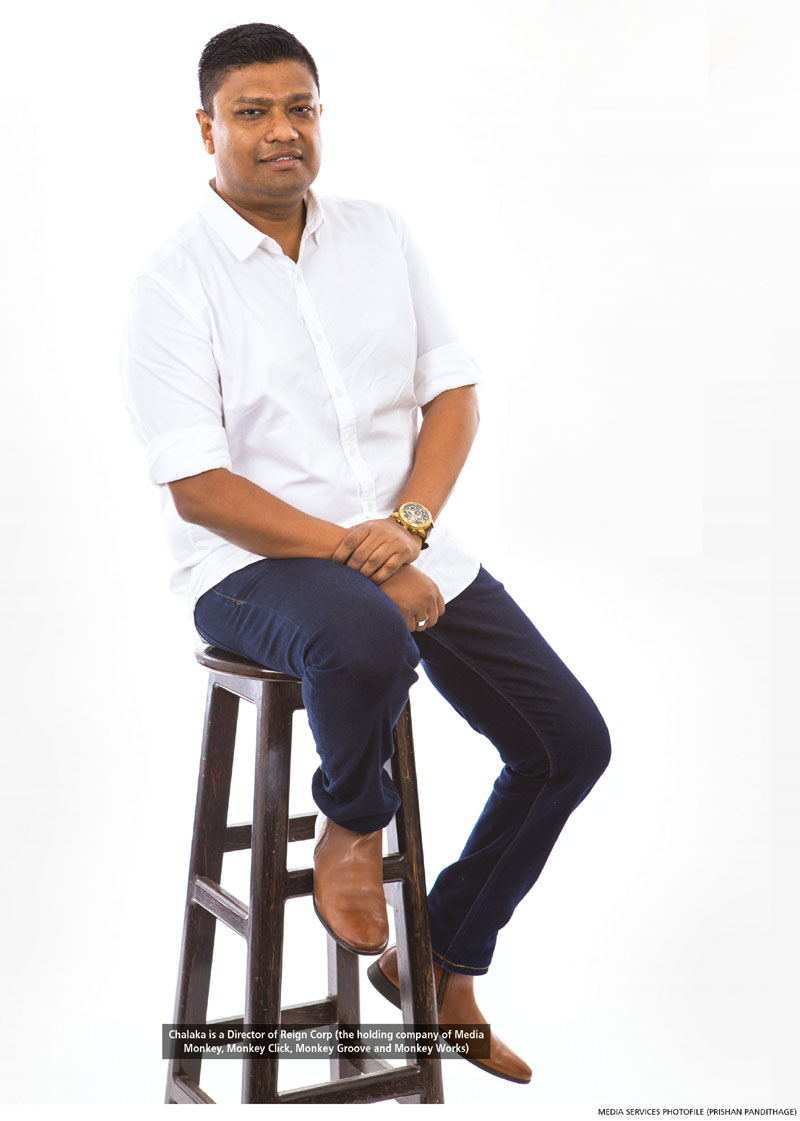 What's the best part of your day?
Seeing my kids in the evening after work.
And how do you make it through the rest of the day?
I'm a positive and optimistic person so I never see the bad side.
Your alma mater is…?
D. S. Senanayake College
What did you want to become when you were a child?
I wasn't too ambitious as a kid. My parents gave me a free hand and encouraged me to be whatever I wanted to be. In school, I was involved in many extracurricular activities like sports and theatre, and excelled in them. That part of my life led me to this side of life.
Who introduced you to advertising?
My neighbour Mahesh Perera. When I entered the ad industry, I knew that communications was where I wanted to be – which is why it's been my career for 22 years.
So what was life on stage like?
Feroze Kamardeen was a close school friend, and he introduced me to drama and English literature. He had a concept and vision that translated into StageLight & Magic Inc., which he, three others and I formed after completing school. I wasn't on stage much. Rather, I produced most of our initial creations such as Macbeth and Julius Caesar.
Briefly describe your family…
My wife and the love of my life is Celinda whom I met 21 years ago. We have two children – a daughter Shae (12) and son Aiden (7).
What is the most outrageous thing you've ever done?
Many things… most of which I can't reveal! One of the more decent memories is of a trip with my best friends at school. We took a photograph of all of us with our backs to the camera in full skinny-dipping mode.
And what are some of your other favourite memories?
Trying to convince my wife to go out with me and the birth of our children.
How do you handle stress?
I'm pretty good at it as I'm patient, calm and rarely lose my temper – but when I do, it's terrible!
What has given you the greatest sense of professional achievement?
Personally nurturing many people, some of whom are more successful than I am.
What challenges do you face?
Being in communications, it's difficult to make marketers understand what we do. We sell our time but justifying this to marketers causes the most frustration. Having people tell me how to do my job is another challenge.
How is the industry faring?
The ad industry isn't moving quickly enough compared to the rest of the region and we lack dedicated talent in this field.
If you have six months off work, what would you like to do?
Travel!
So what's your favourite destination?
South America would be my ideal destination – for a road trip.
What are your hobbies?
Watching TV (I'm a TV and movie buff!), sleeping and shopping. I'm also a shopaholic and shoe fanatic!
Do you have any weird traits?
I definitely suffer from OCD – I'm a massive neat freak!
What is your most favoured attire?
A white shirt or T-shirt and blue jeans.
And your favourite brands are…?
Levi's, Armani, Clarks and Waves – I love my flip-flops.
What's your favourite TV show?
I watch TV till very late and enjoy watching anything. But what always makes me happy at the end of a day is an episode from Friends! On a serious note, I like Breaking Bad, Game of Thrones and Twin Peaks.
Your all-time favourite movies are?
I watch everything from kids' movies and cartoons to drama, horror, thriller, action and anything in between. The Usual Suspects, Reservoir Dogs and Goodfellas are a few favourites.
Do you have a favourite book?
I don't read [books] and am definitely not into it. I prefer autobiographies because real-life stories fascinate me. I also love current affairs and politics, and reading the Sunday newspapers.
What is your favourite dish?
I'm a huge foodie and so is my family! When I return from an overseas trip, my favourite meal is string hoppers, coconut sambol, and chicken and dhal curry for dinner; and during the day it's rice, coconut sambol, dhal curry, dry fish and poppadum – I can't eat rice without poppadum.
And your favourite drink is…?
It used to be vodka; now it's mainly single malt whiskey.
Where's your happy place?
Upstairs at home. It is where I spend most of my free time watching TV.
Who are your role models?
Nelson Mandela, Steve Jobs and Sir Richard Branson.
And from whom have you learned the most?
Ranil De Silva, Lilamani Dias Benson, Irwin Weerakkody and Laila Gunesekere-Martenstyn.
If you could change one thing about your life, what would it be?
My health; I wish I'd never taken up smoking, which I quit two years ago.
Describe yourself…
Fun and positive.
Could you tell us something that few people know about you?
I suffer from acrophobia.
Chalaka is a Director of Reign Corp (the holding company of Media Monkey, Monkey Click, Monkey Groove and Monkey Works)