LIFE
Suren Mirchandani
In conversation with Ruwandi Perera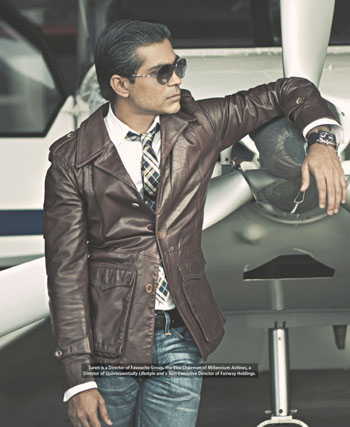 What would you be doing today if you weren't involved in your present occupations?
I'd have a long list if I won an international lottery… so ask me again sometime! But since that's highly unlikely, I would like to try my hand at being a voice presenter or radio show host in any country that would have me – except North Korea!
Tell us about your family…
Wife and two boys (aged 13 and 10).
What is the most difficult choice or decision you've faced?
Life is full of them and all decisions aren't easy.
And what is the most outrageous or extreme thing you've ever done?
That would need a separate questionnaire!
Could you share your favourite memory?
Having my older son staring into my eyes minutes after he was born – I don't know who was more mesmerised; him or me. I'll never forget it.
What makes you laugh?
My friends and my younger son's sense of humour – he's a real joker!
What are your greatest fears?
Gossip and hypocrites.
How do you overcome frustration?
By sleeping it off.
If you have six months off work, what would you like to be doing?
That will never happen but I would spend a month on Beach No. 7 in the Andaman Islands and perhaps another month on a curated tour of the Antarctic Peninsula. I'd think about what to do in the other four months during these trips!
What are your favourite places to visit in Sri Lanka?
Nuwara Eliya and Arugam Bay.
And your favourite overseas holiday destination is…?
Without a shadow of a doubt it is New York City.
What are your hobbies or interests?
Back in the day, astronomy; but these days, not much! In the future, I would like to travel for pleasure, not only for a week or so but a few months every year.
What provides you the greatest sense of professional achievement?
Hiring good and talented people who are better at their jobs than I am.
Are there things you don't enjoy doing professionally but have to? What are they?
Yes, terminating someone's employment.
Which books do you like to read the most?
In terms of non-fiction, Outliers by Malcolm Gladwell. As for fiction, my all-time favourite is The Songs of Distant Earth by Sir Arthur C. Clarke.
And which song moves or best describes you?
It Ain't Over 'til It's Over – by Lenny Kravitz.
What is your ideal romantic date?
Ha-ha!
About which social causes do you feel passionate?
No special causes – I help people in all sorts of ways and in any way I can.
Could you share a lesson that life or experience has taught you?
Keep calm and carry on – I'm still learning how to do this.
If you were to change one thing about Sri Lanka, what would it be – and why?
I would change the name back to Ceylon, controversial as this answer may be. This is because there's a reason we say 'Ceylon Tea,' 'Ceylon Cinnamon' and 'Ceylon Sapphires' to name a few.
Are you an animal lover; and if so, which kind?
Yes, very much so. I like a special breed: the Sri Lankan street mongrel. I have three of these pooches in my family today.
And what is your favourite drink?
Lemon Lime & Bitters Cordial by Bickford's Australia. The company has been making it the same way since 1874 so it's had 143 years to get the taste just right. And besides, it's one of the products we distribute in Sri Lanka, India and the Maldives!
When you're leaving the house, what three essential things do you carry with you?
This question is too easy as everyone has the same answer. If my house was burning down, and assuming that my family and dogs were already safe, I'd take the signed copy of my favourite book, my cockpit lamps from the Soyuz capsule and the cockpit panels from the Soviet-era Mir space station.
What is your favourite brand – and why?
I don't have a favourite brand but I like to support smaller craft brands in general.
Do you believe in life after death?
No
What is the best decision you made in your career?
That would be like revealing the nuclear codes!
Who inspires you the most?
My late father… by a long mile!
Your role model in life is…?
My late father.
And your motto in life is…?
"There is a tide in the affairs of men. Which, taken at the flood, leads on to fortune" – William Shakespeare.
Describe yourself in one word?
Outlier
Suren is a Director of Favourite Group, the Vice Chairman of Millennium Airlines, a Director of Quintessentially Lifestyle and a Non-Executive Director of Fairway Holdings.