LIFE
Varuni Amunugama Fernando
In conversation with Ruwandi Perera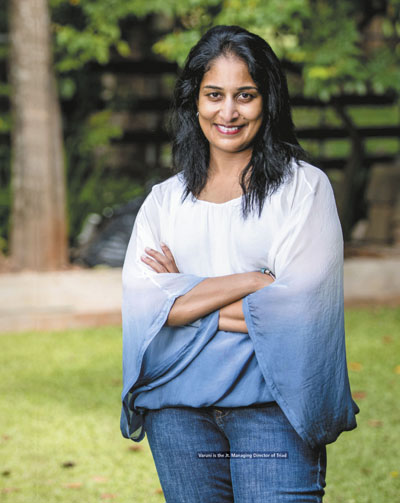 What's a typical day like for you?
I'm a firm believer in fitness of the mind and body. So every day begins at 5.30 a.m., followed by cycling, yoga, working out or walking.
Arriving at office around 9 a.m., between meetings, presentations and internal discussions, I find time to interact with people. I usually clock off around 6.30 in the evening to spend time with the family.
And what do you like the most about your job?
I love the people – especially the youngsters. I relish the opportunity to guide and offer them the inspiration to be good human beings, and lead happy lives.
What has given you the greatest sense of professional achievement?
When our company – launched in 1993 by Dilith Jayaweera, Ishini Wickremesinghe and myself as an advertising agency – transformed into a conglomerate with investments in media, travel and leisure; imports and exports; and real estate.
This expansion was executed with absolute financial discipline and patriotic commitment, reinvesting our hard-earned money of 23 years and [with] bank funding, without claiming any dividends as founder shareholders.
If you weren't involved in this profession, what would you be doing?
I would probably have been an attorney-at-law.
And if you have six months off work, what would you like to do?
I would like to work in an orphanage: teaching children, caring for them and supporting them financially. I'd also love to take off on a backpacking adventure, improvising as we go along.
How do you handle difficult situations at work?
Without jumping the gun, I would most often go into a difficult situation with an open mind – and be open to dialogue.
Your alma mater was…?
I was kind of a nomad. I had my primary education at Sirimavo Bandaranaike Vidyalaya, which was followed by stints at Ladies' College and the British School of Paris.
Briefly describe your family…
My husband, son and daughter-in-law; my parents; my mother-in-law; and my sister and her sons. I even consider my nanny who took care of me from the age of six months to be a close family member.
What is the most outrageous thing you've ever done, Varuni?
At 22, I took the bold step of living with my current husband despite family concerns and society not favouring such unconventional behaviour. Today, I am happy that I took that step.
Could you share your favourite memory with us?
When Triad swept the national advertising awards for the first time as an underdog – we took all 50 staff members to the ceremony including minor staff.
Your most embarrassing moment was…?
When I fell on the stage at the SLIM advertising awards and about 200 pairs of eyes froze in unison! As a hush fell upon the auditorium, I realised that I was sprawled on the stage and had disconnected the sound system. Standing back up took a lot of courage… but I did it!
What are your favourite places to visit in Sri Lanka?
I love the length and breadth of our island. My favourite is the hill country with its rolling hills, balmy days and misty nights.
And your favourite overseas holiday destinations are…?
I love discovering the uniqueness of each country and city I visit. Paris and Innsbruck have left an indelible impression on me. I also love Asia with its many colours and flavours.
Where do you spend most of your free time?
On a bicycle, riding across the beautiful off-road terrain of Sri Lanka. But I'm also a home bird and love chilling at home.
What's your idea of a romantic date?
I am totally excited by spontaneity – to be surprised by simple pleasures. For example, a bunch of wildflowers picked for me by my significant other as we walk along a jungle pathway. It's the person that matters; not the frills.
What are your three favourite brands?
Dilly & Carlo, Spa Ceylon and Triad API.
Your favourite food is…?
Anything sour – so achcharu it is! I also enjoy Japanese cuisine.
And your all-time favourite movies are…?
Ganga Addara and The Sound of Music
Who are you favourite authors?
Patricia Cornwell, James Patterson and Danielle Steel, and I also love Nayomi Munaweera's novels.
What is your motto in life?
I have a few favourites: 'Enjoy every moment in life. They're 'buttercup moments,' which beautify your path of life'; 'We've got so much from our motherland. Give back to enrich her'; 'Smile with everyone. They will smile back'; and 'Be humble. Only the richest human spirit can be.'
What inspires you the most?
Goodness and humility in people.
If you could change one thing about your life, what would it be?
I would love to have had a large family with many children.
Describe yourself in one word…
Happy
Could you tell us something that few people know about you?
I am afraid of the dark and cannot sleep alone.
Varuni is the Jt. Managing Director of Triad