LIFE
Ruvini Fernando
In conversation with Ruwandi Perera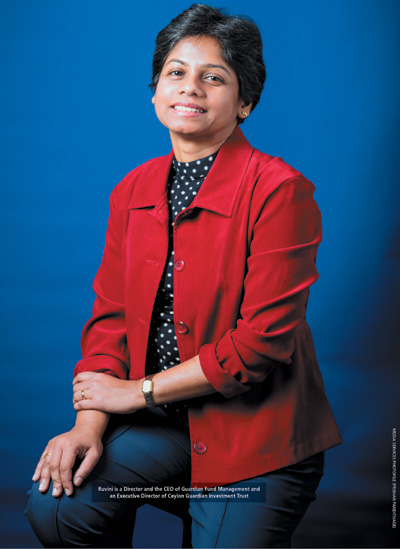 What was your childhood ambition?
My parents were very scientific people but I wasn't interested in science. I always wanted to work in an office since that was very glamorous back in the 1970s.
And your alma mater was…?
I studied at Bishop's College until Grade 5 and then moved to Dubai since my father was working there. I returned to Sri Lanka and joined Stafford International School for my A-Levels.
What's a typical day at work like?
My day starts early (with great difficulty!) since I drop my daughter at school. It includes many meetings, among other work that fill my hours.
I normally finish work by 5 p.m. to get home to spend time with the family. My weekends are dedicated to the family.
It's a struggle to manage work and life; but technology is very helpful, since one can always be in touch for work wherever they are.
Could you briefly describe your family, Ruvini?
My husband and I have a daughter who is 16.
What is the most outrageous thing you've ever done?
I don't think I'm a person who does outrageous things. I was born in an era when there was no TV and not even great food. Going through the transition that Sri Lanka witnessed has been quite outrageous since life is very different now from when I was younger.
What are your interests?
I used to love reading but time only permits me to read reports and business magazines these days. I love to travel since it helps me switch off.
What was your most embarrassing moment?
There are lots – technology puts you in the worst situations, like sending the wrong email to the wrong person… who is sometimes your boss.
If you have six months off work, what would you like to do?
Travel to all the nice places I have in mind but never had a chance to visit. I would also like to engage in more charity work especially for those suffering from cancer. I'd love to spend quality time talking to them – especially kids.
How do you handle difficult people?
The normal inclination is to lose my temper and get stressed out; but the effective thing to do is to listen a lot
and talk less. It's important to listen to understand and not merely to respond.
What are your favourite places to visit in Sri Lanka?
I love the hill country, ancient cities and places of scenic beauty. I'm not a big fan of the beach.
And your favourite overseas holiday destinations are…?
Invariably Paris and also Europe.
What are your favourite local brands?
Sunlight, Rinso and Bata – for staying young and vibrant, and enduring through the years.
Where do you spend most of your free time?
We go out a lot with family and friends.
What do you value most in life?
I value honesty, straightforwardness, achievement, being open about what you feel and being direct. I also value gratitude, and being thankful and happy for the good things one has.
Are you a person who mostly cooks or eats out?
The former but I'm an average cook.
Could you share your favourite memory with us?
Probably the day my daughter was born.
Could you tell us what's given you the greatest sense of professional achievement?
It's fulfilling to see people who join our company at a very young age climbing to greater heights.
What don't you enjoy doing professionally but have to because work demands it?
Marketing – since I'm very shy to tell people how good we are as a company and brag about ourselves. And having to deal with people who are not performing to expectations.
What do you love the most about your job?
Being able to find creative solutions with innovative thinking
Your all-time favourite movie is…?
Star Wars – I've watched the entire series up until The Force Awakens. My daughter and I even read fan fiction on the characters.
What is your motto in life?
Being very straightforward, open and upfront with yourself and others.
And what inspires you the most?
Seeing the next generation accomplish great things – and knowing that you would have influenced them in some way is very rewarding.
What is your next goal in life?
Professionally, it's to keep going forward, do better and developmore people.
Personally, it's to make a difference in people's lives.
If you could change one thing about your life, what would it be and why?
I would love to go back to my youth and participate in more extracurricular activities.
Describe yourself in one word…
Positive (and energetic)
Could you tell us something that few people know about you?
Many people might already know this but I love karaoke.
Ruvini is a Director and the CEO of Guardian Fund Management and an Executive Director of Ceylon Guardian Investment Trust