LEWIS ALLEN
Lewis Allen speaks the language of Love after tragic Easter experience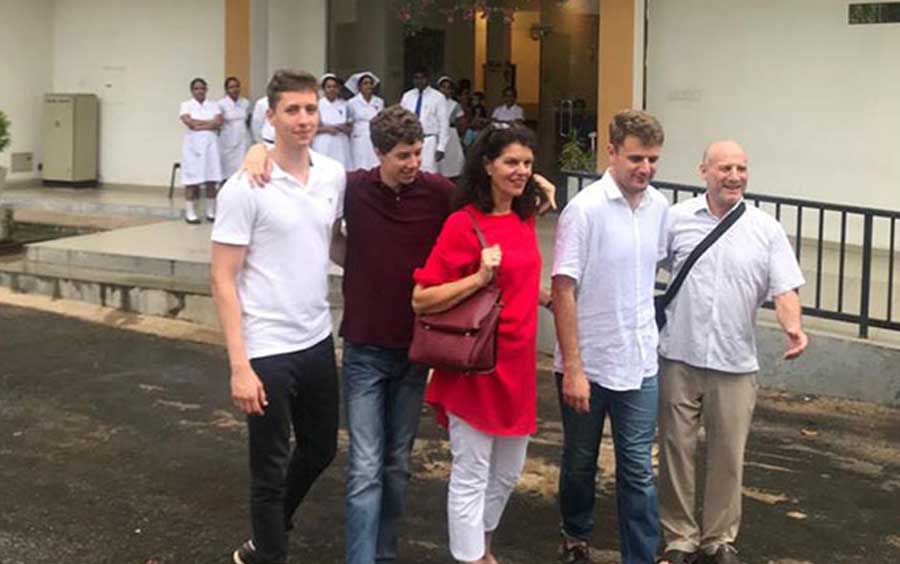 Lewis Allen, prominent international gem dealer visited Sri Lanka as the Guest of Honour for the FACETS International Gem and Jewellery Exhibition. His speech at the opening ceremony echoed the deepest feelings of love, empathy and forgiveness that are needed today in the aftermath of a tragedy, which many are yet to come to terms with. Extracts from his speech have been transcribed below to share the message among all.
"The message that I want to convey today is that love and peace conquers everything. The world has enough hate, and the world has enough war, and the world has enough division, but I think all we can learn from the attacks on Easter Sunday on April 21st is that if you fill your heart with love, then that conquers all the darkness in the world. After the tragedy I received many emails from relatives and friends asking, "How can people do this?" "How can people have so much disregard for other lives?" I also got so many emails filled with hate and anger, and some asked me "How can you ever go back to Sri Lanka?" My answer was that I love Sri Lanka and my family loves Sri Lanka, and that the world doesn't need any more anger, the world does not need any more hate. The world needs more love. If the people responsible for the tragic events of Easter Sunday had more love in their lives, they would not have done this.
I think it's a blessing that my son Jason is still here; he was sitting next to my wife Monique when the suicide bomber blew himself up at the Cinnamon Grand breakfast. I believe that the universe and the world has big plans for my son Jason, and that kept him here because love conquers everything. As long as we treat people with love and respect then things like this will never happen.
I have always loved this country. It has a big history and it has helped me spiritually as well as in my business life. My friends here opened their homes after the tragedy and helped me to have the ceremony for my wife. They also helped me take care of the children and get Jason out of the hospital. They were by my side the whole time at the hospital when I was looking for my wife and son.
I have had so much of success selling Sri Lankan gems, and I wanted to give back to the country. So I approached some of my friends here with the idea of building a school in Ratnapura. However, they informed me that the area could really use a children's hospital because there was no such hospital in Ratnapura. The poor sick children were often kept on the floor of the general hospital. So we came up with the idea to build it together with a few friends from the gem industry. It took a year and we opened the hospital on the 30th of June 2017.
My wife was never able to come to the hospital because the children had exams and other commitments. So on the Saturday before the Easter attacks we were in Ratnapura and we had gone up to the roof of the hospital, which has two floors and 107 beds, and we had the foundation to build the 3rd and 4th floors. We were talking about this addition. The head doctor told us that since the opening there had been 13,100 children treated at the hospital. The area had suffered a dengue epidemic and the doctor said that 3000 or so children had been treated. My wife heard this and she was so happy. Throughout the drive back to Colombo she kept telling me about how proud she was of me and Punsiri and Priyantha and Subash and my friends for helping to make this world a better place and she kept asking me, "Are you're going to build that 3rd floor?" and I said "Yes, I already talked to Punsiri about it and we're going to build that 3rd floor".  And then on Sunday morning she went down for breakfast at the Cinnamon Grand. That was our favorite hotel and my wife loved the Sunday breakfast there, and before she left for breakfast she said again, "I'm so proud of you and your friends in Sri Lanka for helping to make this world a better place, and you're going to build that 3rd floor" and I said "Yes Monique, I'm going to build the 3rd floor, we're going to do it". About a half hour later a suicide bomber walked into the breakfast and my whole life changed.
But the blessing is that Jason was sitting next to my wife and he only suffered minor injuries. He's here to help make this world a better place. And this country is going to come back stronger with more love and with more unity. Ever since I've been coming to Sri Lanka all the different people, and languages and religions, all my friends, Sinhalese, Muslim, Tamil, they've all got along in perfect harmony. A part of the magic of Sri Lanka is that everyone can live together. Even yesterday when we were driving from the airport and I saw the lights on, and the traffic, and people working, I told my son Jason, "You see, life goes on, people get back to work. We're all the same, all we want to do is provide for our families, take care of our loved ones and be happy and have a nice peaceful life". So God bless Sri Lanka and its people, and I'm sure that love and peace conquers everything. Thank you."