LEGAL PROFESSION

Compiled by Yamini Sequeira
LAW'S DELAYS AND DELIGHTS
Sudath Perera takes stock of developments in the local legal profession
Q: How has the legal profession changed in the last 10 years or so?
A: The most evident change is the increased number of legal professionals. This is mainly due to greater access to legal education through private universities. It has also changed as a reflection of changing laws.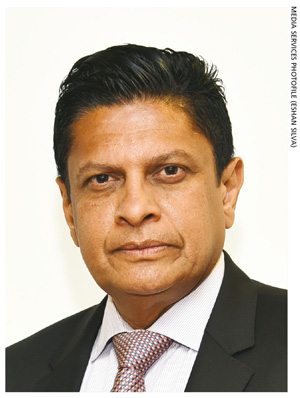 In the last decade, governments introduced several laws with the intention of rectifying domestic legislative deficiencies and to take into account international practices – viz. the Electronic Transactions Act (which facilitates digital transactions and e-contracting), revamping the company law regime through the Companies Act of 2007, the Right to Information Act, anti-money laundering and anti-dumping legislation, and liberalisation of the exchange control regime by way of the Foreign Exchange Act of 2017.
Despite expansion into a range of developing areas of law, many in the legal profession are inexplicably focussed on the practice of litigation.
There is a great demand for attorneys who can competently advise on corporate and commercial law matters. This demand is presently met by only a few prominent law firms and counsel. In a market of over 17,000 lawyers, this is regrettable. 
Q: Is it important to restructure the legal system to ensure speedy redressal of cases?
A: One of the challenges faced by litigants is the length of time taken to conclude a case. Implementing judgements is a cumbersome process such as the delay in domestic enforcement of arbitral awards under the New York Convention. It is important to restructure the legal system for dispute resolution.
A positive development is the recent amendment to increase the financial threshold for Commercial High Court actions, which will help spread cases across a greater number of courthouses.
Another positive step was the amendment to the Civil Procedure Code (CPC) in 2017 whereby the concept of pretrial steps was introduced to expedite the system. Furthermore, filing examination-in-chief evidence by way of affidavit was formalised. These steps can be taken to the next level through further amendments to the CPC.
Q: Could you cite a few laws that must be changed to improve the legal system?
A: The CPC would need to be amended to ensure that litigants have access to justice in a more efficient manner by avoiding cumbersome practical delays.
Existing employment laws and regulations (including the Shop and Office Employees Act) need to be revised, and made more business friendly. Outdated and impractical legal restrictions to implementing flexible employment practices means that we are foregoing  investment in favour of other countries in the region such as Singapore.
Strengthening real estate, IT data protection and security laws is important too, as well as addressing unnecessary protectionist measures and capital transaction restrictions to attract foreign direct investment.
It is imperative that intellectual property (IP) laws be updated to address certain practical issues such as the lack of copyright registrations and customs 'recordations,' which are vital to develop the scope of IP rights enforcement.

Q: The judiciary played a key role in resolving the constitutional crisis late last year – how can its role be further strengthened?
A: The independence of the judiciary is mandatory for the rule of law to prevail. In fact, the current judiciary is exemplary – we're witnessing many positive outcomes from recent judgements and the ability of judges to exercise their power within the mandated scope more efficiently.
To strengthen the judiciary, judges should be given more access to and awareness of changes in doing business and global trends to enhance their decision-making abilities.
Q: What is your view on bringing back the death penalty?
A: The death penalty is an archaic law that has not been implemented in over four decades.
It is important for Sri Lanka and the judicial system to fall in line with human rights views – the focus should be on rehabilitation rather than death.
The sentencing process in our judicial system can improve to act as an effective deterrent against crime. Countries dealing with and controlling crime successfully should be considered for further evaluation before deriving a localised solution. 
Q: Which challenges persist?
A: One key challenge is implementing new legislation. Prior to changing legislation, the relevant sector should have an opportunity to present information and voice its concerns.
Furthermore, there must be a proper regulatory mechanism to implement amendments so that regulators can act independently to meet new challenges as it is often viewed as a hindrance to members of the profession to meet client needs justly.
It is also important for the public and especially foreign investors to be aware of the changes being implemented, to avoid practical problems and limit red tape.
State institutions should invest in people who are suitably qualified to meet public needs in line with evolving trends. We observe a lack of continuity in local institutions; the ever-changing personnel transfer mechanism in governmental bodies contributes to the inefficient use of resources and delays.
The interviewee is the Managing Partner of Sudath Perera Associates