LAUGFS
LAUGFS International Recognised as One of Yamaha's Highest Performing Distributors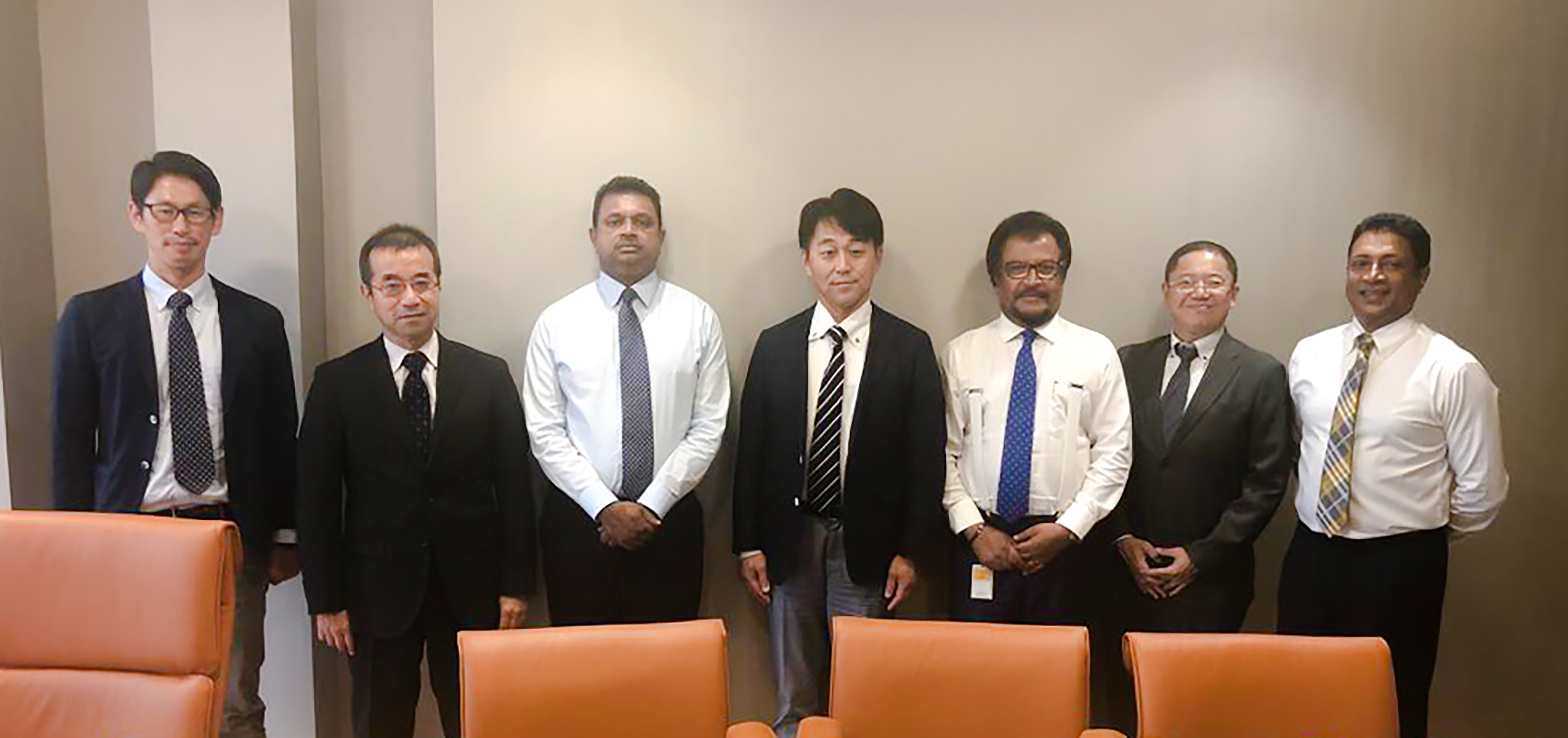 LAUGFS International has been amplifying its growth in the industry as a trusted service provider with its power product portfolio under the Yamaha brand name showcasing commendable growth. As a result, the company has been recognised as one of Yamaha's highest performing distributors for consistently maintaining an exceptional performance record. LAUGFS International has been partnering directly with Yamaha Power Products Limited to distribute original high quality Japanese manufactured products to the local market.
On a recent official visit to Sri Lanka, Yamaha Motor Power Products Co. Ltd. Senior General Manager, Mr. Jun Nakata met LAUGFS Holdings Chairman, Mr. W.K. H. Wegapitiya and LAUGFS Holdings Group Managing Director, Mr. Thilak De Silva at the LAUGFS Head Office at Maya Avenue.
Commenting on the occasion, LAUGFS International Chief Executive Officer, Mr. Wasantha De Silva, stated, "During his recent visit Mr. Nakata commended the exceptional performance record of LAUGFS International as one of the highest performing distributors for Yamaha. This recognition may not only be attributed to the high performance culture within our team but reinforces our continuous commitment to provide superior quality, reliable power products and services in the industry. We are grateful for the synergies between LAUGFS International and Yamaha, which have augmented our momentum in the industry and we will continue this positive alliance between the two companies."
As the authorised distributor of Yamaha power products in Sri Lanka, LAUGFS International provides state-of-the-art inverters and generators to the local consumer.
"Our direct partnership with Yamaha Power Products Limited has provided us with greater flexibility, while enabling us to obtain product updates faster. Further, we are able to directly provide Yamaha with timely feedback on customer requirements related to products for better customisation and continue to assist Yamaha with their Research and Development work. All these have enabled LAUGFS International to strengthen its reputation of delivering consistency, quality and reliability with a high quality portfolio of genuine and original reputed products," Mr. De Silva further elaborated.
LAUGFS International has proved its mettle as a trusted distributor and established a strong market in Sri Lanka within a mere few years. The company provides 0.7KVA to 6KVA Yamaha petrol generators, 6KVA to 33KVA Yamaha diesel generators, 1KVA to 6.3KVA Yamaha inverters, Yamaha water pumps and high quality, durable engines. The Yamaha product range is manufactured in Japan and equipped with the latest cutting edge technologies to ensure superior quality and reliability.
LAUGFS International is the trading arm of the diversified conglomerate LAUGFS Holdings. Since its inception in 2014, LAUGFS International's portfolio growth, brand recognition and reputation have resulted in the company becoming the market leader in the domestic premium power products market in Sri Lanka. The company's portfolio includes Denso service parts for Japanese, Indian and European vehicles, and Fujitsu dry cell battery portfolio featuring AA, AAA, C, D, along with zinc carbon, alkaline and rechargeable Fujitsu coin battery ranges. Being the authorised agent for the globally renowned Yamaha and Airman power products in Sri Lanka, LAUGFS International offers Airman and Yamaha generators, inverters, water pumps, and engines with advanced technology.
LAUGFS is one of the largest diversified business conglomerates and a trusted name in Sri Lanka. Founded in 1995, LAUGFS today has expanded across 20 industries in Sri Lanka and overseas, establishing a strong presence as a leader and pioneer in the power and energy, retail, industrial, services, leisure and logistics sectors. With over 4,000 employees and an annual turnover exceeding Rs. 37 billion, LAUGFS continues to expand and empower millions as a trusted Sri Lankan brand.