LAUGFS
LAUGFS Gas Strengthens Infrastructure in Bangladesh with New Cylinder Requalification Plant
LAUGFS Gas Bangladesh Limited, one of the largest LPG downstream distributors in Bangladesh, officially commissioned its newest cylinder requalification plant recently at its Terminal facility in Mongla, Khulna.
Operating a world-class LPG import, bottling and distribution facility in the Mongla Port, LAUGFS Gas Bangladesh imports and distributes over 60,000 metric tonnes of LPG in the country. With an annual turnover exceeding USD 50 million, the company has expanded its operations to become a trusted and leading brand in the local LPG downstream industry.
The new cylinder requalification plant was unveiled by LAUGFS Group Managing Director Mr. Thilak De Silva, LAUGFS Gas Bangladesh Director / Chief Executive Officer Mr. Saidul Islam and its senior management team. LAUGFS Gas Bangladesh's Chief Operating Officer Mr. Ranjith Jayawardena, General Manager Sales and Marketing Mr. Nazeer Latiff and General Manager Operations Dr. Mayura Neththikumarage were also present at the celebratory event together with its key distributors and other stakeholders.
"As part of our expansion plans to strengthen our presence as a regional energy conglomerate, we have a strong focus on the Bangladesh market. Strengthening our investments to build and expand our local infrastructure to support market expansion is part of this strategy. The new state-of-the-art cylinder requalification facility is an important milestone in this journey. It will also enable us to serve the Bangladesh market with the safest LPG cylinders, as part of our firm commitment to safety, quality and reliability," remarked Mr. De Silva, commenting on this momentous occasion. "We see tremendous potential in the Bangladesh LPG market and will continue to invest to strengthen our operations there," he explained.
The modern, state-of-the-art cylinder requalification plant deploys advanced technologies and modern machineries with stringent safety and quality parameters, and has been one of the key investments by LAUGFS to bolster its infrastructure in Bangladesh.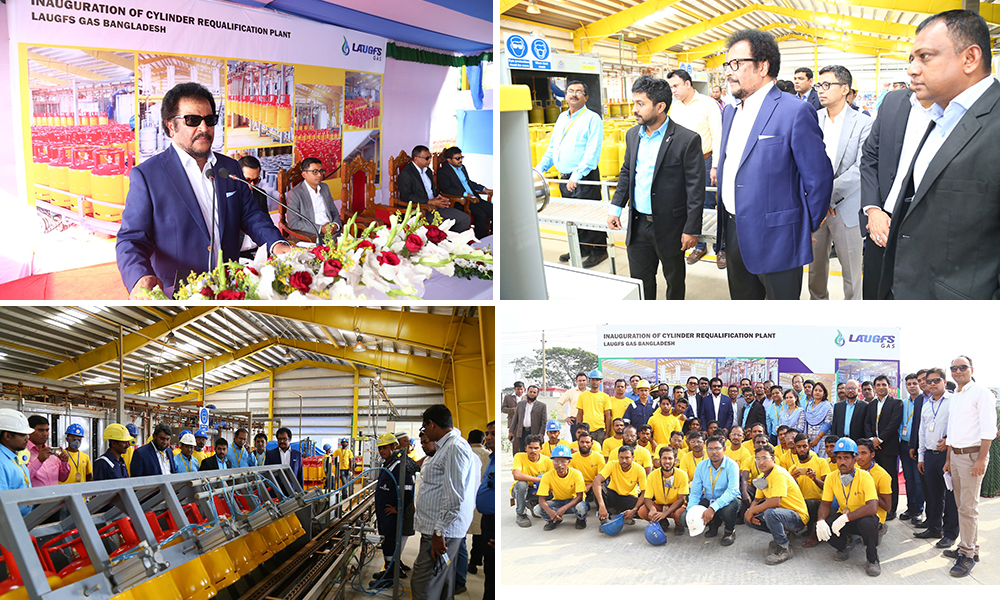 "I would like to congratulate our team in Bangladesh, who has worked tirelessly to make this world class facility come to fruition. Their unwavering commitment and passion will as always remain a strength as we stride ahead to become one of the largest energy players in the region. My deepest gratitude is also extended to our distributors and all other stakeholders in Bangladesh for the trust they have placed in us, and their true commitment towards building lasting partnerships to serve our customers in Bangladesh," Mr. De Silva further stated.
Petredec Elpiji Limited was renamed as LAUGFS Gas (Bangladesh) Limited in 2015 after its acquisition by LAUGFS Gas PLC of Sri Lanka, and has since expanded rapidly to become one of the largest LPG downstream players in the Bangladesh market. With an expansive nationwide distribution network, it serves domestic, commercial and industrial customers with 12 kg, 33kg and 45 kg cylinders under the LAUGFS Gas brand. It operates a world-class LPG import, bottling and distribution facility in Mongla Port, with plans to expand storage capacity to 5,000MT, which is due to be commissioned mid next year. Also being the pioneer of Auto Gas in Bangladesh, the company supplies LPG to service stations covering all major cities.
LAUGFS is one of the largest diversified business conglomerates and a trusted name in Sri Lanka. Founded in 1995, LAUGFS today has expanded across 20 industries in Sri Lanka and overseas, establishing a strong presence as a leader and pioneer in the power and energy, retail, industrial, services, leisure and logistics sectors. With over 4,000 employees and an annual turnover exceeding Rs. 37 billion, LAUGFS continues to expand and empower millions as a trusted Sri Lankan brand.