LAUGFS
LAUGFS Supermarkets Set to Celebrate Christmas Season with
'Lots of LAUGFS' Campaign
Celebrating the spirit of Christmas, LAUGFS Supermarkets unveiled its 'Lots of LAUGFS' seasonal campaign for loyal customers. The campaign invites customers to use their 'LAUGFS one' loyalty card and purchase nominated brands to obtain attractive offers. LAUGFS Super customers can enjoy these festive offers until 31st December 2019.
"As a trusted and a renowned brand across the island, we always reward our customers during festive seasons. In the true spirit of Christmas, this year too, we have lined up substantive offers for our customers. This festive season, we are excited to celebrate our Group synergy whilst rewarding our loyal customers by providing LAUGFS gift vouchers to customers as part of the 'Lots of LAUGFS' promotion to allow them to enjoy numerous LAUGFS products and services," commented LAUGFS Supermarkets Chief Executive Officer, Ms. Lilanthi Herath.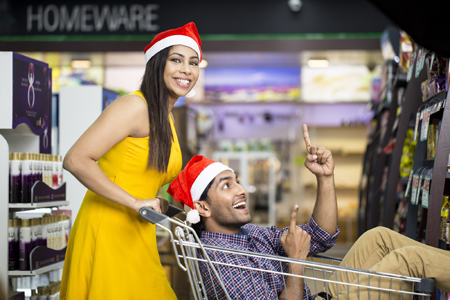 Customers who purchase goods worth Rs. 1,250 with two nominated brands and present their 'LAUGFS one' loyalty card will receive free LAUGFS gift vouchers for LAUGFS Supermarkets, Crimson Bakeries, JADE Restaurants, ClickNshop, Grocerypal, Anantaya Resorts and Spas, LAUGFS Car Care and Bike Point.
In keeping with the festive season, Crimson Bakeries in particular will present special range of Christmas delicacies including delectable Christmas cake, cupcakes, Yule logs, breudher along with the brand's usual range of appetising sweet and savoury goodies.
LAUGFS Supermarkets customers can also shop with their 'LAUGFS one' loyalty card with two nominated brands in three specific tiers of value to receive 50% off for selected items. Customers who shop for goods worth Rs. 1,250 to Rs. 2,500 can purchase two selected items for half the price. Those who present a bill worth Rs. 2,500 to Rs. 3,250 can buy three selected items for half the price while those who shop for goods worth Rs. 3,250 or above can get 50% off for four selected items.
The Company has also partnered with fashion and leisure brands to provide more enticing deals to customers who possess 'LAUGFS one' loyalty cards. During this Christmas season, LAUGFS Supermarkets will issue loyalty cards free of charge to customers.
A pioneer brand in the supermarket concept in Sri Lanka, LAUGFS Supermarkets introduced the chain of 24-hour supermarket retailing concept in Sri Lanka. The Company currently manages 37 supermarket outlets in Colombo and its suburbs, as well as in Kurunegala and Chilaw. The Company's flagship brands, LAUGFS Super and LAUGFS SuperMart, cater to over 800,000 shoppers monthly. The supermarket chain also features its very own Crimson Bakeries and Medz Pharmacies, while catering to a broad spectrum of everyday customer needs such as utility bill payment facilities, providing continued convenience to its customers.
LAUGFS Holdings Limited is one of the largest diversified business conglomerates and a trusted and well-loved home grown business in Sri Lanka. Founded in 1995, LAUGFS today has expanded across 20 industries in Sri Lanka and overseas, establishing a strong presence as a leader and pioneer in the power and energy, retail, industrial, services, leisure and logistics sectors. With 4,000 employees and an annual turnover exceeding Rs. 54 billion, LAUGFS continues to expand and empower millions as a trusted Sri Lankan brand.