KALA POLA
Kala Pola 2018 – celebrates 25 years of giving colour to life Record visitors top 28,000! Sales exceed Rs. 15 Million!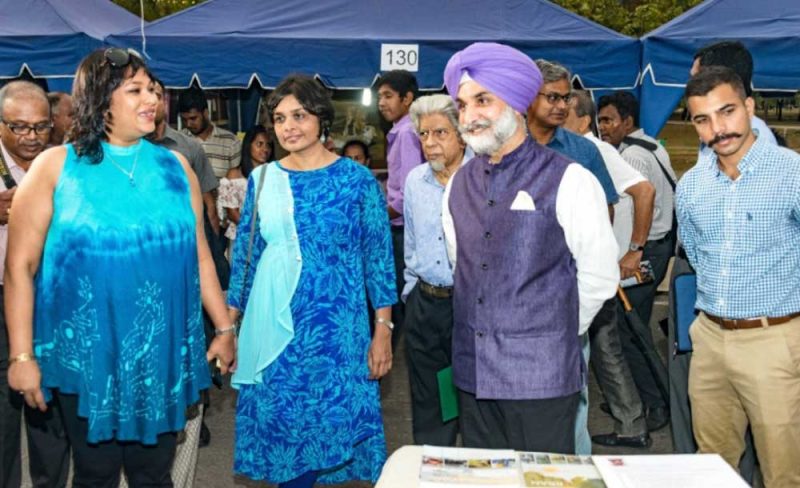 Colombo, 26 March 2018. 'Kala Pola' – Sri Lanka's popular annual open-air art fair –  celebrated its 25th anniversary in an explosion of colour on Sunday, 25th February under the joint stewardship of Sri Lanka's premier blue chip company John Keells Holdings (JKH) and The George Keyt Foundation (GKF).
Ananda Coomaraswamy Mawatha transformed into a rich palette with creations of 358 artists attracting a record number of visitors – local and foreign, school children and adults – estimated to number over 28,500.
Gracing the event were High Commissioner of India H.E. Shri Taranjit Singh Sandhu as Chief Guest, JKH Deputy Chairman Krishan Balendra and GKF Chairman Mike Anthonisz, among others.
Speaking at the official ceremony, Mr. Mike Anthonisz noted that "JKH stepped in long before CSR, sustainability and the triple bottom line were in vogue", adding that, "The mammoth efforts promulgated by JKH paved the way for the growth of the aesthetics, predominantly art and sculpture in Sri Lanka".
"We are proud of our partnership with The George Keyt Foundation spanning 24 years as sponsor and co-organiser of Kala Pola and to see this event evolve as a primary platform to showcase, promote and enhance livelihoods of Sri Lankan artists and sculptors," said Mr. Krishan Balendra. "In addition to being a marketplace, Kala Pola has become a networking and learning opportunity for artists. I am happy to note that several artists who started at Kala Pola have gone on to become professional artists, earning a sizable livelihood from art."
Addressing the gathering, Indian High Commissioner H.E. Taranjit Singh Sandhu, commented, "Despite art being a rich heritage harking back centuries in this region of South Asia, the atmosphere and ethos created through Kala Pola are unique as it has inspired many artists who could be the next Picasso. JKH and GKF have facilitated this passion for art for a quarter of a century which in itself is noteworthy. This is truly uplifting even spiritually as I believe that art and creativity cleanse the soul."
Estimated sales of the event are in excess of Rs.15.3 million with some of the artists also being commissioned for their extensive range of art and sculpure.
Nadija Tambiah, Head of CSR, John Keells Holdings PLC said, "Kala Pola  continues to play an important role in providing a market place for artists and an opportunity for anyone interested in art to buy a piece of original art. We are delighted to see art teachers bringing their students and tourists taking time off their tours to walk through the stalls.  We are proud to have played a part in building a nation of art lovers."
Kala Pola 2018 continued to host a Children's Art Corner attracting 170 child artists guided by the teachers of the Cora Abraham School. This was sponsored by Ceylon Cold Stores PLC which rewarded the kids' participation with specially designed certificates and refreshments courtesy of Elephant House.
The evening came alive with a variety of entertainment provided by Namaskara, Ranwala Foundation, Music Matters and the Ravibhandu Vidyapathi Drum Ensemble while 45 child musicians of The Music Project performed orchestral pieces during the morning.
Kala Pola 2018 was supported by a team of 105 volunteers from the John Keells Group.
Whilst the event catalogue publicizes artists exhibiting at Kala Pola, online platforms such as www.kalapola.lk and www.srilankanartgallery.com hosted by John Keells Foundation enable Sri Lankan artists to access markets throughout the year.
Visit www.kalapola.lk or contact  for further information Johnkeellsfoundation@keells.com