JUMBO DAMAGE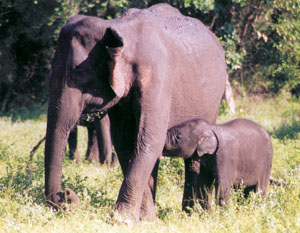 While petitions have been signed against the use of elephants at cultural and religious events, there seems to be no change in the practice, resulting in a decrease in Sri Lanka's wild elephant population.
According to reports, there is a crisis within the country to determine how to deal with high-profile individuals accused of stealing baby elephants. The apparent tolerance towards capturing and using elephants for festivals has also caused an uproar among wildlife conservation groups and members of the general public.
Minister of Sustainable Development and Wildlife Gamini Jayawickrama Perera reportedly informed Parliament of his determination to stop the illegal trade of elephants, provided that he is able to resist influential groups with ties to the head of state.
The situation is deemed critical in terms of declining elephant numbers – according to wildlife experts, almost every tamed baby elephant is captured from the wild after killing its mother, while some elephant calves are also killed by tranquiliser drugs used while capturing them. Over the past 10 years, nearly 40 elephants have reportedly been stolen from the country's national parks.