JAPAN FUNDS HOTEL IN THE SOUTH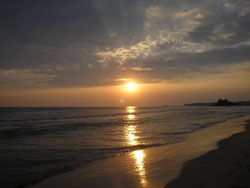 The Bensei group of Japan plans to construct a hotel complex between Ahungalla and Bentota in the Galle District.
A renowned Japanese architect is set to design the hotel complex, which will provide an opportunity for Japanese tourists to partake in meals that are in line with Japanese tradition and taste.
Construction is scheduled to commence at the end of this year and the project is planned for completion in two years, according to Toyohiko Murakami, Chairman of the Bansei group (Tokyo), who met Sri Lanka's Minister of Lands and Parliamentary Reforms Gayantha Karunatilleka recently.