STATE CAPTURE
JACOB ZUMA'S DOWNFALL
Rajika Jayatilake discusses South Africa's tainted presidency and search for honest leaders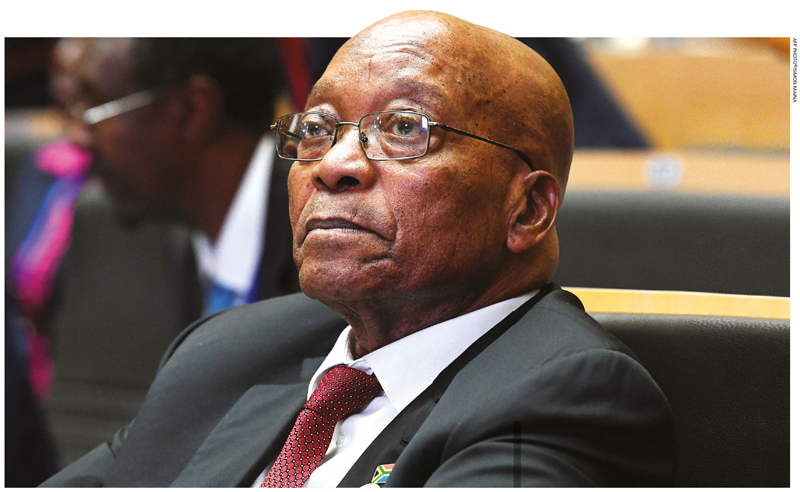 Globally, politicians are the worst culprits when it comes to wriggling out of consequences for wrongdoing. The former President of the Philippines Benigno Aquino III once said that "the message has to be sent that if you commit a crime, there has to be punishment."
This is a challenge South Africa is currently facing: the ruling African National Congress (ANC), which transformed a racist white dominated country into one based on democratic values like equality 25 years ago, now faces the challenge of replacing official corruption with transparency and accountability.
Jacob Zuma, who was South Africa's president for almost two terms, stepped down after being forced to resign by the ANC on 14 February. The party had stood by him for nine years of his presidency through an equal number of no confidence motions. It had even supported him through corruption scandals and rape allegations long before he became president.
Zuma faces 16 counts of corruption, racketeering, fraud and money laundering. The charges were once removed and then reinstated in 2016. He is accused of accepting 783 illegal payments in an arms deal in 1999 that was a multi-billion dollar order to modernise South Africa's military in the post-apartheid era.
Like its war on institutionalised racial segregation and discrimination during apartheid, South Africa's current war on corruption is dependent on civic activism, an independent judiciary and a free press.
South Africa's revered former leader and president of the ANC Nelson Mandela once said: "I have cherished the ideal of a democratic and free society in which all persons live together in harmony, and with equal opportunities. It is an ideal that I hope to live for and to achieve."
Under Mandela, South Africa became an inspiration to the world for peaceful reconciliation. Mandela's successor Thabo Mbeki inspired South Africans to build an African identity and reintegrate into the global economy while embracing democracy.
However, the ascent of South Africa's international image tumbled under Zuma's corrupt rule. Official corruption resulted in the nondelivery of economic promises. In fact, a former South African finance minister estimated that five percent of the country's GDP is wiped out by official bribes.
Seventy-five-year-old Zuma, popular among the poor, was swept to power in 2009. The eldest of five children, he tended cattle and goats as a child. He did not attend school. Determined to be literate however, Zuma taught himself and later attended night school classes.
Zuma is a skilled tactician and portrayed himself as a victim of poverty, exploiting the deep support among poor South Africans to become president. He won sympathy with stories of a decade of imprisonment along with Nelson Mandela on Robben Island.
Nevertheless, it wasn't long before people began to doubt his carefully crafted 'people's president' image.
By 2013, that image was in shreds after he was exposed for renovating his Nkandla residence using government funds. Under Zuma, the economy was stagnant and unemployment rose to 28 percent while people protested almost daily for better basic services. One protester shouted: "He is eating when we are hungry."
Corruption flourished during Zuma's rule as family, friends and wealthy business associates filled positions in state enterprises. Loyalists, even inexperienced ones, were appointed to the cabinet and other top positions in government, as well as in the corporate sector.
Independent political analyst and a former professor at the University of South Africa, Somadoda Fikeni observed that it was a period when a nation that was considered a shining example of the African continent and an economic powerhouse with a vibrant democracy was tested to the limit.
In March 2017, Zuma fired the country's highly respected finance minister Pravin Gordhan for suspending suspicious tenders and ordering spending cuts in government departments. People took to the streets to protest this unwarranted sacking.
Later in December, Zuma suffered a major legal defeat in South Africa's High Court when judges ruled against his efforts to block an inquiry into accusations of influence peddling that was so extensive it was termed 'state capture.'
Zuma was also accused of colluding with three businessmen and allowing them to influence the appointment of government ministers to obtain state contracts. The court ordered the removal of the chief prosecutor whom Zuma had appointed and ruled that his replacement should be named by the then Deputy President Cyril Ramaphosa since Zuma was 'conflicted.'
When Ramaphosa was elected leader of the ANC in December last year, Zuma knew his days were numbered. The ANC forced him out of office and appointed Ramaphosa as president until the end of the presidential term in 2019. In the interim, the ANC has a major task of cleaning up a tainted presidency and regaining the trust of the people. Ramaphosa hopes to run for president on an anti-corruption platform.
South Africa's current leadership seems to be following Mandela's maxim: "May your choices reflect your hopes, not fears."