IT INDUSTRY
TECH ADOPTION TAKES OFF
Sri Lanka's tech workforce and industry are adapting to the digital boom
Hasitha Abeywardena
IT industry today in a sentence
The IT industry is helping the country work towards a resilient and inclusive recovery.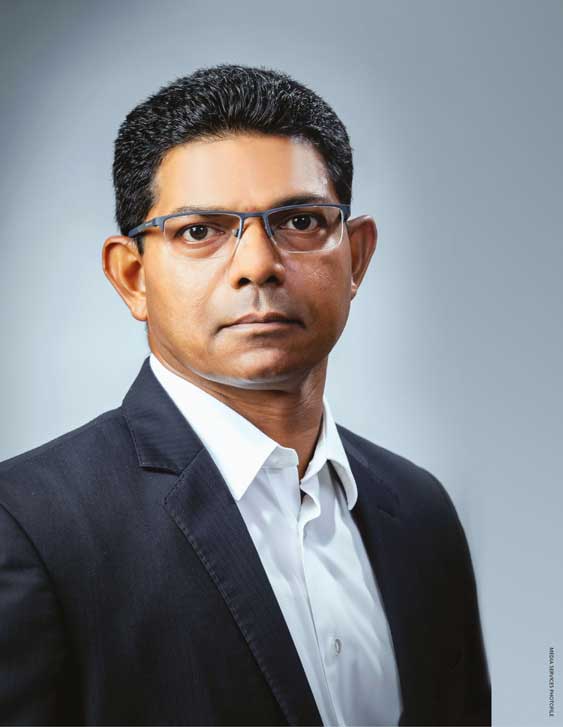 Three strengths of the industry
The talent and creativity of our people; the innovative products and services they create; and the prime geographic location they work from.
Three weaknesses of the industry
Highly technical educational qualifications, training requirements and a lack of job opportunities.
Three evolving consumer behaviours
In response to the rapidly evolving public health crisis, consumers are changing how they live and work, what and how they buy, and prioritising their health and wellbeing.
Three barriers to the industry's growth in Sri Lanka
A fixed mindset, low digital literacy and employability, and talent shortages in under-served communities.
Your thoughts on gender balance in the IT industry
Gender equality – in all functions and at all levels – is a powerful performance enabler to ensure that we build inclusive technology.
Main impacts of COVID-19 on the industry
The disruption led to an acceleration of remote working and a rapid focus on evaluating the end-to-end value chain.
Impact of the pandemic on the industry's future
Innovation has been prioritised as the key to unlocking growth and resilience in the future.
Three initiatives to enhance the industry during the pandemic
Securing the digital consumer, teaching and training youth for new jobs, and upskilling employees.
Scope of the industry in Sri Lanka
It serves several industry verticals through more than 300 companies, according to the Sri Lanka Export Development Board (EDB). ICT services represent the country's fourth largest export earner.
Local vs regional IT industry in a few words
Sri Lanka's tech talent is known for its high end product enginee-ring experience, problem solving skills and ingenuity.
How would you describe the industry for gen Z
The tech industry is focussed on innovation, creation and growth.
Sri Lanka's competi­tive­ness in a sentence
While being good at specialised high end products, we lack management talent and an IT workforce skilled in the latest technologies to drive global demand at scale.
Impact of the digital age in Sri Lanka
From personal relationships and businesses, to entertainment and gaming, the digital age has changed how we spend our time.
Elaborate on the above
Its impact has been associated with greater freedom – but it also pushed us to levels of distraction and dependence that have changed how we engage with the world.
Sri Lanka's readiness for tech adoption
It's at an all-time high but we lag in the appetite for risk, ability to integrate digital priorities into overall business strategies, and automation of internal and customer facing processes.
Another aspect in which the country falls behind
Adoption of a collaborative culture between digital teams and business functions.
Virtual team management in one sentence
Managing cross-geographical teams that use digital communication platforms to make collaborative efforts to achieve shared goals and objectives quicker and more cost effectively.
Digital security in business insurance
It's vital; it protects not only your electronic data and computer systems from cyberattacks, but also customers' information and reputation.
Impact of social media on the world
Social media has gone from being an entertaining extra to a fully integrated part of nearly every aspect of daily life for many.
Productivity is affecting industrial and economic growth
Yes – productivity is the main source of economic growth and competitiveness. A country's ability to improve its standard of living depends almost entirely on the ability to raise its output per worker.
Competition drives innovation
Yes – competition between companies encourages them to innovate rather than be comfortable.
How do you view the IT industry in five years' time
Thanks to changes that no one would have wished for and fuelled by the requirements of a digital society, the technology industry will certainly take on a new shape by 2026.
Your mantra for success
Empower every person and organisation to achieve more.
Compiled by Ashwini Vethakan
Hasitha Abeywardena is the Country Manager of Microsoft Sri Lanka and Maldives