INTERNATIONAL-LEVEL CYCLING EVENT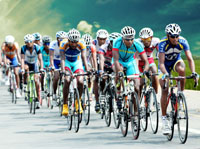 Lanka Sportreizen and the Cycling Federation of Sri Lanka plan to hold an event for cycling enthusiasts to participate and enjoy the beauty of Sri Lanka. With the intention of promoting lesser-known parts of the island, the event will take on a 'coast to coast' approach, spanning from the east to west.
The race will kick off from the Marina Hotel in the national holiday resort of Pasikudah, and will continue through Mahiyangana and Kandy to Negombo from 5 to 7 April.
Conducted by a panel of reputed UCI-accredited International Commissaries together with the Ministry of Sports and the Cycling Federation of Sri Lanka, the event will be open to all national and club teams.
Lanka Sportreizen will offer Rs. 3 million (approximately US$ 20,000) as total prize money for those ranked first to 20th at the event.