INTERNATIONAL CONFERENCE ON CLIMATE CHANGE 2023
Seventh Edition of International Conference on Climate Change 2023 (ICCC 2023) brings over 100 climate change experts from 25+ countries onto one platform 
10th February 2023 – Colombo: The 7th International Conference on Climate Change 2023 (ICCC 2023), the latest edition of the event brings together leading global experts on climate-related topics on to one platform, successfully concluded recently. The event was held under the theme "Climate Action and Emerging Challenges: Land- and Ocean-based Solutions".
ICCC 2023 was organized by The International Institute of Knowledge Management (TIIKM) in collaboration with universities from Sri Lanka, Turkey, Thailand, Nigeria, Indonesia, Malaysia, the Philippines, Bangladesh, South Africa and the Friedrich Naumann Foundation for Freedom, Sri Lanka.
The purpose of the ICCC 2023 was to provide a focal forum for experts to share their latest research findings, knowledge, opinions, suggestions, and vision, while also providing a variety of interactive platforms, such as panels, keynote forums by prominent researchers in the field of climate change, group discussions, workshops, networking, and many similar experiences. The event united diverse researches, innovations and case studies from all over the world, in parallel sessions while offering many networking and publishing opportunities. With over consist of 100+ participants from 25+ different countries, the conference paved the way for experts to learn about the latest trends and challenges in the field.
The Keynote Speaker of ICCC 2023 was Prof. Mohan Munasinghe – 2021 Blue Planet Prize Laureate, Vice-Chair of the Intergovernmental Panel on Climate Change (IPCC), and Founder Chairman of the Munasinghe Institute for Development, Sri Lanka. The key highlight of Day 1 was his Keynote Speech on "Integrating Climate Policies into Overall Sustainable Development Strategy – The Balanced Inclusive Green Growth (BIGG) Path". Prof. Sarath Kotagama from the University of Colombo, Sri Lanka delivered a plenary speech at the conference.
Day 01 concluded with the panel discussion on "Can We Achieve the Goal of Climate Action and Net Zero Targets, as Planned, with the Ongoing Climate and Economic Crisis?" which was moderated by Dr. Athula Senaratne – Senior Agriculture Specialist, World Bank, Sri Lanka. The panelists of this discussion were Prof. Amal S. Kumarage, Prof. Buddhi Marambe and Mr. H. K. Wickramasinghe.
Conference Convener Isanka P. Gamage – Co-Founder & Managing Director of The International Institute of Knowledge Management (TIIKM), Sri Lanka stated, "Once again it was a highly informative and well-attended event where top global climate change experts were brought onto one platform to share their latest research and insights. During the past few decades, the world has gradually learned about what we truly value and what truly matters in the regional and global context. At the same time, we have had to relearn the power of quality research in order to produce knowledge that is applicable outside of the research setting. This conference has once again enabled us to understand the complexities of this all-important topic and understand where the world stands today in our battle against climate change."
The conference also included 15 Technical Sessions that covered multiple topics including Natural Resources and Biodiversity in a Warming World; Climate Change – Mitigation, Measurements, Modelling, and Predictions I; Climate Change Economics, Law and Policy; Impacts, Hazards, Risks, and Effective Adaptation To Climate Change I; Climate Change, Awareness, Green Initiatives and Products I; Global Warming, Agriculture, and Food Security I; Carbon Management and Climate Change Mitigation; and Technology Transfer, Law and Innovative Solutions to Climate Change. Day 2 concluded with a Publication Workshop on "Tips for getting published in international Journals Experience as an Editor and Associate Editor" by Dr. Stacey Archfield – Research Hydrologist-Water Resources, USA and the Awards Ceremony.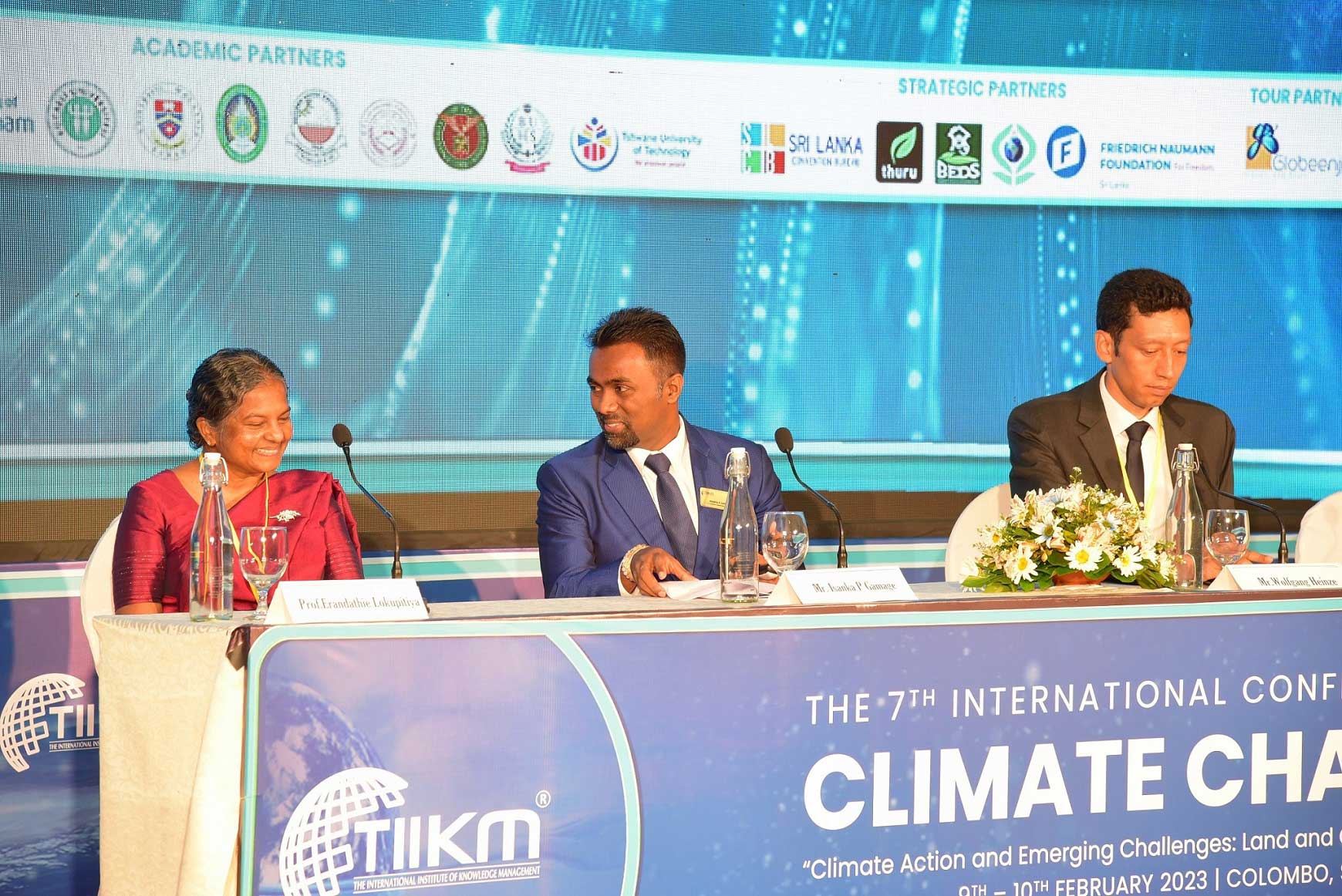 (From Left); Prof. Erandathie Lokupitiya – Professor in Environmental Science, Department of Zoology and Environment Sciences Director, Center for Environmental Initiatives University of Colombo, Sri Lanka, Isanka P. Gamage – Co-Founder & Managing Director, The International Institute of Knowledge Management (TIIKM), Sri Lanka and Wolfgang Heinze Country Director Sri Lanka & Bangladesh at Friedrich-Naumann Foundation for Freedom.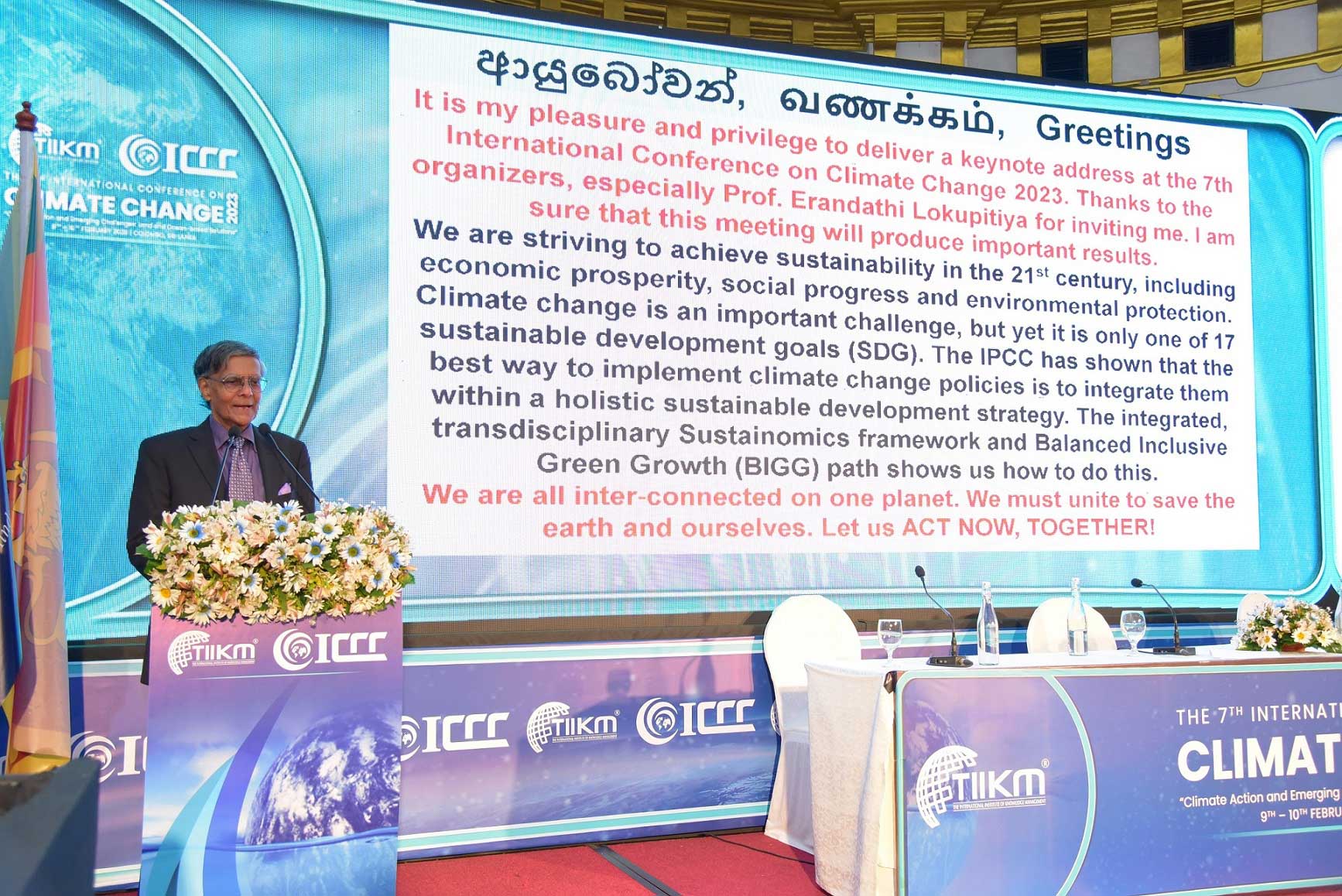 Keynote speech by Prof. Mohan Munasinghe – 2021 Blue Planet Prize Laureate, Vice-Chair of the Intergovernmental Panel on Climate Change (IPCC), and Founder Chairman of the Munasinghe Institute for Development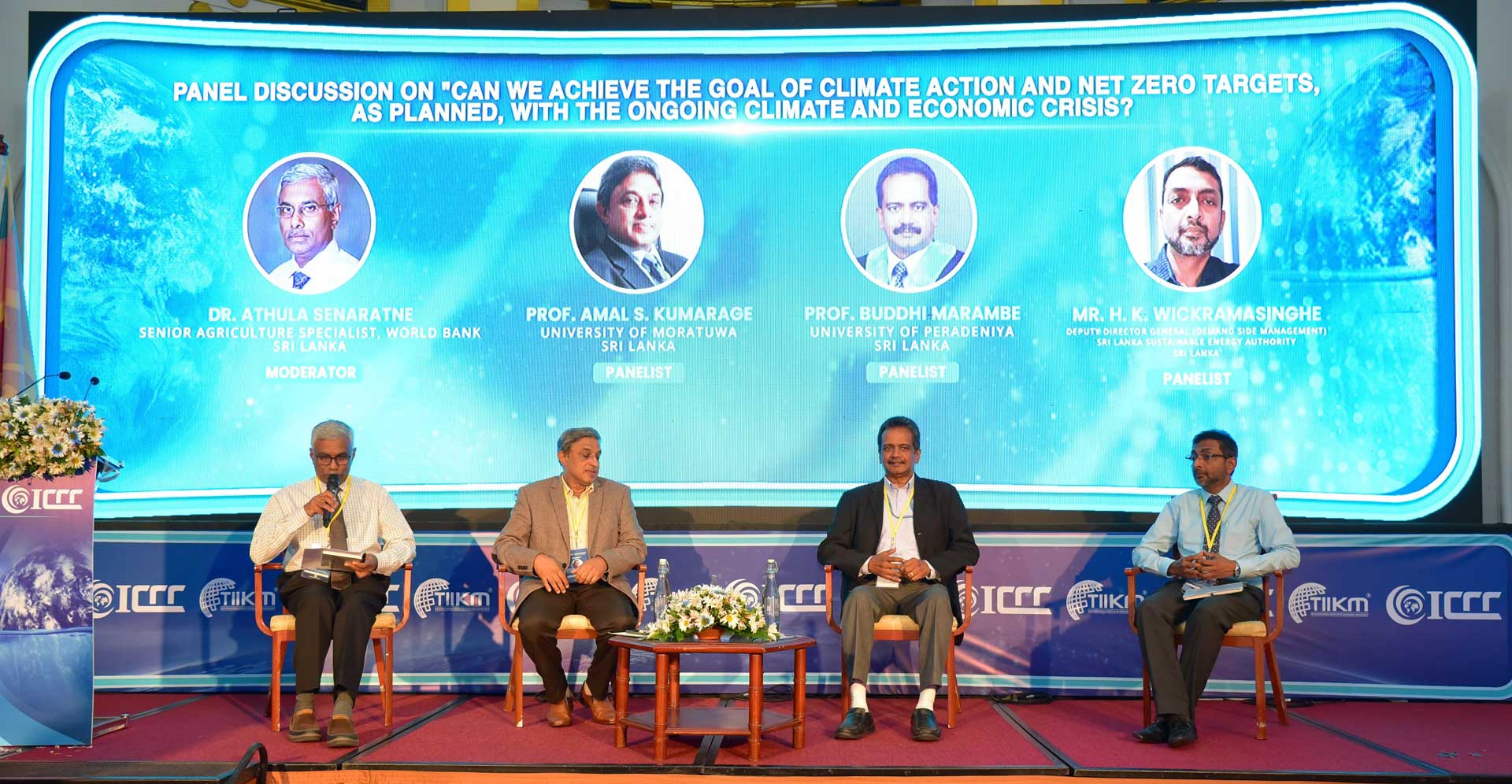 Panel Discussion moderated by Dr. Athula Senaratne (Senior Agriculture Specialist, World Bank, Sri Lanka). Panelists; Prof. Amal S. Kumarage (University of Moratuwa, Sri Lanka), Prof. Buddhi Marambe (University of Peradeniya, Sri Lanka), Mr. H. K. Wickramasinghe (Deputy Director General (Demand Side Management) Sri Lanka Sustainable Energy Authority, Sri Lanka)