INSURANCE SECTOR
CREATE GREATER AWARENESS!
Nikhil Advani highlights opportunities for the insurance sector to grow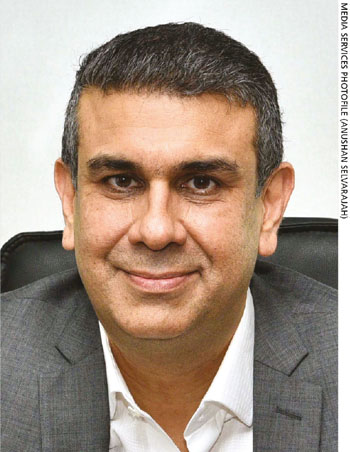 Q: How do you perceive the life insurance sector today?
A: The insurance sector is substantially under-penetrated in this country – whether this be in terms of the number of individuals who have life insurance policies, the value of cover people have taken out or premiums as a percentage of GDP.
People don't seem to have understood the value of life insurance. Many have more insurance for their vehicles than their own lives.
When you approach people with this argument, they understand the irony of how under-protected they are. Making loved ones financially secure is of primary importance to most of us.
As a nation, we are quite underinsured compared to many countries in the region. And this reflects the vast opportunity that exists in the life insurance sphere.
However, there's work to be done before greater market penetration is possible.
Q: What are the main growth avenues, in your assessment?
A: A rapidly greying population presents immense opportunities for retirement related products and services. The substantial size of the population over the age of 60 by 2030 will continue to create a market for pension and health products for years to come.
In 2016, the Department of Census and Statistics revealed that 50 percent of Sri Lankan retirees depend on their children. This is not always a viable strategy. In fact, it may be a burden on children who could then be sandwiched between taking care of their parents and their own children.
This can be avoided if people plan ahead and invest in pension products to ensure financial independence.
It is the responsibility of insurers to help people plan for an independent and financially secure retirement, while enabling them to maintain dignity and self-sufficiency long after their working years.
Q: Is there further potential in the numerous life insurance market segments?
A: Health insurance is a growing opportunity since the number of people with such cover continues to remain low. Companies providing health insurance to their employees usually offer modest cover – especially in relation to critical illnesses or family coverage.
The rate of medical inflation and escalating hospitalisation costs leads to people dipping into their savings, or compromising on lifestyles or plans to cover medical expenses.
Q: How important is insurance cover for critical illness, in your estimation? And what can insurers do to spread awareness about unhealthy lifestyles?
A: Yes, critical illness is another major segment.
Noncommunicable diseases (NCDs) account for over 75 percent of deaths in Sri Lanka. This is an alarming statistic.
People living with critical illnesses find it impossible to bear the cost of healthcare over a long period of time. This means that many of them have to make tough choices because serious ailments can wipe out savings and leave families in financial distress.
Insurance companies must participate in preventing NCDs by encouraging wellness, physical activity, cessation of smoking, healthy nutrition and better family health management. Science backed wellness programmes recommend a preventative approach for people to adopt active lifestyles and be rewarded for being more health conscious.
Q: What are the key strategies to drive the life insurance sector in this country going forward?
A: Raising awareness about the need for insurance is crucial. We have an obligation as a sector to educate the public on the benefits of insurance.
Secondly, we must be more customer focussed to ensure that the right products for each market segment and need are on offer.
And lastly, incentives are vital to drive greater insurance adoption. In some countries, tax incentives are offered to invest in insurance premiums. Sri Lanka could consider similar incentives.
Q: In your view, how can insurance be made more affordable?
A: Interestingly, many people in the affluent and upper affluent segments haven't purchased life insurance either. It's clear that awareness is sorely lacking when it comes to the benefits of possessing insurance cover.
Q: And how about the big picture of the life insurance sector in Sri Lanka…?
A: At the micro-insurance level, affordability can be improved by delivering products and services through digital channels, which also increases access. Another way to increase affordability is to offer specialised insurance products – for example, affordable cover for specific critical illnesses.
Q: How would you assess sector standards and governance in Sri Lanka?
A: The insurance sector in Sri Lanka is well regulated, and exhibits transparency and accountability. Several regulatory and supervisory developments on corporate governance were initiated by the regulator in 2018, to ensure greater transparency in the business of insurance in this country.
Q: And last but not least, how would you describe the quality of the domestic insurance sector's talent pool?
A: The quality of the talent pool is good. But the sector must keep investing in training people whom companies trust to sell products. It could also do with a greater number of actuarial professionals.
The interviewee is the Chief Executive Officer of AIA Insurance Lanka