INSURANCE AWARENESS
Surekha Alles
CREATING MASS APPEAL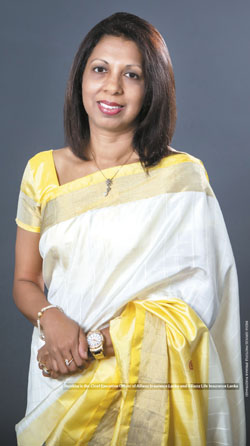 What is your take on the state of the insurance sector in Sri Lanka?
The insurance sector is developing but hasn't matured to the expectation of the real objective of privatisation, which took place almost three decades ago. Insurers are hesitant to invest in product development. The erosion of margins due to severe price competition in the non-life sector could be the reason for this.
Most insurers operate on the basis of market share in an already crowded sector. This saturation has resulted in a sharp decline in rates amid a somewhat stagnant economic environment.
However, there is huge potential in the life insurance sector. This too is in a developing stage. With insurance penetration at very low levels, there is a lot that life insurers can do to prop up life business in Sri Lanka.
Are Sri Lankans aware of the importance of obtaining insurance and the benefits of being insured?
In the corporate world, although companies are aware of the need and benefits of insurance, they insure the bare minimum and are reluctant to invest in the right level of insurance cover.
Most corporates haven't obtained insurance cover for business interruption, directors' and officers' liability, cybercrime, professional liability and product liability. They believe that nothing unfortunate would befall them and hence only invest in what is required on basic terms.
There's little or no awareness of insurance among the rural masses, which could be due to factors such as affordability and reach. Insurers need to address this and design product propositions to suit the less affluent masses that actually need insurance cover for their survival.
The same goes for life assurance as well. If the family is the nucleus of society, this nucleus needs to be protected without being destroyed by the death of the breadwinner.
What steps can be taken to make insurance affordable across all segments of the population?
Affordability comes with identifying the need for insurance: a person may be able to afford it but not necessarily desire insurance cover.
Insurers must create awareness and the need for cover so that price will not be a determinant. Although price is an important factor, if we can groom society with an understanding of the value insurance brings, the masses will make adjustments to their spending and prioritise insurance.
In addition, insurers should design products to counter affordability. Policies should be introduced with monthly or weekly payment terms especially for the non-life sector. Settlement through bank standing orders, payslips, direct debits or mobile cash is also important in the context of product design. We should take insurance to the masses rather than wait for them to reach out to us.
What new trends are emerging in this sector in terms of tech adoption?
Innovation has not taken place to the extent where a consumer can obtain an insurance policy by merely answering a few questions. So there's room for improvement.
On the other hand, there's been a revolution in terms of technology when it comes to claims. Customers can now settle claims almost immediately and most insurers have introduced cashless transaction facilities.
There is potential in this sector for real digitalisation – i.e. to digitise the entire process of providing insurance, from the time the customer obtains a policy to settling claims with the convenience of not having to physically visit a branch. Many insurance firms have invested in modern IT systems that have resulted in speedier processing.
What are the challenges the insurance sector faces today?
The main challenge is to sustain itself in the face of the high degree of price competition especially where the non-life sector is concerned. Hence, charging the right price for the risk that we underwrite has become a challenge.
And there are issues with attracting the right people to the sector – because despite salaries, perks and other benefits, the youth seem to be uninterested in joining this field.
How long have you been associated with the insurance sector?
I joined the insurance sector straight out of school. There are ample opportunities in this field for youngsters where they can gain extensive exposure and experience rapid career progression.
Describe yourself in one word…
Results-oriented
And finally, what is your mantra for success?
Hard work and a can-do attitude.
– Compiled by Hansani Bandara
Surekha is the Chief Executive Officer of Allianz Insurance Lanka and Allianz Life Insurance Lanka