INSEE
INSEE Cement Continues to Strengthen the Nation by Building the Skills Development and Vocational Training needs of  the Construction Industry, across Sri Lanka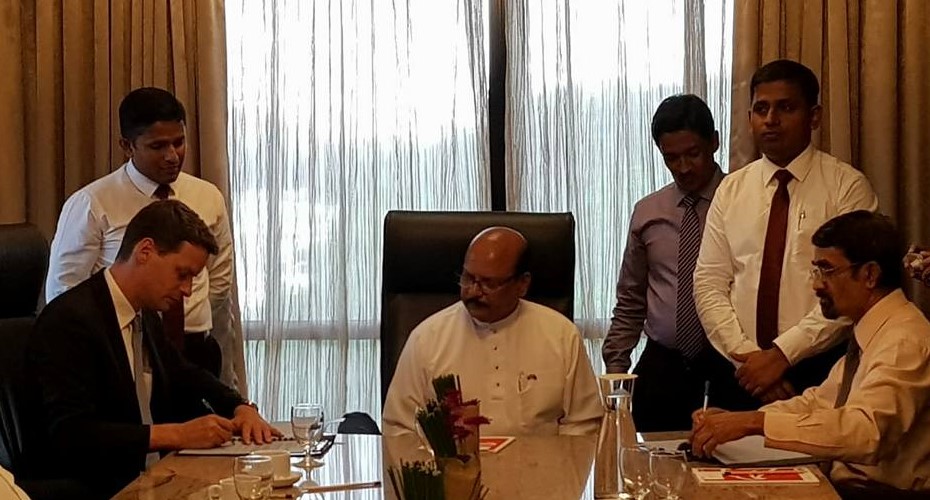 13th June 2018, Kandy: A Memorandum of Understanding (MoU) was signed today between Central Province Council together with INSEE Cement Sri Lanka also known as Siam City Cement (Lanka) Ltd. The said MOU was signed under the patronage of Chief Minister – Central Province, Hon. Sarath Ekanayake and key Government officials for knowledge and skill enhancement program for Technical Officers of the Province.
This highly promising public-private partnership (PPP) will focus on the up-skilling and enhancement of knowledge of Technical Officers in the areas of plumbing, electrical work, aluminum work, quantity surveying, surveying and leveling, cement and concrete solutions. The MoU was formalized by the Chief Secretary of the Central Province Chief Secretarial Office, M. S Premawansa and Jan Kunigk Executive Vice President/ Commercial Director of INSEE Cement Sri Lanka on the 13th of June 2018 in Kandy.
With the signing of this agreement, INSEE Cement has partnered with the Central Province Chief Secretarial Office to conduct training programs for Technical Officers (TOs) in Kandy over a period of seven months. A total number of 200 Technical Officers will participate in the trainings sponsored by INSEE Cement.
"We are committed to strengthening the nation. Our purpose is to empower our industry stakeholders through collaboration and knowledge sharing which results in the continued progress and evolution of the local construction industry," stated Jan Kunigk, Executive Vice President / Director Sales & Marketing of INSEE Cement, Sri Lanka. He added, "We are enhancing the knowledge and skills of our Sri Lankan Technical Officers by equipping them with the latest industry advancements.  We are uplifting our local industry standards so that Sri Lanka too can compete as a forerunner in the construction at a global level."
INSEE Cement has been investing heavily on the knowledge sharing initiatives with a number of MoUs currently in effect to up-skill Technical Officers, Masons and other industry stakeholders across the country. In keeping pace with global industry developments, INSEE Cement addresses today's demanding construction needs by producing innovative products and solutions. A dedicated Innovation & Application Center at INSEE driven by a highly skilled technical team realizes paradigm-shifting ideas every day, proactively engaging with industry partners to ensure a holistic approach in building sustainable modern day infrastructures.
Such focused research initiatives has resulted in INSEE being the pioneer to introduce global expertise and solutions to Sri Lanka over the decades (i.e. 1st Portland Lime Stone Blended Cement – INSEE Sanstha, 1st Fly Ash Blended Cement – INSEE EXTRA, 1st Sulphate Resistant Cement certified by SLSI – INSEE EXTRA, etc..)
About the Company – INSEE Cement, Sri Lanka
INSEE Cement Sri Lanka also known as Siam City Cement (Lanka) Limited, manufacturers of INSEE branded Cement – INSEE Sanstha and INSEE Mahaweli Marine, is a member of the Siam City Cement Public Company Limited. Siam City Cement is a leading cement manufacturer in Southeast Asia, founded in 1969 in Thailand. The Company manufactures INSEE branded cement, Conwood by INSEE, Ready Mix Concrete, Construction aggregates and solutions to serve a widespread regional market that includes Cambodia, Bangladesh, Vietnam, Indonesia and Thailand, in addition to Sri Lanka. INSEE Cement is the first certified 'Green Cement' product in Sri Lanka with the Green Labelling certification awarded by the Green Building Council. INSEE Cement is the only fully integrated cement manufacturer in Sri Lanka.
The parent company, Siam City Cement Public Company Limited (SCCC) has adapted and progressed to serve the construction needs of the region; its cement manufacturing facility in Saraburi, Thailand, is the world's largest cement production complex. The company, SCCC draws from the accumulated expertise and knowledge over decades of operation, and is strongly focused on investing in rapidly advancing regional markets such as Sri Lanka, which show much promise in sustainable construction.