INDUSTRIAL CORRUPTION

THE LUCRE OF
OIL PALMS
Rajika Jayatilake laments that Indonesia's corrupt palm oil companies continue to destroy protected forestland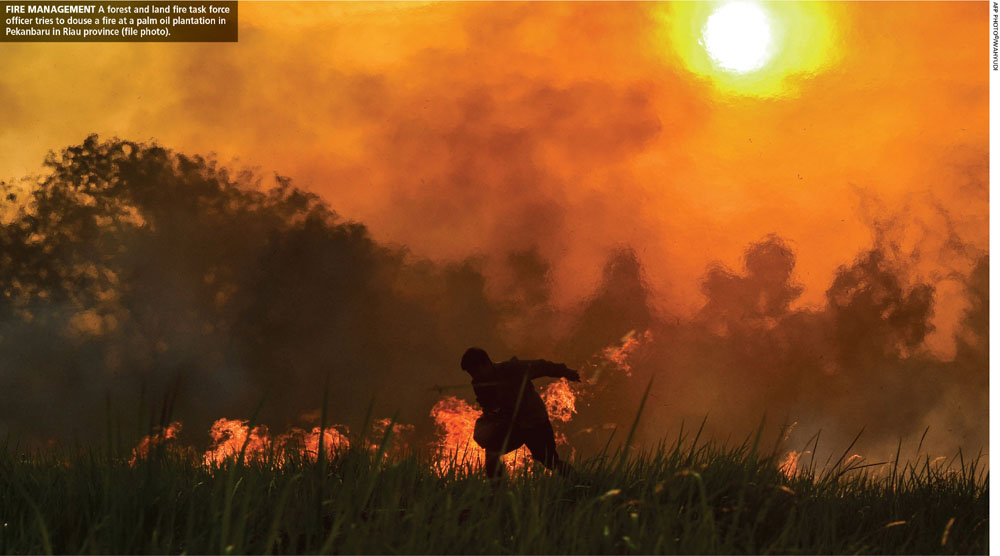 Governor of the Turks and Caicos Islands Nigel Dakin recently noted the world is aware that "corruption is found in every country and in every territory… All of us have to hold the line against those (few in number but whose corrosive effect is amplified) who see public service or positions of influence as a means to personal profit."
And corruption in the arena of natural resources translates into their complete destruction.
Transparency International (TI) firmly believes that corruption is a significant reason for the global loss of 13 million hectares of forests annually. This is equal to losing forestland that's the size of a football field… every two minutes!
As if to prove this statement to be true, one of Indonesia's most prominent and richest palm oil tycoons Surya Darmadi was recently sentenced to 15 years in jail and ordered to repay the state a sum equal to US$ 2.6 billion for engaging in a corrupt deal that destroyed thousands of acres of protected land in Sumatra.
The prosecution accused him of incurring losses amounting to 4.8 billion dollars for the country through his corrupt activities; and it attributed the dubious distinction of engaging in the largest corruption scheme in Indonesia's history to him.
In 2014, the Corruption Eradication Commission (KPK), which is Indonesia's anti-bribery agency, named Darmadi as a suspect in a US$ 200,000 bribe given to the then governor of Riau Province Annas Maamun.
The bribe was given to amend a forestry regulation to benefit Darmadi's company Duta Palma, which led to it taking over 90,000 acres of protected forestland and turning it into an oil palm estate.
He was again named as a suspect last year over illegal payments to a senior official in Riau Province to issue operating permits for five of his subsidiary businesses.
In 2014, Darmadi fled Indonesia and the authorities couldn't have him extradited. Darmadi then voluntarily returned to the country in 2022, after which he was arrested. Investigators found that his business had earned illegal revenues amounting to about 40 million dollars. He was charged with tax evasion and money laundering.
In 2018, Forbes estimated his net worth to be US$ 1.3 billion.
Director of Paradigma, a Sumatra-based nonprofit focussed on social justice and the environment, Riko Kurniawan says: "Darmadi's case is exceptional because we rarely see those in the palm oil industry held to account. This is truly unprecedented."
As a matter of fact, his sentencing is considered a watershed as palm oil businesses generally escape punishment from legal action by bribing officials. In a 2021 report, Greenpeace Indonesia said that oil palm plantations had been the "largest single cause of deforestation in Indonesia over the last two decades."
And Fern's June 2022 report 'Palm oil production, consumption and trade patterns: The outlook from an EU Perspective' notes that Indonesia is responsible for over half the global production of palm oil.
Indonesia and Malaysia together produce between 75 and 85 percent of the world's palm oil. According to the Indonesian Palm Oil Association (GAPKI), Indonesia exported over 30 million tons of palm oil products last year and earned export reve­nues of over US$ 39 billion.
However, a fifth of the oil palm plantations in the country are illegal and established inside forest areas where commercial agricultural activity is prohibited, since they threaten valuable and protected flora and fauna.
A recent report by Greenpeace shows that half of Indonesia's oil palm plantations are operated by corporations while the other 50 percent is run by smallholders. The report reveals that over 600 of the 2,056 registered palm oil enterprises in the country operate illegally inside forest areas.
"Corruption is an extraordinary crime and we need to set an example for others"
Moreover, with the Indonesian government publicly refusing to release maps and data on palm oil concessions granted, there is a lack of transparency in the industry. Integrity and legality are sacrificed for the demands of the rich and powerful.
According to Human Rights Watch (HRW), successive governments in Indonesia have ignored widespread forest clearance, facilitating the proliferation of oil palm plantations. Forest cover amounting to 24 million hectares – an area almost the size of the UK – was destroyed between 2001 and 2017. According to Global Forest Watch (GFW), Indonesia lost 568,300 acres of its primary forest in 2021.
The absurdity of the situation is reflected in the words of American biologist and naturalist Dr. Edward Osborne Wilson: "Destroying a rainforest for economic gain is like burning a Renaissance painting to cook a meal."
Meanwhile, Judge Fahzal Hendri – who chaired the panel of judges that sentenced Darmadi – stated: "Corruption is an extraordinary crime and we need to set an example for others."
Indonesia's dismal story of extensive corruption is unlikely to change anytime soon as the greed for personal profit throttles the need to preserve the environment. As author Ken Poirot observes, "wherever there is power, greed and money, there is corruption."