INDIA'S COVID CRISIS

PAYING LIP SERVICE TO
RATIONALITY
Saro Thiruppathy elaborates on how irresponsible behaviour has exacerbated India's COVID-19 crisis – and devastated the South Asian region
It seemed as if India was well in control of the coronavirus outbreak in early March 2021. However, by mid-March the story was taking a different turn and the Government of India was concerned as the state of Maharashtra reported more than 30,000 cases on a single day.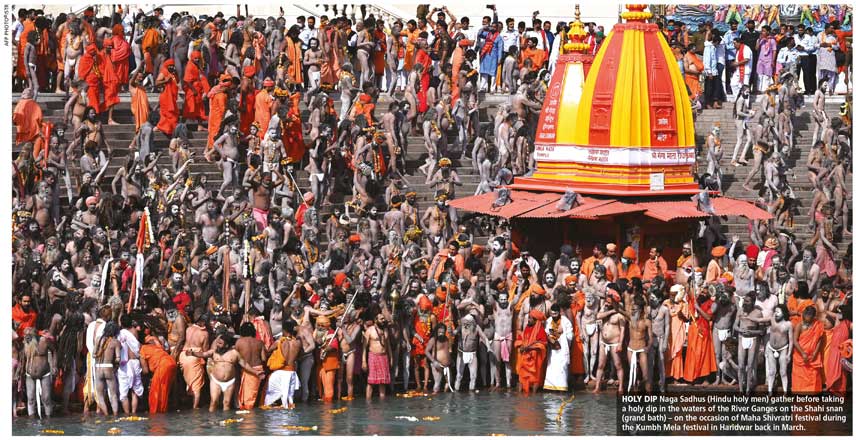 That was pretty much the beginning of the second wave of COVID-19 on the subcontinent and things simply went from bad to worse from thereon. On 22 March, India reported 46,951 cases in a single day, which was the highest spike since November last year. And on 25 May, India had recorded nearly 27 million cases, 24 million recoveries and over 300,000 fatalities.
Meanwhile, a robust vaccination programme had also been underway and by the second week of May, over three percent of the population had been fully vaccinated while about 10 percent had received at least one dose.
A GLOBAL RESPONSE India's troubles didn't go unseen by the international community and some more than others came forward with assistance that included respirators, medical oxygen, masks, retroviral medication such as Remdesivir etc.
The maithree that India showed through vaccine diplomacy and generous distribution of the Covishield vaccine to 95 countries has led to a massive outpouring of foreign support during this dark period.
So how did this pharmaceutical hub with over 3,000 facilities not have sufficient vaccines for domestic use?
It's because the patent was granted only to the Serum Institute and Bharat Biotech.
At one point, the Biden administration in the US was unwilling to share the raw materials needed for the AstraZeneca vaccine but later agreed to do so. And due to increasing pressure, President Joe Biden also supported global efforts to waive intellectual property protections on coronavirus vaccines. This will help bolster production and provide easier access to developing nations.
ANTIBODY COCKTAIL In the meantime, more good news is in the pipeline for Indians as Swiss pharmaceutical company Roche has received emergency use authorisation to provide a monoclonal antibody cocktail (Casirivimab and Imdevimab) as treatment for mild to moderate cases of COVID-19.
The Managing Director of Roche Pharma India Simpson Emmanuel says: "Neutralising antibody cocktails like Casirivimab and Imdevimab can play a role in the fight against COVID-19. This outpatient treatment will be complementary to the ongoing vaccination drive and support our fight against the pandemic in India."
Indian experts too are hoping that the antibody cocktail called REGN-COV2 manufactured by Roche and Regeneron will reduce the need for hospitalisation by 70 percent. This is the same medication that was successfully administered to the former US president Donald Trump last year.
DEADLY GATHERINGS So how did this outbreak reach such mammoth proportions?
Even while COVID-19 cases were climbing in March, the government allowed the fa-mous (now infamous) religious Kumbh Mela (festival) to take place on the banks of the Ganges River.
According to a government agency, 9.1 million pilgrims took a dip in the Ganga to cleanse their sins. This Hindu festival occurs once every 12 years and should have taken place next year. But due to astrology and the positioning of some planets, conducting the festival in 2021 was considered "unique and auspicious," according to the festival's official website.
The Kumbh Mela began on 14 January and continued until 27 April, and some six million devotees were present in April in sync with the spiking of the second outbreak. The largest gathering for the holy dip on 12 April numbered about 3.5 million.
And while the cleansing of sins continued throughout the month, the numbers gradually reduced.
However, by this time the damage was done, and almost all these sinless men went back to their villages carrying the coronavirus aboard trains and buses.
Even though the Indian government could have stopped this potential super spreader event, it didn't. In fact, it went a step further and conducted election campaigns in five states – viz. Assam, West Bengal, Tamil Nadu, Kerala and Puducherry.
As one may have expected, between 27 April and 10 May, Assam recorded 57,501 cases; West Bengal – 252,662 cases; Tamil Nadu – 311,565 cases; Kerala – 502,570 cases and Puducherry – 18,949 cases.
India's healthcare facilities aren't equipped to handle a sudden surge and in spite of dire warnings by medical 'astrologers,' the Centre remained indifferent.
Mass religious gatherings have continued to be the norm in remote villages, calling on the many Hindu deities to protect the country from the scourge that is COVID-19. The villagers aren't particularly educated but they're afraid of the disease; and instead of government messages, they rely more on rumours along the grapevine.
Nevertheless, the priests who conduct these mass processions and poojas are educated, and well aware of the efforts underway to bring this outbreak under control. And yet, they allow these processions to become super spreader events, knowing full well that death and destruction will follow in their wake.
India's debacle is a cautionary tale, which all countries would be wise to heed. This crisis need not have surfaced again; and yet, it did because an apathetic administration allowed religion to super-sede rationality and politics to override science.