INCOMING PM RISHI SUNAK WARNS OF PROFOUND ECONOMIC CHALLENGES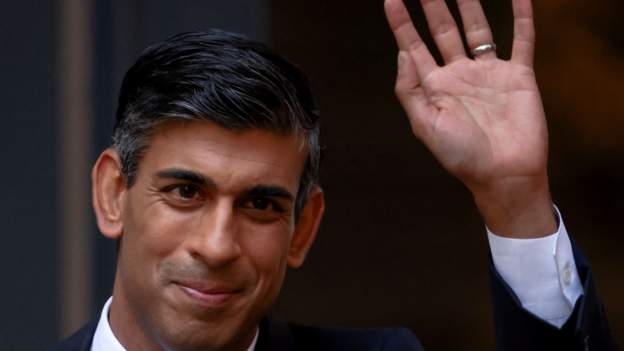 BBC - October 25, 2022
A look at the 'economic challenge' Sunak mentioned
In a very short statement earlier – his first since being announced as Liz Truss's replacement – incoming UK PM Rishi Sunak acknowledged the "profound economic challenges" we're facing.
He didn't say much else on that, so let's have a quick look at some of the key issues he'll need to address after entering No 10.
Cost-of-living crunch
It was announced last week that inflation in the UK – the rate at which prices are increasing – had surged to 10.1%, a 40-year high.
The rising cost of basic household goods – like fish, fruit and rice – leaves many of us understandably concerned going into a winter already fraught with anxiety over increasing energy bills.
Adding to these pressures is the government's decision to end help with energy bills - which limits the average household energy bill to £2,500 a year - in April 2023, not in two years' time.
Money, money, money
The Bank of England has put up interest rates in an attempt to bring down people's spending - but that means:
Mortgage repayments have increased for people not on fixed rates
Lenders might choose to increase fees charged on credit cards, bank loans or car loans
Meanwhile, savers are not seeing interest rates on their accounts rise in line with the Bank of England figures, meaning they are not keeping up with the cost of living.
Mini-budget aftermath
The beginning of the end for Truss was the announcement of her mini-budget, alongside then-Chancellor Kwasi Kwarteng. Its raft of unfunded tax cuts rattled markets, plunging the pound to a record low against the dollar and causing the cost of government borrowing to rise sharply.
New Chancellor Jeremy Hunt - who many expect to remain in his job - has since scrapped almost all the policies in that mini-budget.
As we reported below, his much-anticipated fiscal plan is due on 31 October, and the new PM is expected to drive through new public spending cuts to try to restore financial stability.
But can Sunak do what Truss couldn't - and placate not just the Conservative Party, but also the world's financial markets, with a workable economic plan? We'll have to wait and see.