IMRAN KHAN: DOZENS OF POLICE SEIZE EX-PM OUTSIDE COURT IN PAKISTAN
BBC – 9 May, 2023
Pakistan's former prime minister Imran Khan has been arrested at the High Court in the capital, Islamabad.
Mr Khan was appearing in court on charges of corruption, which he says are politically motivated.
Footage showed dozens of paramilitary forces in armoured vehicles detaining the 70-year-old after he entered the court compound, then driving him away.
Unrest broke out in several cities following his arrest, with protesters blocking key roads.
Mr Khan was ousted as PM in April last year and has been campaigning for early elections since then.
General elections are due to be held later this year.
Speaking to the BBC's Newshour, Mr Khan's spokesman, Raoof Hasan, said he expected "the worst" and that the arrest could plunge the country "into chaos and anarchy".
"We're facing multiple crises. There is an economic crisis, there is a political crisis, there is a cost of livelihood crisis and consequently this occasion will be a catharsis for them to step out and I fear a fair amount of violence is going to be back," he said.
A member of Mr Khan's legal team, Raja Mateen, said undue force had been used against him.
"Mr Khan went into the biometric office for the biometrics. The rangers went there, they broke the windows, they hit Mr Khan on the head with a baton," said Mr Mateen.
"And they dragged Mr Khan from there. They didn't care that this person had come to court while injured."
Mr Khan's Pakistan Tehreek-e-Insaf (PTI) party has called on its supporters to protest. In the hours since he was detained, violence has been reported from a number of cities including Lahore, Karachi and Peshawar.
On the streets of Islamabad, hundreds of protesters blocked one of the main highways in and out of the capital.
People pulled down street signs and parts of overpasses, lit fires and threw stones. During the hour or so that the BBC was there, no police or authorities were visible.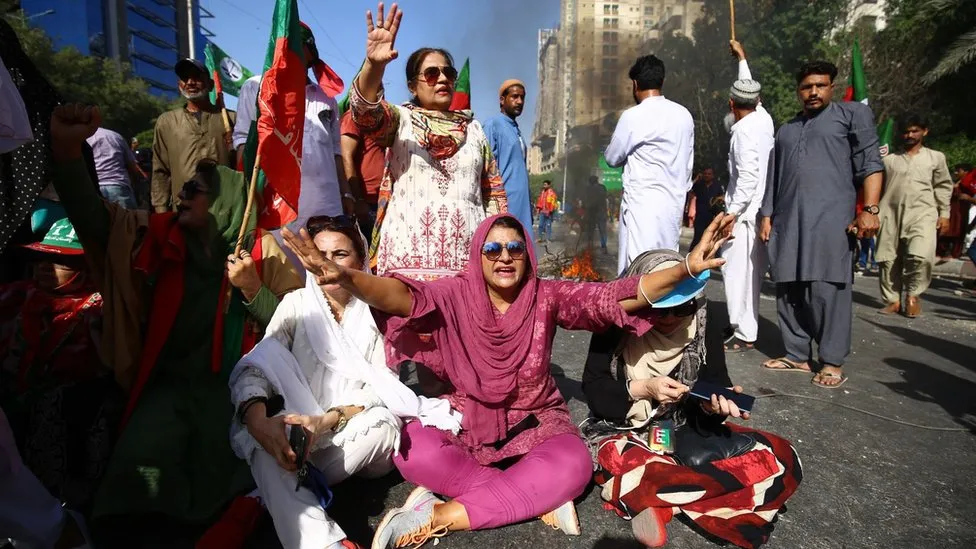 Protesters said they were angry about Imran Khan's arrest.
"This is absolutely the last straw," said Farida Roedad.
"What else can we do? What else is there left in Pakistan? We have never said a word against the army, I wish we had.
"Let there be anarchy, let there be chaos. If there is no Imran, there's nothing left in Pakistan. No one is there to take over."
Writing on social media, police in Islamabad said five police officers had been injured and 43 protesters arrested.
Footage from Lahore posted on Twitter appeared to show crowds breaking into the military corps commander's house, destroying furniture and belongings inside.
Protesters in the main port city of Karachi have been blocking a main road, Reuters reported.
It said at least 10 people, including six police officers, had been injured in the south-western city of Quetta in clashes with Mr Khan's supporters.
The news agency also spoke to Pakistan's telecommunications watchdog, which said mobile data services were being suspended on the instructions of the interior ministry.
Internet monitoring group NetBlocks says there is a disruption of Twitter, Facebook and YouTube on multiple internet providers in Pakistan following the arrest of Mr Khan.
The organisation says this can be seen in real-time network data, and that it opposes the use of such disruption to limit free speech.
A statement from the inspector-general of Punjab police said the arrest of Mr Khan had been ordered because he was accused of "corruption and corrupt practices".
The case involves allegations over the allotment of land in the so-called Al-Qadir Trust, which is owned by Mr Khan and his wife, Dawn newspaper reported.
Mr Khan, who is being held at an undisclosed location, denies breaking any law.
In a video message filmed as he travelled to Islamabad – and released by the PTI before his arrest – Mr Khan said he was ready for what lay ahead.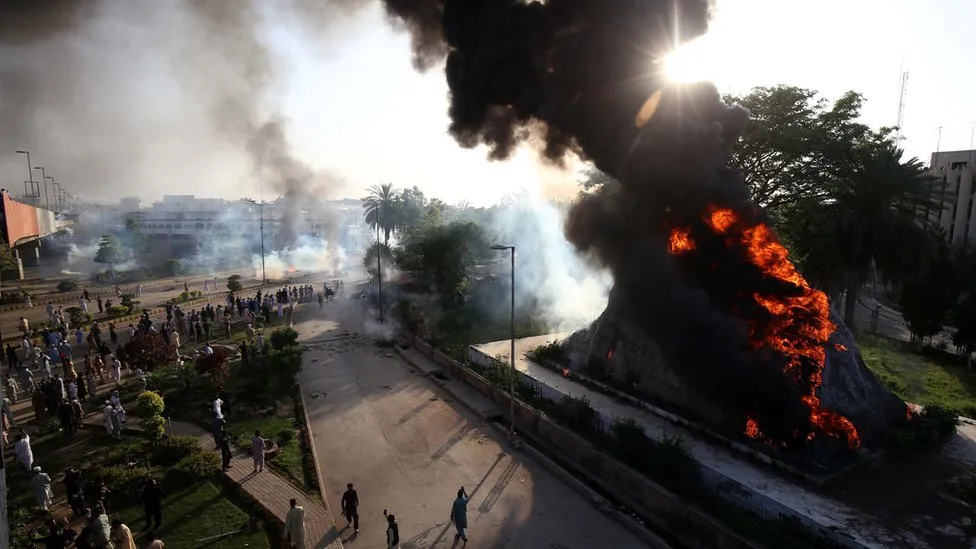 "Come to me with warrants, my lawyers will be there," he said. "If you want to send me to jail, I am prepared for it."
Security was tight in the centre of the capital for the former PM's court appearance.
Dozen of cases have been brought against Mr Khan since he was ousted from power.
The security forces have tried to detain him on a number of previous occasions at his Lahore residence, but were blocked by his supporters, resulting in fierce clashes.
On Tuesday, police had blocked roads into Islamabad, so the number of supporters with Imran Khan was not as high as on previous occasions, making it easier to arrest him.
Since then, he has been a vocal critic of the government and the country's army.
In October, he was disqualified from holding public office, accused of incorrectly declaring details of presents from foreign dignitaries and proceeds from their alleged sale.
The next month, he survived a gun attack on his convoy while holding a protest march.
On Monday, the military warned him against making "baseless allegations" after he again accused a senior officer of plotting to kill him.