IFS
IFS Net Revenue Soars Beyond $600m in 2018 on Skyrocketing Cloud and License Sales
12th March, Colombo: Global software firm IFS has closed the 2018 fiscal year with record-making growth that has seen it outpace its peers by a factor of three.  
The company announced that Net Revenue was up 23% YoY. Cloud and SaaS Revenue increased +300% YoY. License revenue +22% YoY, Maintenance Revenue +13% YoY, and Consulting Revenue +10% YoY. EBITDA was 21% (27% improvement YoY).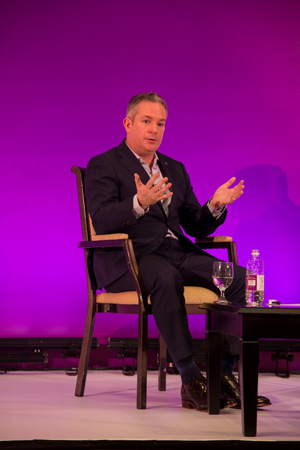 IFS carried out a significant amount of transformation projects in 2018, facilitating global growth and ever-happier customers at the enterprise firm. Projects have included harmonizing customer service and support, which ensured the company could continue to grow its footprint in the medium-to-large enterprise segments. 2018 also saw the launch of key products, including IFS Applications 10, IFS Field Service Management 6, and SaaS-based solutions in the IFS Aerospace & Defense product line.
In light of this, Mr. Darren Roos, global CEO of IFS, highlighted how the company achieved such unprecedented gains and what's ahead for the technology firm as it invests more resources in Sri Lanka. Sharing his thoughts on this, Mr. Roos said, "Building on the momentum created in 2018, we enter 2019 with a renewed sense of purpose and a future guided by our customers."
IFS has always invested significant resources in R&D and 2019 is no different. One such example of this is IFS Labs. 80% of the Labs team is based in Sri Lanka and the technologies that this department is currently developing include wearables, augmented reality, bots, drones, robotic process automation and artificial intelligence. By doing this, the company seeks to prototype the emerging technologies, trends and concepts of today that customers will ask for tomorrow.
IFS has also reinforced its proven expertise through regional expansion projects. The Asia Pacific, Japan, Middle East, and Africa market unit is expected to be one of the key sources of growth for the company globally over the next few years. That's due to above-average projected growth in ERP and enterprise software spend throughout the region. (reference to be cited) IFS is actively investing to capitalize on this growth opportunity, targeting 45% CAGR 2019 – 2021. The Sri Lankan & South Asian operation will be a significant contributor towards this growth.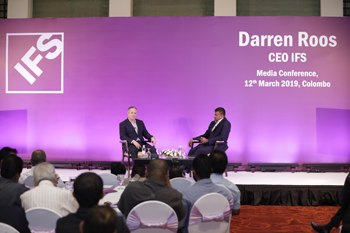 As a responsible corporate entity, IFS also strives to live its values and are passionate about giving back in a meaningful manner. The company has focused on education throughout its deep-rooted relationship with Sri Lanka. Collectively, IFS has awarded over 142 scholarships and more than 750 internships over the past few decades through university collaboration programs. It has also offered support to communities during devastating times of natural disasters.
At a glance:
IFS develops and delivers enterprise software for customers around the world who manufacture and distribute goods, maintain assets, and manage service-focused operations. The industry expertise of our people and solutions, together with commitment to our customers, has made us a recognized leader and the most recommended supplier in our sector. Our team of 3,500 employees supports more than 10,000 customers worldwide from a network of local offices and through our growing ecosystem of partners.
For more information visit IFSworld.com