HUMAN RESOURCES

Thushari Perera
THE DIGITAL-HUMAN LINK
A call for all tech savvy professionals to enter the modern workplace
The human resources (HR) profession today
A demanding yet fulfilling profession that enables HR professionals to act as a major conduit that links organisations with their people.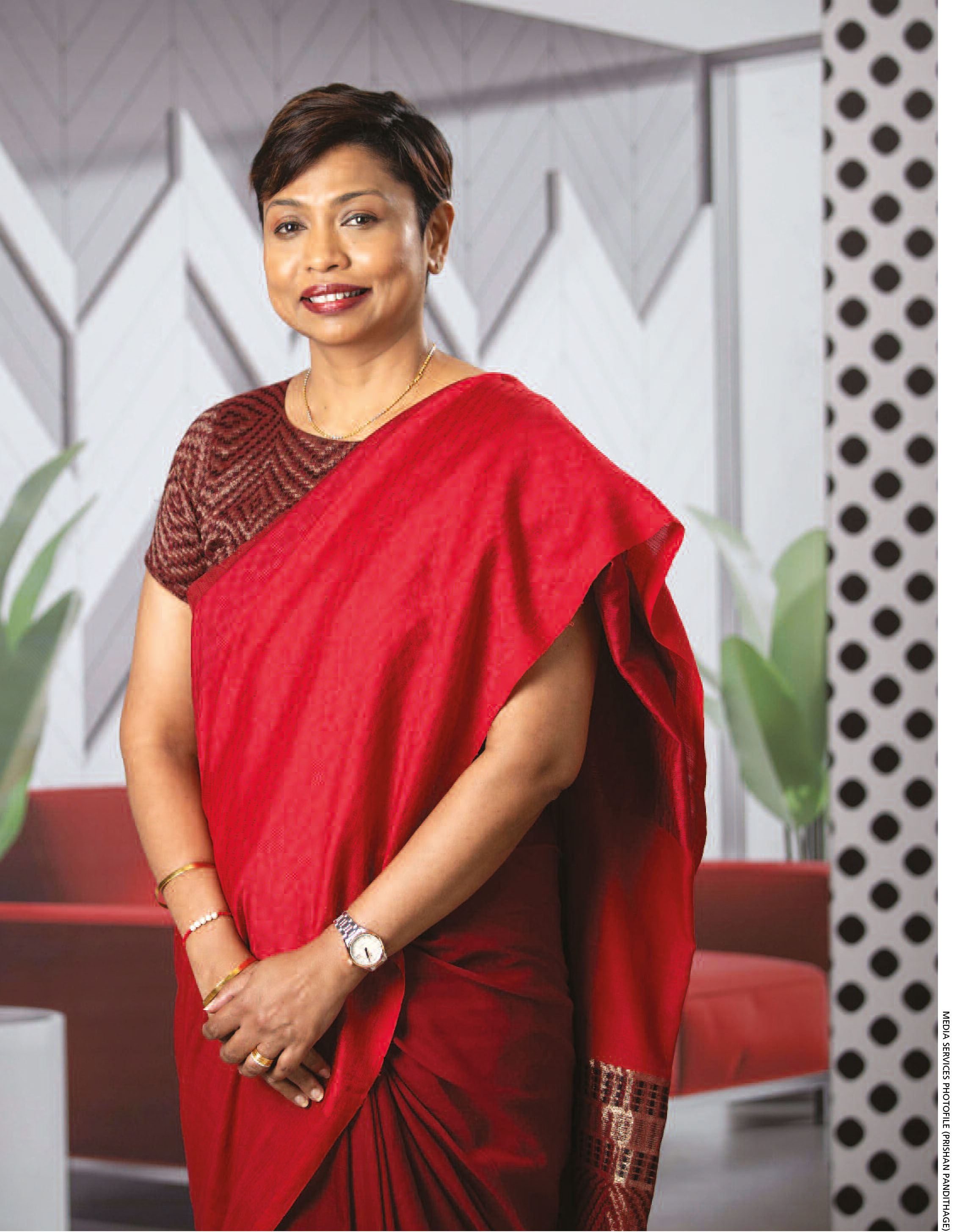 Strengths of local HR
Business knowledge that helps realise organisational priorities with commitment and engagement that enables discretionary efforts.
The profession also encompasses
Diversity in all aspects – not merely age, gender or beliefs – which means there's a nice mix of variety and fun in the workplace.
Weaknesses of the HR profession
It is reactive and not proactive, in digitalisation and analysing data.
Need of the hour
Financial acumen to understand various business dynamics.
An important factor impacting HR professionals
Ever-changing workforce dynamics, which can be stressful at times.
Such as…
Multiple generations working together, short-term job tenures and cultural heterogeneity.
Main threats to the HR function
Outdated practices impacting the digital savvy and young workforce, and a dearth of talent in leadership to match global standards.
An additional challenge is…
An environment that challenges positive business growth.
Barriers to the HR profession's growth in Sri Lanka
Resistance to change, obstacles from a unionised workforce and somewhat archaic labour laws.
Growth is also inhibited by…
A lack of adaptability to innovation.
The future of local HR
HR professionals will be more digital savvy, managing the diverse expectations of achieving a work-life balance.
Local talent market in a nutshell
Talent is available. However, a talent gap exists in the local market due to competency gaps for available positions.
Characteristics for recruitment
When selecting the right talent, grooming and developing them to take up the right positions is important.
Global talent market in a nutshell
The global talent market is moving towards a multi-discipline and flexible work environment.
Integral role of HR
People are valued, appreciated and empowered as change agents in the journey of transforming organisations.
This leads to…
Creating futuristic value while enabling digitalisation where applicable.
Three new prospective aspects the HR profession is tackling
Workforce mobility across cultures and boundaries; HR business partnerships; and data driven insights and analytics.
Evolving HR trends or behaviours
There is a cultural shift from local to global, and a diverse work-life balance approach is more prevalent.
Other observable behaviours
A greater focus on the wellbeing of the workforce.
This is evidenced by
The establishment of more healthy cafeterias, fitness programmes such as Zumba, and gym facilities with discounted rates and CrossFit.
Other aspects of wellbeing cater to
Psychological and emotional coaching programmes such as yoga.
Annual corporate wellbeing events
This includes annual medical checkups and related benefits, devoting a month to wellbeing every year and road shows.
Evolution of talent evaluation
Talent is profiled for individuals rather than job roles.
Local vs regional comparison of the HR profession
The need of the hour in the local context is to learn from the best and worst practices in the region, and be more digitally enabled.
Regional best practices
Diversity and inclusion.
An important task when it comes to the local workforce
HR professionals must identify the appropriate balance of current and next generation talent.
Essential skills for young HR executives
An open mind to embrace diversity, listening skills and the ability to learn new ways of working.
Productivity is affecting industrial and economic growth
Yes
Corruption is affecting industrial and economic growth
Yes – it is demotivating the workforce, hindering economic growth and destroying legitimacy.
Competition drives innovation
Yes – to differentiate from others and gain competitive advantages.
Sri Lanka's competitiveness in a few words
The country has a long way to go and much more to learn.
Impact of the digital age on Sri Lanka
The pace of digital transformation is accelerating. With the right infrastructure, knowledge transfer and legal framework, disruptive technologies can help Sri Lanka surpass competitors.
Impact of social media on the world at large
It has ensured that there's no room for an 'island mentality.'
HR profession in five years' time
It will produce innovative HR professionals who can relate business objectives to people strategies.
Impact on businesses
This will challenge organisational norms to create diverse HR policies and initiatives, which will benefit both employees and businesses.
Mantra for success
Learn, lead, apply and adapt.
Compiled by Lashani Ramanayake
Thushari is the Director of Human Resources at AIA Insurance Lanka