HUAWEI AN EMUI 9.0 UPDATE
Huawei announces an EMUI 9.0 update to a wider range of smartphones
An exciting new development was announced by Huawei recently, as it promises to introduce an update of their own Android-based Operating System EMUI 9 to a wider range of Huawei smartphones shortly. The EMUI 9, which was first introduced to Huawei customers through the Mate 20 series, will be accessible to users of Huawei Y9 2018, Nova 4, Nova 3, P20, P20 Pro, Nova 3i, P10 and P10 Plus, as well as Y9 2019, latest by the 1st of August, 2019. This integration of a new OS will be highly useful and beneficial to consumers, providing them with high-quality features and elevated convenience as it stays up-to-date with the modern technology and trends.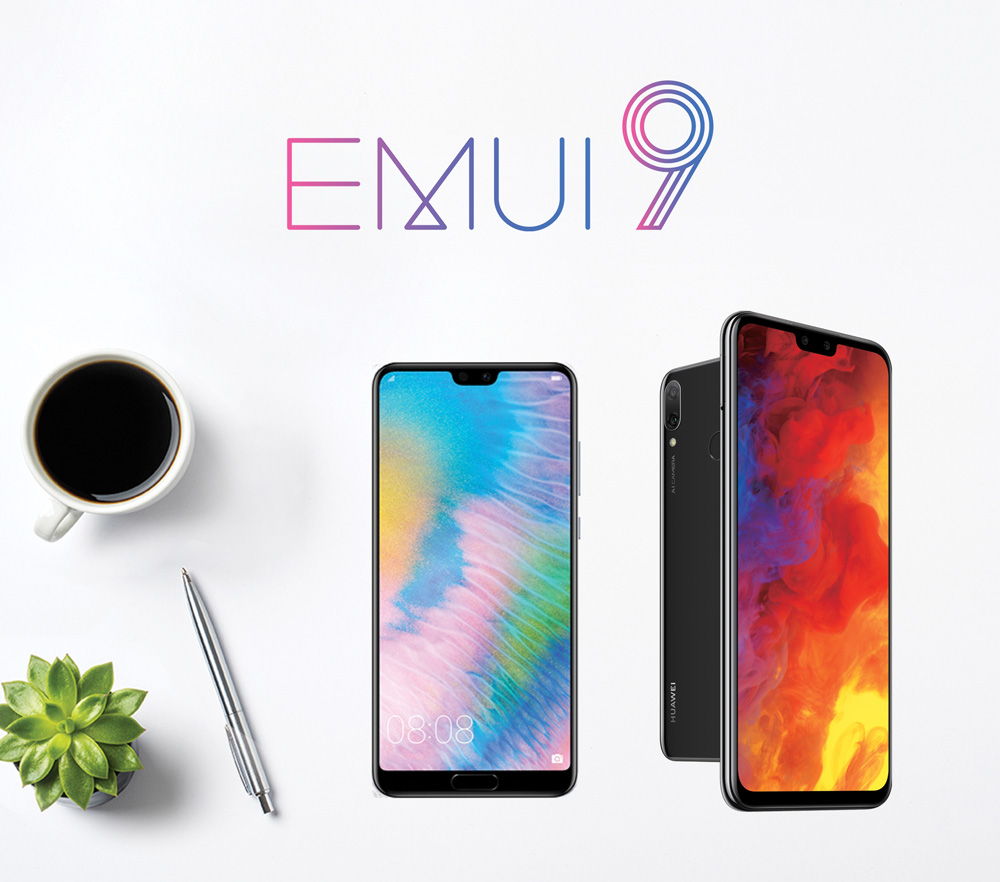 The Android pie-based mobile operating system, EMUI 9, was launched by Huawei nine years prior and has made a breakthrough since its initiation of availability. According to data collected by the time of June 3, 2019, the number of users that have upgraded from EMUI 8.X to EMUI 9 has exceeded 80 million globally and gradually continues to elevate. It is estimated that this figure will reach 100 million by the end of June this year. Huawei persists to work industriously to bring in advanced features of the EMUI 9 to all the consumers of HUAWEI smartphones. In conjunction with the growth of HUAWEI's smartphone users, EMUI currently serves 350 million active users with annual upgrades, consequently enhancing the performance of Huawei hardware.
"The integration of EMUI 9 to a more expanded range of Huawei smart devices, such as the Y9 2018 and 2019, the Nova Series and the P10 Series, has been a crucial need to most consumers, as EMUI 9 offers a smarter, more intelligent and efficient experience as it focuses primarily on simplification and minimalism," Peter Liu, Country Head, Huawei Devices Sri Lanka, stated, "There are fewer menus and places for users to get lost, which makes the experience more appealing, particularly for fresh EMUI users. The highly developed features that come along with the update will benefit our customers a great deal. We are indeed looking forward to offering this experience to a wider audience of Huawei consumers, hoping their exposure to EMUI 9 will result in a positive and more advanced smartphone experience and service from Huawei products."
Its key elements, including the smart color picker, password vault, unified design language and invisible navigation keys make certain that all Huawei users receive the providence of high-quality technology. Furthermore, its visual elements deliver a sustainable, vigorous and contented user experience. EMUI 9.0 keeps its word to HUAWEI's "Born Fast, Stay Fast" strategy, as it guarantees a smooth technological experience and optimized performance, along with the optimization of the innovation engine and the GPU Turbo 2.0, which helps users to utilize gaming apps uninterrupted. EMUI 9 also features natural UI, ultra-convenient full-screen gesture navigation and smoother operational experience.
The EMUI 9's "Simplified, Unified, Humanized" setting principle contributes to the more "humanized" aspect of its unique and special design. The controlling of the device is extremely user-friendly as it caters to the simple demands and gestures of the consumer. The perceptiveness of the device is highlighted by the usage of its ergonomic design and invisible navigation keys, which enables users to spend less time learning and more time experiencing. EMUI 9.0 groups all frequently used features in apps- such as Email, Contact, Calendar and Notes and relocates them to the center of the bottom half of the screen so that they are within the reach of user's thumb. These elaborate modifications are meant to bring the consistency of the experience to the fore.
Huawei's integrated AI is popular with all its smartphone developments as of today, and this AI experience is elevated as EMUI 9 offers some exciting AI features such as HiVision and HiTouch. The HiVision specializes in producing information of objects within the camera lens, AI Shopping takes online shopping to the next level, while AI Calories feature that detect the calories information of food, the OS has provided an all-encompassing experience that merges the digital and physical worlds.
Recently HUAWEI overtook its competitor to be the number two smartphone brand in the world according to IDC last week. In Sri Lanka, HUAWEI has succeeded in securing the number one position in smartphone sales according to recent GfK reports. In 2018, HUAWEI was ranked 48 on BrandZ'sTop 100 Most Valuable Global Brands, number 79 in Forbes World's Most Valuable Brands and number 25on the Brand Finance Global 500 Most Valuable Brands lists. HUAWEI has also achieved the No. 68 status on Interbrand's Best Global Brands list in 2018 and ranked No.83 on Fortune 500.